Staff Pick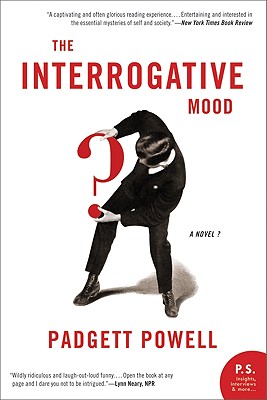 The Interrogative Mood: A Novel?
Publication Date:
October 5th, 2010
Charter Books
On hand, as of Sep 28 1:37am
(Fiction - General)
On Our Shelves Now
Staff Reviews
Is this really an entire novel composed only with questions? Is such a thing even doable? More importantly, is it readable? Or even good? Well, aren't you curious? Or are you just chicken? Why don't you buy the book and find out? Do you dare?
— Steve?
Padgett Powell has written his own take on Pablo Neruda's Book of Questions, and the result is a hoot -- but between the laughs there's substance and style.
November 2009 Indie Next List
Description
"If Duchamp or maybe Magritte wrote a novel (and maybe they did. Did they?) it might look something like this remarkable little book of Padgett Powell's."
—Richard Ford
The Interrogative Mood is a wildly inventive, jazzy meditation on life and language by the novelist that Ian Frazier hails as "one of the best writers in America, and one of the funniest, too." A novel composed entirely of questions, it is perhaps the most audacious literary high-wire act since Nicholson Baker's The Mezzanine or David Foster Wallace's stories; a playful and profound book that, as Jonathan Safran Foer says, "will sear the unlucky volumes shelved on either side of it. How it doesn't, itself, combust in flames is a mystery to me."
Praise for The Interrogative Mood: A Novel?
"Captivating and often glorious." — New York Times Book Review, Paperback Row
"Can you picture the rabble-rousing literary offspring of Flannery O'Connor and Donald Barthelme? Does the prospect of reading a lawlessly lyrical, comic novel composed entirely in The Interrogative Mood pique your curiosity?" — Vanity Fair
"[Powell] has a rare ear for dialect and dialogue, a dedication to new ways of making words jump and dance and catch fire." — New York Times Magazine
"Offhanded, witty, original, and [an] altogether unique book. . . . Here, he's less a writer in the school of John Casey or Peter Taylor than he is a member of the badass gang of Barry Hannah. The Interrogative Mood, serious and laughable, extends this legacy." — Rick Moody
"A supreme literary stunt." — Jonathan Lethem
"[A] peculiar and mind-popping experience. . . . Most novels take us away from ourselves, into the lives and minds of other people. The Interrogative Mood goes boldly in the other direction — and really, wouldn't you like to talk about yourself?" — St. Petersburg Times
"Hypnotic...Jazzy meditations that wrestle with life's important questions." — The New Yorker
"Intimate and hilarious—the yearning is as powerful as all that is evoked and revealed in this precise and beautiful novel." — Amy Hempel
"A delightful stylistic flight, and as engrossing as staying up late at summer camp considering every goofy or brilliant question that comes into your head. Padgett Powell is one of the best writers in America, and one of the funniest, too." — Ian Frazier
"This book will sear the unlucky volumes shelved on either side of it. How it doesn't, itself, combust in flames is a mystery to me. Padgett Powell has given us a wake-up call." — Jonathan Safran Foer
"If Duchamp or maybe Magritte wrote a novel (and maybe they did. Did they?) it might look something like this remarkable little book of Padgett Powell's: immensely readable, ingenious, witty, and ultimately important-feeling in a way you can't quite describe but don't need to." — Richard Ford
"[This novel] represents superior value in a crumbling economy. Its pages do not tell a story—they tell thousands of stories, all of them starring you. Powell pokes and prods, soothes and slaps you. By the end you will feel as rich as Haroun al-Rashid on the thousandth night." — Luc Sante
"[An] ingenious provocation, devious and deeply hilarious riff, perfect party game, not to mention the most entertaining personality test ever devised. But above all it is another brilliant work of fiction, in some ways Powell's best, by one of the few truly important American writers of our time." — Sam Lipsyte, author of HOME LAND
"You don't so much read [The Interrogative Mood] as let it shove and jangle you into unexpected and highly pleasurable states of mind. Powell is a master of nouveau Southern lyricism....How this book works is beyond me, but, miraculously, it does." — Village Voice
"The book intrigues as it entertains… [Powell's] questions and nonsequiturs will have you looking at your own life with a renewed sense of observation—and a healthy appetite for the absurd." (5 stars) — Time Out New York
"A remarkable collection of philosophical inquiries, stimulating either/ors and good-faith measures the gap between where we are as a species and where we belong. The Interrogative Mood demands to be read deliberately, for it is courageous and entertaining and interested in the essential mysteries of self and society." — New York Times Book Review