Lord Peter: The Complete Lord Peter Wimsey Stories (Paperback)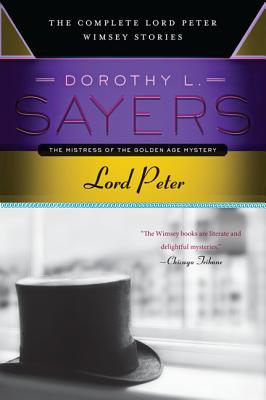 Staff Reviews
---
A contemporary of Agatha Christie, Dorothy L. Sayers is my favorite mystery writer both for her sleuth, the impeccable Lord Peter Wimsey, and for her keen observations and portrayals of the world she inhabited and wrote about. Come for the clever puzzles, stay for the rich cast of characters. Strong Poison can be a good place to start, but Whose Body is technically the first.
— Amy
Description
---
One of the founding mothers of mystery, Dorothy L. Sayers first introduced the popular character Lord Peter Wimsey in 1923 with the publication of Whose Body? Over the next twenty years, more novels and short stories about the aristocratic amateur sleuth appeared, each one as cunningly written as the next. Now in a single volume, here are all of the Lord Peter Wimsey stories: a treasure for any mystery lover. From "The Fantastic Horror of the Cat in the Bag" to "The Image in the Mirror" and "Talboys," this collection is Lord Peter at his best—and a true testament to the art of detective fiction.
About the Author
---
Dorothy L. Sayers was born in 1893. She was one of the first women to be awarded a degree by Oxford University, and later she became a copywriter at an ad agency. In 1923 she published her first novel featuring the aristocratic detective Lord Peter Wimsey, who became one of the world's most popular fictional heroes. She died in 1957.
Praise For…
---
"She brought to the detective novel originality, intelligence and wit. She gave it a new style and a new direction, and she did more than almost any other writer of her age to make the genre intellectually respectable." — P.D. James
"What could be of greater joy to Wimsey fanciers than this volume of all the short stories about him?" — San Francisco Examiner Chronicle
"A classic collection from 'one of the greatest mystery-story writers of the [twentieth] century'" — Los Angeles Times