The Alchemist (Paperback)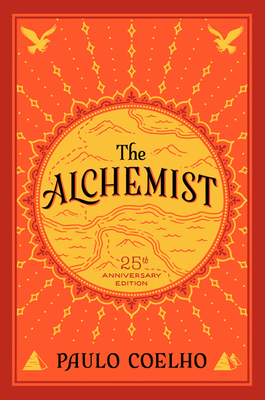 Staff Reviews
---
An enchanting novel of adventure and self-discovery. A young Spanish shepherd named Santiago is on a quest to see the Egyptian pyramids and find a treasure. Along the way he meets a self-proclaimed king, the love of his life, and an alchemist who directs him to the true prize. A beautifully written work of self-discovery that shows the treasure we seek may be closer than we thought.
— Joe
Description
---
An international bestseller
Over 80 million copies sold worldwide
A PBS Great American Read Top 100 pick
A special 25th anniversary edition of the extraordinary international bestseller, including a new Foreword by Paulo Coelho.
Combining magic, mysticism, wisdom and wonder into an inspiring tale of self-discovery, The Alchemist has become a modern classic, selling millions of copies around the world and transforming the lives of countless readers across generations.
Paulo Coelho's masterpiece tells the mystical story of Santiago, an Andalusian shepherd boy who yearns to travel in search of a worldly treasure. His quest will lead him to riches far different—and far more satisfying—than he ever imagined. Santiago's journey teaches us about the essential wisdom of listening to our hearts, of recognizing opportunity and learning to read the omens strewn along life's path, and, most importantly, to follow our dreams.
About the Author
---
Paulo Coelho, born in Rio de Janeiro in 1947, is one of the bestselling and most influential authors in the world. The Alchemist, The Valkyries, Brida, The Fifth Mountain, Eleven Minutes, The Zahir, The Witch of Portobello, Veronika Decides to Die, The Winner Stands Alone, Aleph, Adultery, and Hippie, among others, have sold over 320 million copies worldwide.
Praise For…
---
"It's a brilliant, magical, life-changing book that continues to blow my mind with its lessons. [...] A remarkable tome." — NEIL PATRICK HARRIS, ACTOR
"it changed my whole life. I realized of all of the people who had conspired to get me to this place." — PHARRELL WILLIAMS, MUSICIAN AND SONG-WRITER
"A wise and inspiring fable about the pilgrimage that life should be." — M. Scott Peck
"An adventure story full of magic and wisdom." — Rudolfo Anaya, author of Bless Me, Ultima
"A touching, inspiring fable." — Indianapolis Star
"A magical little volume." — San Francisco Chronicle
"[This] Brazilian wizard makes books disappear from stores." — New York Times
"[His] books have had a life-enchanting effect on millions of people." — London Times
"A beautiful story with a pointed message for every reader." — Joseph Girzone, author of Joshua
"As memorable and meaningful as Saint-Exupery's The Little Prince." — Austin American-Statesman
"A sweetly exotic tale for young and old alike." — Publishers Weekly
"A most tender and gentle story. It is a rare gem of a book." — Gerald G. Jampolsky, M.D., co-author of Change Our Mind, Change Your Life
"An entrepreneurial tale of universal wisdom we can apply to the business of our own lives." — Spencer Johnson, M.D., co-author of The One-Minute Manager
"A remarkable tale about the most magical of all journeys: the quest to fulfill one's destiny." — Anthony Robbins, author of Awaken the Giant Within