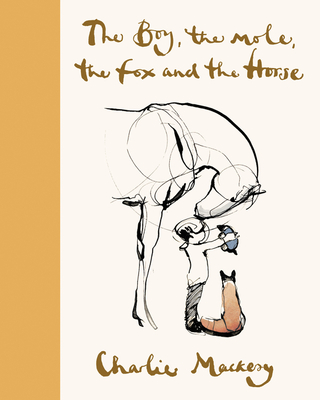 The Boy, the Mole, the Fox and the Horse Deluxe (Yellow) Edition: A Great Gift for Book Lovers
Publication Date:
April 6th, 2021
Charter Books
On hand, as of Dec 2 2:07am
(Psych & Self Help)
On Our Shelves Now
Description
A Great Gift for Book Lovers
#1 NEW YORK TIMES BESTSELLER · WALL STREET JOURNAL BESTSELLER  · USA TODAY BESTSELLER
"The Boy, the Mole, the Fox and the Horse is not only a thought-provoking, discussion-worthy story, the book itself is an object of art."- Elizabeth Egan, The New York Times
A deluxe edition with special endpapers and a yellow spine.
From British illustrator, artist, and author Charlie Mackesy comes a journey for all ages that explores life's universal lessons, featuring 100 color and black-and-white drawings.
"What do you want to be when you grow up?" asked the mole.
"Kind," said the boy.
Charlie Mackesy offers inspiration and hope in uncertain times in this beautiful book, following the tale of a curious boy, a greedy mole, a wary fox and a wise horse who find themselves together in sometimes difficult terrain, sharing their greatest fears and biggest discoveries about vulnerability, kindness, hope, friendship and love. The shared adventures and important conversations between the four friends are full of life lessons that have connected with readers of all ages. 
Praise for The Boy, the Mole, the Fox and the Horse Deluxe (Yellow) Edition: A Great Gift for Book Lovers
"The Boy, the Mole, the Fox and the Horse is not only a thought-provoking, discussion-worthy story, the book itself is an object of art."
— New York Times
"The world that I long to inhabit is the one that Charlie Mackesy has created – a world of infinite kindness, wisdom, mutual care and tenderness, and true love between real friends. My prayer/hope is that our world will become more like this one." — Elizabeth Gilbert, New York Times bestselling author of Eat, Pray, Love and Big Magic
"I felt this book down to my core." — Hoda Kotb
"Love, friendship, and kindness--this book speaks a universal language." — Bear Grylls
"A wonderful work of art and a wonderful window into the human heart" — Richard Curtis
"Simply, the world need's Charlie's work right now." — Miranda Hart
"A sweet tale rendered in swirly black calligraphy and watercolor. Childlike in its simplicity, its messages are universal. . . . Mackesy has brought people together." — The Washington Post
"A lonely boy ambles through the countryside on a spring day, finding companionship: first meeting the mole, then the other animals of the title. As they walk, the new friends talk, wonder, share their hopes and fears and pose some big questions. . . . A big hit." — The Philadelphia Inquirer
"A delightful treat of a book. . . . If there were classes on how to be a good person, this book would be the textbook." — Horse Nation