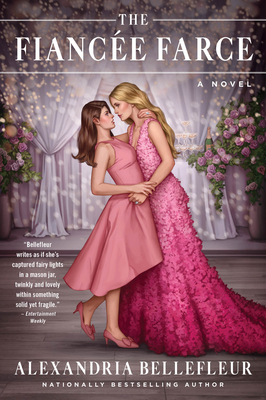 The Fiancée Farce: A Novel
Publication Date:
April 18th, 2023
In Stock at Warehouse - Usually Arrives in 3-7 Days
In all her books, Bellefleur gives well-loved tropes a fresh point of view and honors what makes romance so special. The perfect book for anyone who wants a sapphic, spicy, laugh out loud romance with great characters and plenty of T-Swift!
May 2023 Indie Next List
Description
Lambda Literary award winner and national bestselling author Alexandria Bellefleur returns with a steamy sapphic rom-com about a quiet bookseller and a romance novel cover model who agree to a modern-day marriage of convenience...
Tansy Adams' greatest love is her family's bookstore, passed down from her late father. But when it comes to actual romance… Tansy can't get past the first chapter. Tired of her stepfamily's questions about her love life, Tansy invents Gemma, a fake girlfriend inspired by the stunning cover model on a bestselling book. They'll never actually meet, so what's the harm in a little fib? Yet when real-life Gemma crosses Tansy's path, her white lie nearly implodes.
Gemma van Dalen is a wild child, the outcast of her wealthy family, and now the latest heir to Van Dalen Publishing. But the title comes with one tiny condition: she must be married in order to inherit. When Gemma discovers a beautiful stranger has been pretending to date her for months, she decides to take the charade one step further—and announces their engagement.
Gemma needs a wife to meet the terms of her grandfather's will and Tansy needs money to save her struggling bookstore. A marriage could be mutually beneficial, if they can fool everyone into thinking it's a love match. Unexpected sparks fly as Tansy and Gemma play the role of affectionate fiancées, and suddenly the line between convenient arrangement and real feelings begins to blur. But the scheming Van Dalen family won't give up the company without a fight, and Gemma and Tansy's newfound happiness might get caught in the fallout…      
Praise for The Fiancée Farce: A Novel
"Outrageously clever and unbearably sexy, The Fiancée Farce is the sapphic romance of my dreams. Like every Alexandria Bellefleur book, I was hooked from page one and couldn't put it down. With delicious prose and gripping storytelling, Bellefleur is a rom-com master, and I'll read anything she writes." — Mazey Eddings, author of Lizzie Blake's Best Mistake
"Alexandria Bellefleur has gifted us with a gorgeously bright and vivacious romance in The Fiancée Farce—bringing together a beauty and a wallflower, a marriage of convenience, and intensely sexy, swoony, sapphic vibes. Mischievous dogs, glitter-infused capers, and a delicious moment in an old library round out this rom-com perfection, and make it a must read for 2023!" — Sierra Simone, USA Today bestselling author
"The Fiancée Farce is romcom at its absolute finest. A down on her luck heroine who invents a fake girlfriend? A fake girlfriend who turns up looking for a marriage of convenience to land her inheritance? Set the whole thing in a cozy bookstore? Alexandria Bellefleur delivers funny, sexy, romance reader catnip. No notes."   — Sarah MacLean, New York Times bestselling author 
"This zippy Sapphic rom-com from Bellefleur features slow-burn romance, a steamy marriage-of-convenience, and a profusion of Taylor Swift references. . . Bellefleur's snappy prose is perfect for the banter between Tansy and Gemma, and it's delightful to watch the tension build between them. . . deeply satisfying." — Publishers Weekly
"Written with a surfeit of quippy wit and graced with a delightfully quirky constellation of supporting characters, Lambda Literary Award winner Bellefleur's fun, fresh take on the marriage of convenience trope delivers all the romantically swoon-worthy moments and steamy chemistry romance readers crave." — Booklist
"Alexandria Bellefleur powers this fake dating masterpiece with boatloads of heart and the result is perhaps her most divine tale yet." — Buzzfeed
"A warm-hearted, sapphic marriage-of-convenience romance." — Popsugar
"A madcap marriage of convenience rom-com, filled to the hilarious brim with well-drawn supporting characters. . . Bellefleur continues to spin delightfully different queer romances, and The Fiancée Farce is the best of the bunch so far." — Bookreporter.com
"Alexandria Bellefleur's writing is as sparkling as champagne, bubbling with taste in every word… Bellefleur provides sweet, bubbly romance, each romantic moment providing depth, excitement, and balance."  — Buzzfeed on Count Your Lucky Stars
"A warm hug of a queer contemporary romance with sparkling prose, heartfelt dialogue, and delicious dirty talk." — Library Journal (starred review) on Count Your Lucky Stars
"Bellefleur continues on her dazzling trajectory with another completely charming, achingly romantic love story. This tale not only delivers an abundance of wit-infused writing and some scorchingly hot love scenes, it also gracefully illuminates the importance in life of family and the friends we hold most dear." — Booklist (starred review) on Count Your Lucky Stars
"Bellefleur has a droll, distinct voice, and her one-liners zing off the page, striking both the heart and funny bone. She has a gift for comedy, possessing more style and panache than a debut writer has any right to... There's a sparkling quality here, one that mirrors the starry title. Bellefleur writes as if she's captured fairy lights in a mason jar, twinkly and lovely within something solid yet fragile."  — Entertainment Weekly on Written in the Stars
"This book is a delight." — New York Times Book Review on Written in the Stars
"Everything I want from a romcom: fun, whimsical, sexy." — Talia Hibbert, New York Times bestselling author on Written in the Stars
"Alexandria Bellefleur is an author to watch. Her writing is joyful and heartfelt, and her voice sparkles with a delightful mix of wit, humor, and good-natured sarcasm. I can't wait to see how she wows us next!" — Mia Sosa, USA Today bestselling author of The Worst  Best Man
"Heartwarming. . . Bellefleur's lively characters charm from start to finish. This is a perfect pick for readers looking for a light-hearted romance centered on emotional growth." — Publishers Weekly