May We Be Forgiven: A Novel (Paperback)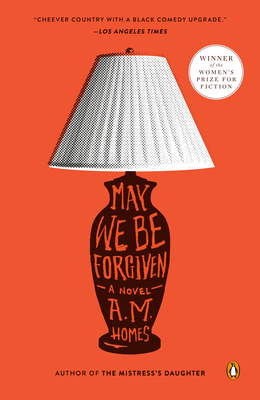 Staff Reviews
---
Harold is a middle-aged community college professor treading water in life and work when his successful brother flips out and commits a violent, irrevocable deed. Left suddenly in the family driver seat, Harold must keep himself and everyone else from going crazy. This black comedy is like Noah Baumbach directing a Philip Roth novel -- plus awkward online dating and an obsession with Richard M. Nixon.
— Steve
October 2012 Indie Next List
---
"Homes' latest darkly comic novel is more poignant and moving than it appears at first glimpse, and the rudderless, hapless Nixon scholar Harold Silver's year in the wilderness is more eye-opening than he can at first admit to himself. As Harry grows and grieves in his own way over the course of the insanity-laced year, we are happily along for the ride, unquestioningly loving the person he becomes. A truly remarkable feat of storytelling that both pulsates with the underlying ache of loss and manages to crack a couple of your ribs when you laugh too hard."
— Seth Marko, UCSD Bookstore, La Jolla, CA
Description
---
Winner of the 2013 Women's Prize for Fiction—A darkly comic novel of twenty-first-century domestic life by a writer who is always "compelling, devastating, and furiously good" (Zadie Smith)

Harold Silver has spent a lifetime watching his younger brother, George, a taller, smarter, and more successful high-flying TV executive, acquire a covetable wife, two kids, and a beautiful home in the suburbs of New York City. But Harry, a historian and Nixon scholar, also knows George has a murderous temper, and when George loses control the result is an act of violence so shocking that both brothers are hurled into entirely new lives in which they both must seek absolution.

Harry finds himself suddenly playing parent to his brother's two adolescent children, tumbling down the rabbit hole of Internet sex, dealing with aging parents who move through time like travelers on a fantastic voyage. As Harry builds a twenty-first-century family created by choice rather than biology, we become all the more aware of the ways in which our history, both personal and political, can become our destiny and either compel us to repeat our errors or be the catalyst for change.

May We Be Forgiven is an unnerving, funny tale of unexpected intimacies and of how one deeply fractured family might begin to put itself back together. 
About the Author
---
A. M. Homes is the author of the memoir The Mistress's Daughter and the novels This Book Will Save Your Life, Music for Torching, The End of Alice, In a Country of Mothers, and Jack, as well as the story collections Days of Awe, The Safety of Objects and Things You Should Know. She lives in New York City.
Praise For…
---
MAY WE BE FORGIVEN

Winner of the 2013 Women's Prize for Fiction

"An entertaining, old-fashioned American story about second chances…A.M. Homes is a writer I'll pretty much follow anywhere because she's indeed so smart, it's scary; yet she's not without heart…May We Be Forgiven [is] deeply imbued with the kind of It's A Wonderful Life-type belief in redemption that we Americans will always be suckers for, and rightly so." —Maureen Corrigan, Fresh Air

"Cheever country with a black comedy upgrade…Homes crams a tremendous amount of ambition into May We Be Forgiven, with its dark humor, its careening plot, its sex-strewn suburb and a massive cast of memorable characters...its riskiest content, however, is something different: sentiment.  This is a Tin Man story, in which the zoned-out Harry slowly grows a heart." —Carolyn Kellogg, The Los Angeles Times

"Darkly funny…the moments shared between this ad hoc family are the novel's most endearing…Homes' signature trait is a fearless inclination to torment her characters and render their failures, believing that the reader is sophisticated enough – and forgiving enough – to tag along."  —Katie Arnold-Ratliff, Time Magazine

"Homes, whose masterful handling of suburban dystopia merits her own adjective, may have just written her midcareer magnum opus with this portrait of a flawed Nixonian bent on some sort of emotional amnesty." —Christopher Bollen, Interview

"At once tender and uproariously funny…one of the strangest, most miraculous journeys in recent fiction, not unlike a man swimming home to his lonely house, one swimming pool at a time:  it is an act of desperation turned into one of grace." —John Freeman, The Cleveland Plain Dealer

"A big American story with big American themes, the saga of the triumph of a new kind of self-invented nuclear family over cynicism, apathy, loneliness, greed, and technological tyranny…this novel has a strong moral core, neither didactic nor judgmental, that holds out the possibility of redemption through connection."  –Kate Christensen, Elle

"A.M. Homes has long been one of our most important and original writers of fiction. May We Be Forgiven is her most ambitious as well as her most accessible novel to date; sex and violence invade the routines of suburban domestic life in a way that reminded me of The World According to Garp, although in the end it's a thoroughly original work of imagination." –Jay McInerney, New York Times bestselling author of The Good Life

"I started this book in the A.M., finished in the P.M., and couldn't sleep all night. Ms. Homes just gets better and better." —Gary Shteyngart, New York Times bestselling author of Our Country Friends

"What if whoever wrote the story of Job had a sense of humor? Nixon is pondered. One character donates her organs.  Another tries to grow a heart.  A seductive minefield of a novel from A.M. Homes." —John Sayles, author of A Moment in the Sun

"I started reading A.M. Homes twenty years ago. Wild and funny, questioning and true, she is a writer to go travelling with on the journey called life." —Jeanette Winterson, New York Times bestselling author of Why Be Happy When You Could Be Normal?

DAYS OF AWE

"A.M. Homes skillfully circles and tugs at the question of what it means to live in flawed, fragile, hungry human bodies . . . DAYS OF AWE is sliced through with Homes's dark humor . . . one wants to read passages of a Homes story aloud because they are so fine . . . DAYS OF AWE feels like the part of the day when the sun is about to go down and the light is brighter while the shadows are darker. Everything has a sharp edge, is strikingly beautiful and suddenly also a little menacing." —Ramona Ausubel, The New York Times Book Review

"Exuberantly transgressive." —O, the Oprah Magazine

"[Homes] has shown a unique penchant for cracking open the dark heart of human nature — with irreverent wit, devastating empathy and haunting shocks . . . DAYS OF AWE [is] a memorable assortment of new tales about family, love, death, and an unqualified man who somehow stumbles into becoming a populist political candidate." —Mary Elizabeth Williams, Salon

"Homes's keen ear for speech—surreal as her characters' conversations often are—lends itself to varying degrees of self-aware misunderstanding, highlighting the complexity of language and the challenges . . . The impossibility of knowing another person completely is one of life's painful truths, and [this] collection remind us of that—but [it] also shows that there are, at least, tools available to help us try." —Vanity Fair

"Fascinating . . . I consumed these stories exactly like a spectator of a good fight or a neighbor peering through the hedge, and I felt sharply observed in turn. Homes, with her fierce sharp wit, reveals her characters' deep flaws. No one gets away with anything and the spectacle is delightful." —Molly Livingston, The Paris Review Daily

"With dark humor and sharp dialogue, Homes plumbs the depths of everyday American anxieties through stories about unexpected situations." —Time

"In the title story, a Holocaust survivor taps into a theme of the collection when he describes the way people hold the history of previous generations inside them. 'We carry it with us, not just in our grandmother's silver,' he says, 'but in our bodies, the cells of our hearts.'" —Wall Street Journal

THE MISTRESS' DAUGHTER

"A compelling, devastating, and furiously good book written with an honesty few of us would risk." --Zadie Smith

"Fierce and eloquent." --The New York Times Book Review

"As startling and riveting as her fiction . . . a lacerating memoir in which the formerly powerless child triumphs with the help of a mighty pen." --San Francisco Chronicle

"Rich in humanity and humor . . . Homes combines an unfussy candor with a deliciously droll, quirky wit. . . . Her energy and urgency become infectious." --USA Today

"I fell in love with it from the first page and read compulsively to the end." --Amy Tan

"As a memoirist, A.M. Homes takes a characteristically fierce and fearless approach. And she has a whopper of a personal story to tell." --Chicago Tribune
 
THIS BOOK WILL SAVE YOUR LIFE

"Homes' dark delivery . . . is in full regalia here. . . . Laugh-out loud funny." --The Boston Globe

"An absolute masterpiece . . . Homes writes ecstatically, and like no one else." --The Philadelphia Inquirer

"I think this brave story of a lost man's reconnection with the world could become a generational touchstone, like Catch-22, The Monkey Wrench Gang, or The Catcher in the Rye. . . . And hey, maybe it will save somebody's life." --Stephen King

Hilarious . . . Homes writes in the tradition of Kurt Vonnegut and has the talent to pull it off." --San Francisco Chronicle
 
IN A COUNTRY OF MOTHERS

"Homes...has the ability to scare you half to death....[She is] devastating...a very dangerous writer." —Washington Post Book World

"A commanding narrative...by turns witty and unnerving, and at times almost unbearable in its emotional intensity." —Wall Street Journal

"Intriguing...captures a world spinning out of control....Homes is at her best evoking the pathos and obsession at the center of relationships between therapist and patient, mother and child, husband and wife. She is also wickedly funny. [This is] a psychologically gripping story." —San Francisco Chronicle
 
THE SAFETY OF OBJECTS

"Enthralling . . . full of subversive humor and truth . . . original and stiletto sharp."  —The Washington Post

"Wonderfully skewed stories . . . sharp, funny, and playful . . . Homes is confident and consistent in her odd departures from life as we know it, sustaining credibility by getting details right. A fully engaged imagination [is] at work—and play." —Amy Hempel, The Los Angeles Times

"Alarmingly good . . . It is hard to say exactly who Homes's predecessors are—Roald Dahl, Rachel Ingalls, and J.D. Salinger all come to mind—but in many ways she is not unlike Cheever." —The Village Voice

"These stories are remarkable. They are awesomely well-written. In the sense of arousing fear and wonder in the reader they entertain, but what they principally bring us is a sense of recognition . . . Here are all the things that even today, even in our frank outspoken times, we don't talk about. We think of them punishingly in sleepless nights." —Ruth Rendell

"An unnerving glimpse through the windows of other people's lives. A.M. Homes is a provocative and eloquent writer, and her vision of the way we live now is anything but safe." —Meg Wolitzer

THE UNFOLDING

Forthcoming September 22

"From her first book onward, A.M. Homes has been challenging us to look at fiction, the world, and one other as we haven't done—because we haven't had the nerve, the eyes, the dire and dispassionate imagination. Gripping, sad, funny, by turns aching and antic and, as always, exceedingly well-observed and written, The Unfolding opens up another one of her jagged windows, at times indistinguishable from a crack, in the world that is always unfolding, and always vanishing, around us. " -- Michael Chabon, bestselling and Pulitzer Prize-winning author of Moonglow and The Amazing Adventures of Kavalier & Clay

"A terrific black comedy, written almost entirely in pitch-perfect dialogue, that feels terrifying close to the unfunny truth." -- Salman Rushdie, New York Times bestselling author of The Golden House and Quichotte

"A dazzling portrait of a family—and a country—in flux. A story about what happens when truths that once seemed self-evident turn out to be neither self-evident nor even true. A.M. Homes has perfectly captured an America as it lurches toward freak-out, and a family as it shreds the lies it's been living by. The Unfolding is hilarious and shocking and heartbreaking and just a little bit deranged—in other words, it's a book that feels like what it feels like to be alive right now." --Nathan Hill, author of The Nix