The Old, Weird America: The World of Bob Dylan's Basement Tapes (Paperback)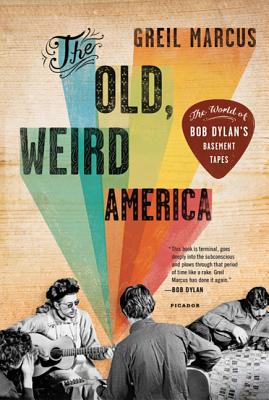 Description
---
A Special Edition with a New Introduction and an Updated Discography

This is Greil Marcus's acclaimed book on the secret music made by Bob Dylan and the Band in 1967, which introduced a phrase that has become part of the culture: "the old, weird America." It is this country that the book maps—the "playground of God, Satan, tricksters, Puritans, confidence men, illuminati, braggarts, preachers, anonymous poets of all stripes" (Luc Sante, New York magazine). In honor of Dylan's seventieth birthday, this special edition includes a new introduction, an updated discography, and a cover featuring never-before-seen photographs of the legendary recording sessions.
About the Author
---
Greil Marcus is the author of Mystery Train (1975), Lipstick Traces (1989), The Old, Weird America (1997; 2001) and Double Trouble (2000).
Praise For…
---
"This book is terminal, goes deeply into the subconscious and plows through that period of time like a rake. Greil Marcus has done it again." —Bob Dylan

"It is the speculative intelligence with which Marcus chases the specters and wraiths of this country's musical past that emerges as the exhilarating feat of [The Old, Weird America] . . . No previous writer has so transportingly or authoritatively revealed Mr. Dylan against receding vistas of American music and culture." —Robert Polito, The New York Times Book Review

"The year's best work of criticism, hands down . . . Marcus draws bold freehand loops around Dylan's music, loops so wide and loose that they take in not just the breadth of American folk music, but huge chunks of American history as well. This is the best kind of history book, one that acknowledges that mythology is sometimes the truest kind of fact." —Stephanie Zachareck, Newsday

"Marcus has always been set on discovering how much a performer can bring to bear on his or her material, and how much a critic can bring to bear on those performances . . . He offers his readers a breathtaking sense of freedom." —Charles Taylor, Salon

"Nearly everyone will be dazed at one point or another along the mystery trip that Marcus leads, because his desire is not to settle your notions but to vaporize them . . . But Marcus knows where Dylan is at all times, in his absence as well as his presence. That's because, on the haunted back roads of [The Old, Weird America], these two elusive old masters, tricksters both, have fully met their match." —Anthony DeCurtis, Rolling Stone

"Chances are, twenty years from now, [this book] will stand as one of the classics of American criticism." —Mikal Gilmore, The Observer (London)

"His work is very likely the most imaginative criticism being done, but it's more than that: It's a light in dark times." —Luc Sante, New York

"Dylan once famously described folk music as 'nothing but mystery.' Here the mystery is thoroughly explored and gloriously deepened." —Ross Fortune, Time Out (London)

"A poetic encounter with the latent stories of America's manifest dreams . . . Nonfiction novel of the year." —Graham Caverny, Arena

"The wisest, funniest book about rock since Marcus's own 1975 Mystery Train." —Rob Sheffield, Rolling Stone

"Discussing such virtually unknown singers as Dock Bogs and Clarence Ashley, Marcus lays out a thesis about the authority of radical individualism in American culture. He finds in [their] songs an idea of America as a place where what matters most is not the distribution of goods or the regulation of morality, but rather the way 'people plumb their souls and then present their discoveries, their true selves, to others' . . . This is, in many ways, his most subtle book. Marcus's love for the gnostic of self-creation, of the idea of infinite possibility, is tempered here by a profound awareness of the power of tradition, of the way in which the new makes sense only because of, not despite, the old." —James Surowiecki, Boston Phoenix

"Marcus finds in the 'Basement Tapes' an unfinished synthesis of free speech and the shaggy-dog story, the two obsessions of [his own] writing, and perhaps finally of American history." —Anthony Miller, New City (Chicago)

"We owe God a death, and Greil Marcus owed all God's children a lifework on Bob Dylan. And here it is, one heaven of a book . . . What Marcus brings to these songs is a variety of good things: fierce fervor, social convictions, a loving discrimination, never a touch of envy, and an extraordinary ability to evoke in words the very feel (throaty, threatening, thorough, thick with thought) of a man's voice, of this man's voice." —Christopher Ricks, The Guardian (London)