Staff Pick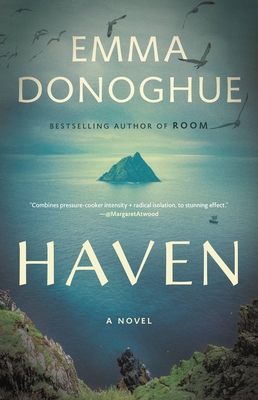 Haven
Publication Date:
August 23rd, 2022
Publisher:
Little, Brown and Company
In Stock at Warehouse - Usually Arrives in 3-7 Days
Staff Reviews
Three 7th century monks alone on an island with thousands of birds. What could happen next? Ultimately this book is about power: the power of a leader over followers, the power of man over his environment, and the power of a story to make sense of the world. Donoghue's prose is stark, simple, meditative, and impossible to stop reading.
— Steve
Description
In this beautiful story of adventure and survival from the New York Times bestselling author of Room, three men vow to leave the world behind them as they set out in a small boat for an island their leader has seen in a dream, with only faith to guide them.
In seventh-century Ireland, a scholar and priest called Artt has a dream telling him to leave the sinful world behind. Taking two monks—young Trian and old Cormac—he rows down the river Shannon in search of an isolated spot on which to found a monastery. Drifting out into the Atlantic, the three men find an impossibly steep, bare island inhabited by tens of thousands of birds, and claim it for God. In such a place, what will survival mean?
Praise for Haven
"HAVEN. In 7th C, #Ireland, three men set sail to a bird-thick island to find God. #EmmaDonoghue (ROOM) combines pressure-cooker intensity + radical isolation, to stunning effect. What is Divine Grace? Purity of soul? Virtue? Not what they think." —@MargaretAtwood
"Told with the clarity of a fable, Haven transports us into territories unknown, where 'fog makes an island of every man.' Donoghue's men of the cloth confront challenges that rattle not only their faith in God, but their faith in each other and in the natural world. This is a patient, thoughtful novel with much to say about spirituality, hope, and human failure, and about the miracle of mercy."—Esi Edugyan, Giller Prize-winning author of Washington Black
"Haven is a beautiful and timely novel about isolation, passion and the conflict between obedience and self-preservation. The island setting and the characters stayed with me long after I finished reading."—Sarah Moss, author of Summerwater
"Donoghue's readers and all lovers of thought-provoking literary fiction will be looking for this quietly dramatic tale."—Sara Johnson, Booklist
"Taking one of her regular breaks from contemporary fiction, Donoghue has left behind none of her ability to spin a compelling story and people it with sharp characterizations....Generating narrative tension from a minimum of action, Donoghue brings the monks' conflicts to a climax when Trian falls ill and a long-kept secret is revealed. Artt's bigoted response provokes a confrontation that brings the novel to a satisfying conclusion. Reminiscent of Room (2010) in its portrayal of fraught interactions in a confined space, this medieval excursion lacks its bestselling predecessor's broad appeal, but the author's more adventurous fans will appreciate her skilled handling of challenging material.
More fine work from the talented Donoghue."—Kirkus Reviews