The Grip of It: A Novel (Paperback)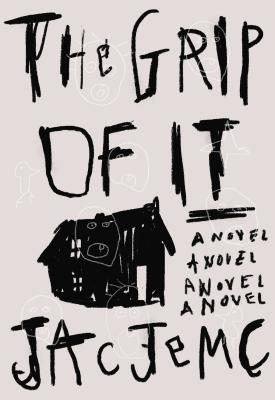 Staff Reviews
---
An absolutely perfect, straight-ahead haunted house horror novel. Newlyweds buy a fixer-upper and immediately experience disturbing phenomena. But with chapters alternating between his & her POVs, you never quite know who's reliable. And the creepy neighbor knows more than he's letting on...
— Steve
Description
---
Finalist for the Chicago Review of Books Fiction Award, Dan Chaon's Best of 2017 pick in Publishers Weekly, one of Vol. 1 Brooklyn's Best Books of 2017, a BOMB Magazine "Looking Back on 2017: Literature" Pick, and one of Vulture's 10 Best Thriller Books of 2017.

Jac Jemc's The Grip of It is a chilling literary horror novel about a young couple haunted by their newly purchased home

Touring their prospective suburban home, Julie and James are stopped by a noise. Deep and vibrating, like throat singing. Ancient, husky, and rasping, but underwater. "That's just the house settling," the real estate agent assures them with a smile. He is wrong.

The move—prompted by James's penchant for gambling and his general inability to keep his impulses in check—is quick and seamless; both Julie and James are happy to start afresh. But this house, which sits between a lake and a forest, has its own plans for the unsuspecting couple. As Julie and James try to establish a sense of normalcy, the home and its surrounding terrain become the locus of increasingly strange happenings. The framework— claustrophobic, riddled with hidden rooms within rooms—becomes unrecognizable, decaying before their eyes. Stains are animated on the wall—contracting, expanding—and map themselves onto Julie's body in the form of painful, grisly bruises.

Like the house that torments the troubled married couple living within its walls, The Grip of It oozes with palpable terror and skin-prickling dread. Its architect, Jac Jemc, meticulously traces Julie and James's unsettling journey through the depths of their new home as they fight to free themselves from its crushing grip.
About the Author
---
Jac Jemc is the author of False Bingo, The Grip of It, My Only Wife, and A Different Bed Every Time. My Only Wife was a finalist for the 2013 PEN/Robert W. Bingham Prize for Debut Fiction and winner of the Paula Anderson Book Award, and her story collection False Bingo won the Chicago Review of Books Award for Fiction, was a Lambda Award finalist, and was long-listed for the Story Prize. Jemc currently teaches creative writing at the University of California San Diego.
Praise For…
---
Praise for The Grip of It

Recommended Reading by Nylon, W, Marie Claire, Entertainment Weekly, Men's Journal, Lit Hub and Chicago Reader

"A page-turning psychological thriller . . . [The Grip of It] is the clever work of a writer who has patiently carved out her own home in contemporary fiction . . . as chilling as it is evocative." —Laura Pearson, Chicago Tribune

"[The Grip of It] is a cerebral haunting in book form, a page-turning, suspenseful read that will stay with you long after you've finished it . . . The Grip of It stalks the reader through its pages with a silent, grayscale terror, like the brush of a web against your cheek in the dark . . . What makes this novel so powerful is the acknowledgement that intimacy does require a trust beyond logic, that "ruin" can come just as easily to the guilty or the guiltless, and an embrace of the chaos is sometimes the only way to make it out to the other side." —Matt Lewis, Electric Literature

"Jemc adds something unique to [horror in American media] with her writing . . . To keep the tension going, Jemc never allows her readers a chance to fully know if the haunting is authentic, but it's not validation of the supernatural that the reader needs to enjoy this book. The pleasure of this text is in the participation of the reader, the act of taking Jemc's narrative gaps and her characters' fugue states and constructing the story they want (or don't want)." —Duncan Barlow, Vol. 1 Brooklyn

"Jemc's novel of literary horror is sharply written and builds compulsive momentum, alternating between James and Julie's points of view in short, dense chapters. The language is vivid and the syntax deliberate, building sentences that unfurl the novel's growing unease. A novel centered on a haunted house that will inevitably also haunt the reader, The Grip of It is an intensely satisfying narrative that calls into question what trust means—of our own minds, and of the relationships around us." —Anne Valente, The Rumpus

"You may find The Grip Of It keeping you awake at night, not because it's a traditional horror novel but because Jemc effortlessly weaves threads of reality and the abstract into an unsettling lens that distorts perception itself." —The Oklahoman

"With an eerie quality evocative of Shirley Jackson . . . [The Grip of It] feels both familiar and disorienting, and both Gothic and modern — a reflection of Jemc's masterful talent." —National Book Review ("5 Hot Books This Week")

"[The Grip of It is] so immediately frightening that your conscious mind subsumes the drama and focuses on the sounds in the house, the weird laughter in the forest, the jagged writing on the walls. The fun in the book is the way Jemc explodes all the haunted house clichés . . . Like all great haunting stories, the great thing is how quickly reality is overturned and shown to be the flimsy construct it is." —Leah Schnelbach, Tor.com

"[The Grip of It] is a book that, like the haunted house at its core, sinks its hooks deep into you and refuses to let go until you turn that last page. . . . The Grip of It is a psychological horror novel that belongs in the same conversation as a classic like The Shining, or more modern examples in film like The Babbadook or Oculus. . . . To all the ravenous fans of the horror genre looking to devour a smart, creepy, and well written book, this is one that once you start, you won't be able to put down." —Robert Young, Heavy Feather Review

"The Grip of It left me with the feeling of being gaslighted—made to feel crazy while being manipulated . . . Jemc delivers a psychological horror story and a disturbing portrait of a marriage . . . The Grip of It closes with unnerving ambiguity, allowing the reader to imagine the options." —Toni Nealie, Newcity Lit

"That distance—the distance between what your relationship feels like on the inside and what it looks like to the outside observer—is the space Jac Jemc productively exploits to some mighty frightful ends in her new novel, The Grip of It . . . All the spooky shit that happens is just on the edge of scary, just on the edge of believable, which makes it all the more terrifying . . . [Jemc's] urgency drove me down the page and onto the next one." —Rich Smith, The Stranger

"A psychological spook story in the best high literary tradition . . . The real scare in this truly haunting novel stems from the way Jemc keeps the psychological tension of Julie and James' relationship taut . . . Shivery and smart. A book that brings the legacy of Henry James into the modern world with great effect." —Kirkus (starred review)

"A haunted house tale that toys with the hallmarks of ghost stories—a young city couple moving to a small town, a curmudgeonly neighbor, a spooky legend—to create an exhilarating and unsettling literary page-turner . . . As the author ratchets up the tension, the reader eagerly follows. The conclusion is the perfect cap to a story full of genuine frights." —Publishers Weekly (starred review)

"For connoisseurs of the 'new weird' and literary/psychological horror à la Mark Z. Danielewski's House of Leaves and Marisha Pessl's Night Film." —Library Journal (starred review)

"Told in a luxuriously looping style that examines experiences from two points of view, this seemingly typical haunted house tale takes some very unexpected turns. Jemc has created a frightening world that feels both impossible and altogether too real. Prepare to read this in one sitting and think about it for days to come." —Booklist

"The Grip of It is a stunning, smart, genuinely creepy page-turner that I couldn't put down. It's got depth, thrills, twists, and great writing. I'd recommend this novel to anyone. One of the few haunted house stories that sticks the landing." —Jeff VanderMeer, author of the Southern Reach trilogy and Borne

"I mean this in the best possible way: Jac Jemc gives me the creeps. The Grip of It deserves a spot on the shelf beside Shirley Jackson's The Haunting of Hill House, Henry James's The Turn of the Screw, and Mark Danielewski's House of Leaves—not only because it is a masterful haunted house story, but because it, like its literary predecessors, is elegantly written, psychologically rich, and damn terrifying." —Benjamin Percy, author of The Dark Net, The Dead Lands, Thrill Me and Red Moon

"Jac Jemc's novel gets into your brain from the first page, then steadily gasses you with a sense of growing dread. The Grip of It is a beautifully built scare ride, and also a surprisingly moving and trenchant portrait of married Millennials. It held me in its grip and squeezed."—Dan Chaon, author of Ill Will, Await Your Reply, and You Remind Me of Me

"Quick and haunting, stark and unsettling, every page of this novel is a shingle laid over the dark heart of a couple in quiet crisis. Take shelter!" —Amelia Gray, author of Isadora and Gutshot

"A horror story, a love story, an astute exploration of the unreliability of thought and perception, Jac Jemc's brilliant and moving novel challenges and enlightens on every page. I couldn't put it down. —Stephen O'Connor, author of Thomas Jefferson Dreams of Sally Hemings