Staff Pick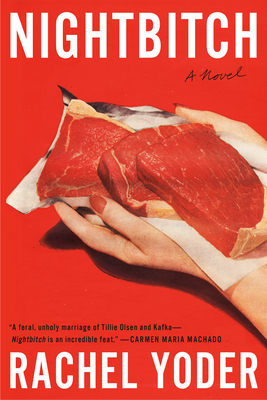 Nightbitch: A Novel
Publication Date:
July 20th, 2021
Staff Reviews
The mother of a young child begins changing into a dog at night. Yep--that's the premise of Nightbitch and all I can say without ruining it. But it does nothing to communicate the vivid strangeness and intense vision of this debut novel. Despite some comp's to Kafka, Yoder surpasses him in verve, humor, and humanity. You'll be reading her books for years to come.
— Steve
At once weird, darkly funny, moving, relatable, and deliciously messed up, Nightbitch is a rallying howl to women, and especially mothers, everywhere.
August 2021 Indie Next List
Phenomenal! Rachel Yoder's writing is gorgeously dark, clever, and so strange. Nightbitch is a trip and a half but full of poignant and brutal truths we need right now. Anyone who reads this book won't be doing anything but talking about it!
Fall 2022 Indie Next List for Reading Groups
Description
In this blazingly smart and voracious debut novel, an artist turned stay-at-home mom becomes convinced she's turning into a dog. • "A must-read for anyone who can't get enough of the ever-blurring line between the psychological and supernatural that Yellowjackets exemplifies." —Vulture
One day, the mother was a mother, but then one night, she was quite suddenly something else...
An ambitious mother puts her art career on hold to stay at home with her newborn son, but the experience does not match her imagination. Two years later, she steps into the bathroom for a break from her toddler's demands, only to discover a dense patch of hair on the back of her neck. In the mirror, her canines suddenly look sharper than she remembers. Her husband, who travels for work five days a week, casually dismisses her fears from faraway hotel rooms.
As the mother's symptoms intensify, and her temptation to give in to her new dog impulses peak, she struggles to keep her alter-canine-identity secret. Seeking a cure at the library, she discovers the mysterious academic tome which becomes her bible, A Field Guide to Magical Women: A Mythical Ethnography, and meets a group of mommies involved in a multilevel-marketing scheme who may also be more than what they seem.
An outrageously original novel of ideas about art, power, and womanhood wrapped in a satirical fairy tale, Nightbitch will make you want to howl in laughter and recognition. And you should. You should howl as much as you want.
Praise for Nightbitch: A Novel
A BEST BOOK OF THE YEAR: VULTURE and ESQUIRE
"[A] wily and unrestrained debut. . . You can feel Yoder breaking loose, too, like she's just self-injected a serum mixed with her protagonist's blood . . . With its endorsement of a magical text as more cathartic than any mommy memoir, Nightbitch makes the case for itself, and for fiction that expands motherhood into new, surreal dimensions. . . Yoder sees a new way into the baser kinks of our animal selves, the ineffable bodily transformation of a woman into a mother. What is fiction for, if not blowing life up into the freakish myth it appears to be?"
—The New Yorker

"[Nightbitch] might well be the debut of the year. A feral fairy tale of maternal dissatisfaction, it's best to go into this one knowing as little possible, the better to let Yoder work her devious magic on you."
—Chicago Review of Books
"All the cool-mom book groups—all the parent book groups, really—should read Nightbitch. . . It feels like reading a deliciously long text from your smartest friend, with a hint of Kafka, if Kafka lived in the age of mommy bloggers and designer doggy raincoats. No need to be a parent, a dog owner, or a fan of magical realism to enjoy; Yoder writes about contemporary anxieties with so much intelligence and charm that she can cause you to reflect without spiraling into deep depression. That's a feat, these days, greater than metamorphosis."
—Glamour
"In this unforgettable debut novel, Yoder delivers an outrageous Kafkaesque parable about the mundanity and monstrosity of early motherhood. . . Nightbitch will grab you by the scruff and refuse to let go."
—Esquire
"Nightbitch is fantastically rendered. Yoder's voice is razor-sharp, poignant and wry. While it's seeped in mythical qualities, the haunting premise doesn't seem that far-fetched. Nightbitch is a stunning modern feminist fable that shouldn't be missed."
—The Seattle Times
"Rather than childbirth twisted into hideous shapes by the male artistic eye, in this book art crawls out of motherhood with an exhausted, sweating, blood-strewn, but joyous howl. . . Creativity and motherhood don't need to be at each other's throats, like vampires or zombies. In Nightbitch they feed in the same night on the same wild prey."
—The Boston Globe

"Yoder explores familiar themes through an inventive conceit, literalizing the surrealness of motherhood with dark humor and a keen sense of irony."
—The New York Times Book Review
"This book is part feminist indictment of the impossible state America's mothers find themselves in, and part meditation on maternal fulfillment and rage. It's also entirely bonkers and entirely relatable, perfectly capturing that impetus toward destruction you feel after everything else has been drained from you."
—Romper
"Wildly (literally) imaginative plot aside, Yoder's debut exposes her as a tremendous writer. She seamlessly blends dark comedy with astute observations on the state of modern motherhood and feminism in general that will make the reader feel both seen and enraged."
—PureWow
"Yoder's guttural and luminous debut blends absurdism, humor, and myth to lay bare the feral, violent realities underlying a new mother's existence… Bursting with fury, loneliness, and vulgarity, Yoder's narrative revels in its deconstruction of the social script women and mothers are taught to follow, painstakingly reading between the lines to expose the cruel and downright ludicrous ways in which women are denied their personhood. An electric work by an ingenious new voice, this is one to devour."
—Publishers Weekly *starred review*
"A darkly funny, often insightful dive into the competitive relationship and mutually generative potential between art and motherhood and the animalism underlying procreation and child-rearing. . . A battle hymn as novel about sinking your teeth into the available options for self-determination and ripping them to shreds."
—Kirkus Reviews
"...A bold book, funny and bizarre and utterly without comparison…It takes an unmatched talent to orchestrate such an unorthodox concept. Thankfully, Rachel Yoder pulls it off with aplomb."
—Elle
"Rachel Yoder's much-hyped debut about contemporary motherhood joins a long literary tradition of women transforming and metamorphosing inside the pressure cooker of domesticity. If you're a fan of Angela Carter, Miranda July or Charlotte Perkins Gilman, you won't want to miss this."
—Refinery29
"Wild and strangely hopeful, Nightbitch's success lies in Yoder's controlled style and its leap just beyond reality. If motherhood is an otherworldly state, why confine a story about it to the strictures of the real world?"
—Vulture
"Electric"
—Entertainment Weekly
"Filled with wickedly smart observations and hilarious — and heartbreaking — moments."
—Business insider
"I could not love a novel more than Rachel Yoder's Nightbitch. It's such a uniquely brilliant book, one that looks at the intersection of motherhood and art, the terror of 'a thousand artless afternoons'. It is so wonderfully observant, so precise, and yet manages to expand and expand upon those initial concerns, turning magical, dark, and funny."
—Kevin Wilson, New York Times bestselling author of Nothing to See Here