A Hundred Summers (Hardcover)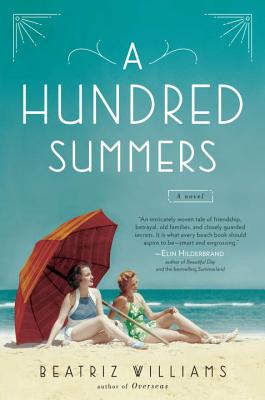 Description
---
"Novels as masterfully done as A Hundred Summers come along only about that often. Beatriz Williams delivers an intricately woven tale of friendship, betrayal, old families, and closely guarded secrets. It is what every beach book should aspire to be - smart and engrossing."--Elin Hilderbrand, author of Beautiful Day and the bestselling "Summerland"
" A] fast-paced love story...the scorching sun illuminates a friend's betrayal and reignites a romance." --" O, The Oprah Magazine"
"Summer of 1938: A scandalous love triangle and a famous hurricane converge in a New England beach community. Add in a betrayal between friends, a marriage for money, and a Yankee pitcher, and it's a perfect storm." --"Good Housekeeping"
"One of summer's best beach reads, as named by "People" magazine, "Vanity Fair," "O: The Oprah Magazine" and "Good Housekeeping.""
Memorial Day, 1938: New York socialite Lily Dane has just returned with her family to the idyllic oceanfront community of Seaview, Rhode Island, expecting another placid summer season among the familiar traditions and friendships that sustained her after heartbreak.
That is, until Greenwalds decide to take up residence in Seaview.
Nick and Budgie Greenwald are an unwelcome specter from Lily's past: her former best friend and her former fiance, now recently married--an event that set off a wildfire of gossip among the elite of Seaview, who have summered together for generations. Budgie's arrival to restore her family's old house puts her once more in the center of the community's social scene, and she insinuates herself back into Lily's friendship with an overpowering talent for seduction...and an alluring acquaintance from their college days, Yankees pitcher Graham Pendleton. But the ties that bind Lily to Nick are too strong and intricate to ignore, and the two are drawn back into long-buried dreams, despite their uneasy secrets and many emotional obligations.
Under the scorching summer sun, the unexpected truth of Budgie and Nick's marriage bubbles to the surface, and as a cataclysmic hurricane barrels unseen up the Atlantic and into New England, Lily and Nick must confront an emotional cyclone of their own, which will change their worlds forever.
About the Author
---
Beatriz Williams lives with her husband and children in Greenwich, Connecticut. She is the author of" Overseas."
Praise For…
---
 Praise for A Hundred Summers
  "[A] fast-paced love story…the scorching sun illuminates a friend's betrayal and reignites a romance."
                                    — O, The Oprah Magazine

"Perfect for fans of the Gossip Girl series."  — People

"Summer of 1938: A scandalous love triangle and a famous hurricane converge in a New England beach community. Add in a betrayal between friends, a marriage for money, and a Yankee pitcher, and it's a perfect storm."
                        —Good Housekeeping
 
"A candidate for this year's big beach read." —Kirkus

"Novels as masterfully done as A Hundred Summers come along only about that often.  Beatriz Williams delivers an intricately woven tale of friendship, betrayal, old families, and closely guarded secrets.  It is what every beach book should aspire to be – smart and engrossing."                                                              —Elin Hilderbrand, author of Beautiful Day and the bestselling Summerland
"Smart, delicious writing... Williams adds a signature touch of historic drama."  —Library Journal 

"Williams' sweeping saga of betrayal, sacrifice, and redemption trenchantly examines the often duplicitous nature of female friendships and family friendships." 
—Booklist

"A Hundred Summers delivers swoons and intrigue against the backdrop of the 1938 New England hurricane….Williams evokes the era effortlessly and delights in ripping the rug out from under the reader just when the riddles seem easiest to solve. Filled with delicious scandals, catty socialites, and true love, this beach read deserves pride of place in every vacationer's tote bag."
                                                — Shelf Awareness

A Hundred Summers sparkles like the New England summer sun.  A brilliantly told tale of love lost and found, of friendship, and of family ties that strangle… Definitely a book for my keeper shelf. —Karen White New York Times-bestselling author of Sea Change