Staff Pick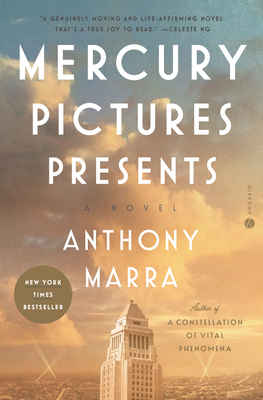 Mercury Pictures Presents: A Novel
Publication Date:
August 2nd, 2022
Staff Reviews
A beautiful piece of WW2 fiction on the home front. Mercury Pictures is a B production studio with tons of problems, the biggest being censors in D.C. Captivating characters with sometimes painful backstories made this a book I couldn't put down.
— Joe
Mercury Pictures Presentsis an utterly satisfying novel, full of rich characters and a beautifully choreographed plot told with wry humor, great love, and writing so smart you'll want to underline every paragraph. Read it!
August 2022 Indie Next List
Description
NEW YORK TIMES BESTSELLER • Winner of the David J. Langum, Sr. Prize in American Historical Fiction • The epic tale of a brilliant woman who must reinvent herself to survive, moving from Mussolini's Italy to 1940s Los Angeles—a timeless story of love, deceit, and sacrifice from the award-winning author of A Constellation of Vital Phenomena
"A genuinely moving and life-affirming novel that's a true joy to read."—Celeste Ng, author of Little Fires Everywhere
"A gorgeous book . . . sublime."—The New York Times (Editors' Choice)
ONE OF THE BEST BOOKS OF THE YEAR: NPR, The Guardian, Booklist
Like many before her, Maria Lagana has come to Hollywood to outrun her past. Born in Rome, where every Sunday her father took her to the cinema instead of church, Maria immigrates with her mother to Los Angeles after a childhood transgression leads to her father's arrest.
Fifteen years later, on the eve of America's entry into World War II, Maria is an associate producer at Mercury Pictures, trying to keep her personal and professional lives from falling apart. Her mother won't speak to her. Her boss, a man of many toupees, has been summoned to Washington by congressional investigators. Her boyfriend, a virtuoso Chinese American actor, can't escape the studio's narrow typecasting. And the studio itself, Maria's only home in exile, teeters on the verge of bankruptcy.
Over the coming months, as the bright lights go dark across Los Angeles, Mercury Pictures becomes a nexus of European émigrés: modernist poets trying their luck as B-movie screenwriters, once-celebrated architects becoming scale-model miniaturists, and refugee actors finding work playing the very villains they fled. While the world descends into war, Maria rises through a maze of conflicting politics, divided loyalties, and jockeying ambitions. But when the arrival of a stranger from her father's past threatens Maria's carefully constructed facade, she must finally confront her father's fate—and her own.
Written with intelligence, wit, and an exhilarating sense of possibility, Mercury Pictures Presents spans many moods and tones, from the heartbreaking to the ecstatic. It is a love letter to life's bit players, a panorama of an era that casts a long shadow over our own, and a tour de force by a novelist whose work The Washington Post calls "a flash in the heavens that makes you look up and believe in miracles."
Praise for Mercury Pictures Presents: A Novel
"A gorgeous book . . . sublime."—The New York Times (Editors' Choice)
"With Mercury Pictures Presents [Marra] cements himself as one of the most deft and most enjoyable novelists working today. . . . I could go on for pages about my admiration for Marra's technique and execution . . . but what I most recall is the general warmth of feeling every time I . . . spent time in that world."—Chicago Tribune
"Epically entertaining  . . . You'll laugh, you'll cry in the marvelous Mercury Pictures Presents."—San Francisco Chronicle
"So much old-time snappy wit that Mercury Pictures Presents should come with popcorn and a 78-ounce Coke."—Ron Charles, The Washington Post
"Marra returns with a sprawling story that ushers readers through the streets of pre-World War II Rome. . . . But as compelling as the story and characters are, the real star is the writing. Marra's ability to capture and render both the joy and pain of life . . . remains unmatched."—NPR
"Crackling with wit . . . Marra's new novel is as epic in sweep as a movie set yet delineates the inner workings of the human heart with a miniaturist's precision. Mercury Pictures Presents explores the endless give-and-take between life and art, the cost of integrity, and the ways we must make peace with the past in order to move toward the future."—Celeste Ng

"Marra has been compared to Nabokov, Kafka, and Orwell. The word 'brilliant' gets used in all his reviews. Mercury Pictures Presents is a great literary read."—Ann Patchett
"Funny, verbally inventive and, ultimately, very moving, Mercury Pictures Presents is a wonderful novel."—Sunday Times UK, Book of the Month

"Marra has ascended to the top of the literary ranks."—Booklist (starred review)
"Intimate and sweeping, heartfelt and satirical, one of the funniest and most moving novels I've read in a long time."—Jess Walter

"Mercury Pictures Presents has all the breadth and power of an epic and the attention to detail of an intimate conversation. I read it in a state of admiration for the beauty Marra has wrung from the English language."—Sara Nović

"A novel so rich and wondrous . . . that there's only one word for Anthony Marra: genius."—Sally Mann
"A writer of boundless talent. . . . A singularly pleasurable read—smart, sad, hilarious, and always full of heart."—Nathan Hill
"Achingly beautiful . . . You laugh, then you sigh, then you weep."—Luis Alberto Urrea
"I laughed aloud many times, even as I marveled."—Aimee Bender

"An energetic, wildly comical tale . . . Amid all the action and plot twists, it's also a serious examination of immigration and xenophobia, identity and impersonation, and art, propaganda and censorship."—BookPage