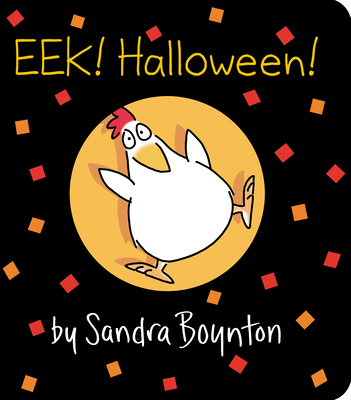 Eek! Halloween! (Boynton on Board)
Publication Date:
August 23rd, 2016
Publisher:
Workman Publishing Company
Description
Boynton celebrates Halloween!
There's a big round moon in a dark, dark sky. The chickens are nervous. Do you know why?
Strange things are happening. One chicken saw a pumpkin with flickering eyes, another spied a mouse of enormous size. They all saw a wizard and a witch, and a spooky robot. "WHAT'S GOING ON HERE? WHAT DOES IT MEAN? / Relax, silly chickens! It's HALLOWEEN!"
Eek! Halloween! is a holiday favorite that's all treat and no tricks. Oversized lap edition also available—perfect for reading aloud!
Praise for Eek! Halloween! (Boynton on Board)
"Kids anticipating their first Halloween will be easily convinced....that the upcoming holiday is full of spooky fun." —School Library Journal
"The pigs are cute, and the coloring and illustrations evoke a warmth...emphasizing all the fun Halloween has to offer. An excellent, rounded effort from a creator who knows how to deliver. (Board book. 1-3)"—Kirkus Reviews
"With humorous rhymes and boisterous, expressive drawings, "EEK! Halloween!" is a treat." —The Washington Post