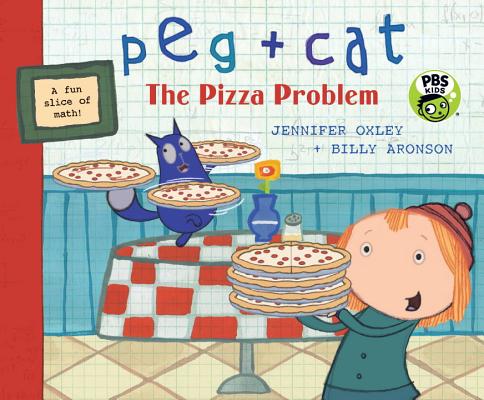 Peg + Cat: The Pizza Problem
Publication Date:
March 14th, 2017
Publisher:
Candlewick Entertainment
Description
What do fractions have to do with pizza? The stars of the Emmy Award–winning animated series Peg + Cat serve up — and solve! — a delicious problem.
It's lunchtime at Peg's Pizza Place! Peg and Cat are excited to take their first order — from the Teens! — only to learn that some customers want a whole pizza while one of them wants half a pie. How can Peg and Cat make half a pie when they don't know what half is? Peg is totally freaking out — until Cat reminds her that when it comes to halves and wholes, it's all in how you slice it.
Praise for Peg + Cat: The Pizza Problem
Peg and Cat return in a new picture book and take math into the kitchen to help solve a crisis...Illustrations of the math problems support visual learning and highlight the cast of delightful characters, from "the Teens" to Ludwig van Beethoven and Zebra Guy. A fun way to teach math from definition to application.
—School Library Journal
What better way to learn fractions than by thinking about pizza?...This book would be good for supplemental math activities, as well as a fun story for reading aloud or enjoying individually.
—School Library Connection