Homicide at Rough Point (Hardcover)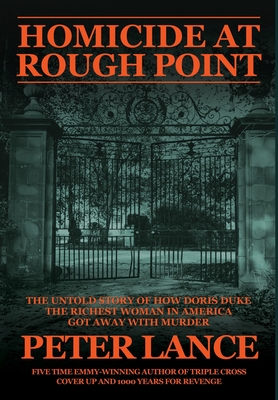 $31.99
In Stock - Usually Ships in 1-5 Days
Description
---
In the fall of 1966 billionaire Doris Duke killed a close confident in an incident that the Newport, RI police hastily ruled "an accident." Half a century later, an investigative reporter returns to his hometown and proves that the vindictive heiress got away with murder.
Introduction: Cielo Drive cuts like a beautiful scar along the bottom of a V-shaped canyon in the hills of Bel Air. In February, 1969, as she looked out on it from the red farmhouse at No. 10050 that she and her husband Roman had rented, Sharon Tate had no way of knowing that she only had 6 months to live. On August 9, the hyper-violent "Manson Family" would invade that house, killing Sharon and 3 of her closest friends. But strangely, half a year earlier, she'd had a brush with a different killer. It happened after her sister Patti, then 11, looked across at the Spanish-Moorish estate Sharon called "The Haunted House." In Restless Souls, Alisa Statmen & Brie Tate write that Patti hiked down and crossed Cielo, walking up to 1436 Bella Drive. There, she encountered the open gate to Falcon Lair, Rudolf Valentino's former home, purchased in 1953 by Doris Duke.
The wrought iron gates were open when Patti wandered in. Suddenly, she heard, an angry caretaker yell, "This is private property " Startled, she lost her balance, fell and skinned her knee. Just then, a black limo pulled in. A tinted window went down and a tall woman in back lowered her sunglasses to ask who she was. Once she ID'd herself as Patti, sister of Sharon who lived "in the red barn," Doris knew that this wasn't any child. She was the sibling of the hottest young star in town. So she snapped to the caretaker, "Stop being such an ogre and bring Patti in, so we can clean those scrapes and get me the Polanski's phone number."
Later Sharon arrived, "nervously chewing her lower lip" and apologizing to the blond billionaire who was the 3rd richest woman in the world behind Queen Elizabeth & Queen Juliana. But by then, Sharon Tate was Hollywood royalty herself; her husband Roman, coming off "Rosemary's Baby," a kind of cinematic prince. So why was she nervous? What would make her bite her lip in the face of a woman whose caretaker had caused her little sister to draw blood? Since Sharon was killed that summer, we'll never know. But one thing is clear: this wasn't the first time Sharon Tate had been pulled into Doris's orbit. 2 1/2 years earlier, one of Sharon's closest friends, Eduardo Tirella, was violently killed after Doris crushed him under a two-ton station wagon and, at that time, most of Eduardo's friends suspected he'd been murdered.
The brutal stabbing of Sharon Tate is the tragic tale of a woman of great promise cut down in the prime of life. But that was also true of Eduardo, whose own Hollywood career was catching fire when he told the possessive heiress he was leaving her, minutes before she ran him down outside the gates of her Newport estate. Because she had the money & the power, Doris Duke erased his death from the narrative of her troubled life. For more than 50 years, the real truth behind what happened at Rough Point on Oct. 7th, 1966 has been hidden. Until now...