Staff Pick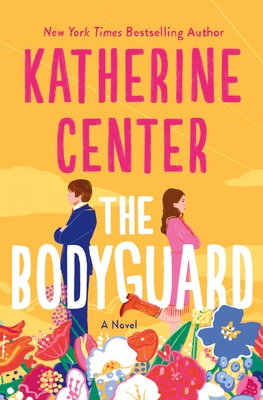 The Bodyguard: A Novel
Previous price:

$29.00
Current price:

$27.99
Publication Date:
July 19th, 2022
Publisher:
St. Martin's Press
In Stock at Warehouse - Usually Arrives in 3-7 Days
Staff Reviews
With a cast of characters and dynamics that feel accurate to life, Katherine Center's newest book delivers humor in spades and plenty of heart. Bodyguard plays with some classic romance trops, and flips others, with main character Hannah playing bodyguard to superstar actor Jack. He never saw her coming, and neither would you!
— Amy
The Bodyguardis the perfect comfort read. You'll feel your shoulders drop in the safety of the world of this book. There's great chemistry between the characters and it's a joy to get to know them. I'm already rooting for a movie version.
August 2022 Indie Next List
Description
Katherine Center's The Bodyguard is "My perfect 10 of a book. As funny and sweet as all the very best nineties rom-coms, but with Center's signature heart-tugging depth. I wish I could erase it from my mind just to read it again for the first time. A shot of pure joy."—Emily Henry, #1 New York Times bestselling author of Book Lovers
She's got his back.
Hannah Brooks looks more like a kindergarten teacher than somebody who could kill you with a wine bottle opener. Or a ballpoint pen. Or a dinner napkin. But the truth is, she's an Executive Protection Agent (aka "bodyguard"), and she just got hired to protect superstar actor Jack Stapleton from his middle-aged, corgi-breeding stalker.
He's got her heart.
Jack Stapleton's a household name—captured by paparazzi on beaches the world over, famous for, among other things, rising out of the waves in all manner of clingy board shorts and glistening like a Roman deity. But a few years back, in the wake of a family tragedy, he dropped from the public eye and went off the grid.
They've got a secret.
When Jack's mom gets sick, he goes home to the family's Texas ranch to help out. Only one catch: He doesn't want his family to know about his stalker. Or the bodyguard thing. And so Hannah—against her will and her better judgment—finds herself pretending to be Jack's girlfriend as a cover. Even though her ex, says no one will believe it.
What could possibly go wrong?
Hannah hardly believes it, herself. But the more time she spends with Jack, the more real it all starts to seem. And there lies the heartbreak. Because it's easy for Hannah to protect Jack. But protecting her own, long-neglected heart? That's the hardest thing she's ever done.
"Great rollicking fun! Prepare to laugh and swoon and grin your pants off."—Helen Hoang, New York Times bestselling author of The Heart Principle
"Absolutely, unequivocally delightful!"—Jodi Picoult, #1 New York Times bestselling author of Wish You Were Here
Praise for The Bodyguard: A Novel
"With speedy pacing and sexual tension for miles, this tale packs a punch." --People

"Utterly charming... Center's latest might be her most winning yet. It's not only a must-read for her fans, but it will likely garner her new devotees as well." --Booklist (starred review)
One of PopSugar's 87 Romance Novels That Will Give You All the Feelings
"Center's laugh-out-loud rom-com is a perfect summer read. The characters are vivid, the plot is compelling, and she balances grief, heartache, hope, and romance in a tender, believable way." --Buzzfeed
"Center brings her signature warmth and wit to this movie-ready premise, blending a heartwarming romance with quirky side characters and even a little bit of action. Hannah is an endearing and vulnerable lead underneath her serious, tough-girl exterior. Center delivers another satisfying, romantic read with a swoonworthy hero and a delightful main character." --Kirkus
"This fun new novel by Katherine Center feels like a summertime blockbuster. On the surface, it's a light-hearted romance, but it packs a bit of an emotional punch (along with some actual punches!)." --Country Living
"Center's confection satisfies on its own terms." --Publishers Weekly
"My perfect 10 of a book. As funny and sweet as all the very best nineties rom-coms, but with Center's signature heart-tugging depth. I wish I could erase it from my mind just to read it again for the first time. A shot of pure joy." —Emily Henry, #1 New York Times bestselling author of Book Lovers
"Great rollicking fun! Prepare to laugh and swoon and grin your pants off." —Helen Hoang, New York Times bestselling author of The Heart Principle
"I sit down with a Katherine Center novel the way many do in front of a favorite holiday meal: with salivating, wide-eyed anticipation. As always, Center's writing wallops readers with wisdom, wit, and a deep understanding of her dimensional characters. And The Bodyguard is pure, unvarnished delight. It sparkles bright with flirtation, banter, and the all-encompassing thrill of falling in love over a thousand tiny moments of connection. I closed this book with the biggest smile and the deepest, satisfied sigh." —Christina Lauren, New York Times bestselling author of The Soulmate Equation
"An irresistible, delightful, perfect read. Clear the calendar, settle in your favorite chair and enjoy every amazing word. Then tell your boss you're going to need the next day off, because you're going to want to read it again!! —Susan Mallery, #1 New York Times bestselling author of The Summer Getaway
"The Bodyguard is absolutely, unequivocally delightful!" —Jodi Picoult, #1 New York Times bestselling author of Wish You Were Here
"The Bodyguard was such a delight from the first page to the last. It was the experience from a book I'm always looking for and very rarely find."
—Julie Buxbaum, New York Times bestselling author of Year on Fire
"A classic feel-good rom-com [that] stands out from the rest. If you're a fan of swoony romance a la Colleen Hoover, pick up this title." --Reader's Digest
"Katherine Center's writing here, as always, is emotionally astute, honest about the realities of life, and full of hope." --Bookriot
"Think Whitney Houston's Bodyguard but with fake dating and gender roles reversed, plus the ending we all deserve. Simply put, this is the most delightfully perfect book!" --Real Simple

"The Bodyguard" is perfect for those in the mood for a funny, hard-hitting feel-good romance." --The Houston Chronicle