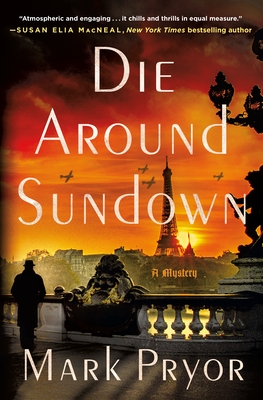 Die Around Sundown: A Henri Lefort Mystery (Henri Lefort Mysteries #1)
Publication Date:
August 16th, 2022
Publisher:
Minotaur Books
Charter Books
On hand, as of Dec 2 2:07am
(Mystery & Suspense)
On Our Shelves Now
Description
Mark Pryor's Die Around Sundown is the first entry in an exciting mystery series set in Paris during World War II, where a detective is forced to solve a murder while protecting his own secrets.
Summer 1940: In German-occupied Paris, Inspector Henri Lefort has been given just five days to solve the murder of a German major that took place in the Louvre Museum. Blocked from the crime scene but given a list of suspects, Henri encounters a group of artists, including Pablo Picasso, who know more than they're willing to share.
With the clock ticking, Henri must uncover a web of lies while overcoming impossible odds to save his own life and prove his loyalty to his country. Will he rise to the task or become another tragic story of a tragic time?
Five days. One murder. A masterpiece of a mystery.
Praise for Die Around Sundown: A Henri Lefort Mystery (Henri Lefort Mysteries #1)
"From this edgy premise, Pryor spins a tale increasingly complex...The identity of [the] murderer is perhaps the least surprising of the many twists and turns this tale of love, hate, and misophonia has on offer. Wheels within wheels power this homage to battles waged without and within." —Kirkus Reviews
"Pryor has constructed a compelling wartime mystery, and he's made 1940 Paris a vividly real place." -Booklist
"Atmospheric and engaging . . . it chills and thrills in equal measure." —Susan Elia MacNeal, New York Times bestselling author of the Maggie Hope series
"Visit occupied Paris in Die Around Sundown, a darkly comic mystery with a sharp eyed and sharp mouthed police detective . . . with a French flair into little known facets of history. A tale with twists and heart." —Cara Black, New York Times bestselling author of the Aimée Leduc series
"In this riveting new series set during WWII, French detective Henri Lefort struggles with the German occupants of his beloved Paris, as well as his own dark experiences in the trenches during the last war. Saddled with the murder investigation of a German officer, Lefort bumps up against his desire to do what's right—and some of Paris's most famous occupants. A love letter to the City of Light, Pryor deftly evokes the tensions of the time, and crafts resilient characters that readers will come back to time and again." —Erica Ruth Neubauer, author of the Jane Wunderly mystery series
"Parisian detective Henri Lefort hunts for a killer while maintaining a precarious balancing act with Nazi occupiers in this gripping and tightly-plotted mystery. With vivid historical detail and fascinating psychological insights, Die Around Sundown perfectly captures the danger and intrigue of wartime Paris, and the sharp-witted, grim-humored Lefort proves he's a match for the best of the hardboiled detectives. Everything about this book is compelling; you won't want to put it down!" —Ashley Weaver, author of the Amory Ames Mysteries and the Electra McDonnell series
"Mark Pryor's Die Around Sundown is a wonderfully historic and a masterful mystery with the entire deck on the table, the wild card being that if Detective Henri Lefort doesn't solve the case of the murdered Nazi in his occupied and beloved Paris—he's a dead man." -Craig Johnson, New York Times bestselling author of the Longmire series
"The novel's historical aspects and police detective will intrigue fans of World War II mysteries" -Library Journal