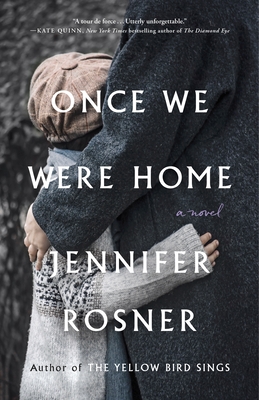 Once We Were Home: A Novel
Publication Date:
March 14th, 2023
Publisher:
Flatiron Books
Charter Books
On hand, as of Dec 6 12:52am
(Fiction - Historical)
On Our Shelves Now
Description
"This forgotten history of displaced WWII children and the return to their roots [is] captivating, thought-provoking, enlightening, and bittersweet." ―Alka Joshi, New York Times bestselling author of The Henna Artist
"Rosner is one of my favorite authors." ―Lisa Scottoline, #1 bestselling author of Eternal
From Jennifer Rosner, National Jewish Book Award Finalist and author of The Yellow Bird Sings, comes a novel based on the true stories of children stolen in the wake of World War II.
When your past is stolen, where do you belong?
Ana will never forget her mother's face when she and her baby brother, Oskar, were sent out of their Polish ghetto and into the arms of a Christian friend. For Oskar, though, their new family is the only one he remembers. When a woman from a Jewish reclamation organization seizes them, believing she has their best interest at heart, Ana sees an opportunity to reconnect with her roots, while Oskar sees only the loss of the home he loves.
Roger grows up in a monastery in France, inventing stories and trading riddles with his best friend in a life of quiet concealment. When a relative seeks to retrieve him, the Church steals him across the Pyrenees before relinquishing him to family in Jerusalem.
Renata, a post-graduate student in archaeology, has spent her life unearthing secrets from the past--except for her own. After her mother's death, Renata's grief is entwined with all the questions her mother left unanswered, including why they fled Germany so quickly when Renata was a little girl.
Two decades later, they are each building lives for themselves, trying to move on from the trauma and loss that haunts them. But as their stories converge in Israel, in unexpected ways, they must each ask where and to whom they truly belong.
Beautifully evocative and tender, filled with both luminosity and anguish, Once We Were Home reveals a little-known history. Based on the true stories of children stolen during wartime, this heart-wrenching novel raises questions of complicity and responsibility, belonging and identity, good intentions and unforeseen consequences, as it confronts what it really means to find home.
Praise for Once We Were Home: A Novel
"Rosner's project in Once We Were Home transcends even her abundant storytelling gifts. Over time, Rosner's characters find themselves at the vortex of complex legal, moral, and philosophical questions."
—The Boston Globe
"Compelling…A thought-pro­vok­ing, mov­ing tale…The bulk of Holo­caust lit­er­a­ture tends to focus on Nazism and con­cen­tra­tion camp expe­ri­ences, and under­stand­ably so. Rosner's nov­el, how­ev­er, push­es the bound­aries of such lit­er­a­ture, explor­ing some of the longer-term con­se­quences that sur­vivors and their fam­i­lies faced."
—Jewish Book Council
"Rosner's novel reflects personal interviews and in-depth research...She illuminates the complex and opposing political and religious viewpoints...Rosner's heart-wrenching revelations in Once We Were Home will persist in readers' minds for seasons to come."
—Historical Novel Society
"Rosner's tender prose unearths the depth and complexity of family, love, religion, identity, memory and home."
—Hadassah Magazine
"Well done, both moving and thought provoking. The author offers no simple answers because there are none. What she does do is provide an excellent look at the way World War II affected adults and children decades after it ended."
—The Jewish Federation of Greater Binghamton's The Reporter

"Necessary…To trace in alternating chapters the growing perceptions of four separate characters requires agility, balance, and the ability both to keep the stories distinct and then to weave them together seamlessly. It's no easy task, yet Rosner accomplishes it handily. The novel's language is clean and lyrical, never overwrought; it tells each story with tenderness and restraint."
—Washington Independent Review of Books
"A tense and heartfelt story...An emotional topic that showcases the devastating results of war where often, even when everyone wants and deserves the best, nobody truly wins."
—BookTrib.
"[A] moving story about identity, family, and the meaning of home…An excellent addition to historical fiction collections."
—Library Journal
"An excellent choice for book clubs…Gives readers much to ponder."
—BookPage
"[A] complex tale about fear, survival, and what it means to be a family."
—Booklist
"A carefully crafted and heartbreaking book."
—Kirkus

"An engrossing story inspired by the postwar lives of Jewish children who were hidden during the war. Fans of Jewish historical fiction will be moved."
—Publishers Weekly

"Poignant, moving, and unforgettable...Rosner is one of my favorite authors, and she writes with the pen and heart of a poet. Rosner enlightens us about a little-known but vital part of world history, and at the same time uplifts us with how this foursome grows to adulthood, claims their identity, and finds love and family of their own."
—Lisa Scottoline, #1 bestselling author of What Happened to the Bennetts and Eternal

"Once We Were Home is the rarest literary bird: breathlessly tense and gorgeously lyrical at the same time (that sweet spot most authors can only dream of!). Rosner immerses her reader in a world full of loss, longing, and mystery, and all the while her ear is tuned to the music of language. I'm in awe of this beautiful novel."
—Lauren Fox, New York Times bestselling author of Send For Me

"Lush, transportive, and heartbreaking. The poetic Rosner is a gifted storyteller, and here, she asks us to consider the true meaning of home and family in a world turned upside down. Astonishing in both its detail and its lyricism, and thrilling in its scope, Once We Were Home soars."
—Kristin Harmel, New York Times bestselling author of The Forest of Vanishing Stars
"Once We Were Home is a tour-de-force. With delicacy and empathy, Rosner examines the aftermath of war on four displaced children. A timely read, searing and utterly unforgettable.
—Kate Quinn, New York Times bestselling author of The Diamond Eye and The Rose Code
"A spell-binding tapestry, with countless twists, turns, and stunning revelations along the way. Rosner's ability to conjure the hearts and minds of these children is nothing short of miraculous; it's impossible not to fall in love with them, and even harder to let them go at the end of the book."
—Helen Fremont, national bestselling author of The Escape Artist
"Rarely have I read such subtle and precise prose, and rarely have I been more moved. One turns the final page with tears of happiness and satisfaction, but above all, with a new appreciation for our unknowable connections, our shared humanity, and our universal desire for home."
—Natalie Jenner, internationally bestselling author of The Jane Austen Society and Bloomsbury Girls
"Under Rosner's talented pen, simple prose turns into poetry and ordinary stories become complex, poignant. I found this forgotten history of displaced WWII children and the return to their roots captivating, thought-provoking, enlightening, and bittersweet."
—Alka Joshi, New York Times bestselling author of The Henna Artist, The Secret Keeper of Jaipur and The Perfumist of Paris
"Utterly gorgeous! This lyrical story of lives in the aftermath of war and displacement breaks our hearts, and mends them back into a stronger love."
—Meg Waite Clayton, internationally bestselling author of The Postmistress of Paris and The Last Train to London
"Rosner's new novel is about the ways we seek family despite the wounds we carry. The stories of her characters fit beautifully together like nesting boxes, building to become an ode to love in its many forms. A brave and ultimately life-affirming book."
—Jai Chakrabarti, National Jewish Book Award winning author of A Play for the End of the World