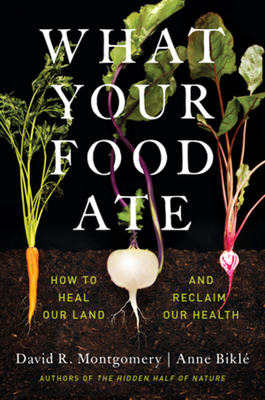 What Your Food Ate: How to Heal Our Land and Reclaim Our Health
Publication Date:
June 21st, 2022
Publisher:
W. W. Norton & Company
Charter Books
On hand, as of Dec 2 2:07am
(Nature & Climate)
On Our Shelves Now
Description
Are you really what you eat?
David R. Montgomery and Anne Biklé take us far beyond the well-worn adage to deliver a new truth: the roots of good health start on farms. What Your Food Ate marshals evidence from recent and forgotten science to illustrate how the health of the soil ripples through to that of crops, livestock, and ultimately us.
The long-running partnerships through which crops and soil life nourish one another suffuse plant and animal foods in the human diet with an array of compounds and nutrients our bodies need to protect us from pathogens and chronic ailments. Unfortunately, conventional agricultural practices unravel these vital partnerships and thereby undercut our well-being. Can farmers and ranchers produce enough nutrient-dense food to feed us all? Can we have quality and quantity?
With their trademark thoroughness and knack for integrating information across numerous scientific fields, Montgomery and Biklé chart the way forward. Navigating discoveries and epiphanies about the world beneath our feet, they reveal why regenerative farming practices hold the key to healing sick soil and untapped potential for improving human health.
Humanity's hallmark endeavors of agriculture and medicine emerged from our understanding of the natural world—and still depend on it. Montgomery and Biklé eloquently update this fundamental reality and show us why what's good for the land is good for us, too. What Your Food Ate is a must-read for farmers, eaters, chefs, doctors, and anyone concerned with reversing the modern epidemic of chronic diseases and mitigating climate change.
Praise for What Your Food Ate: How to Heal Our Land and Reclaim Our Health
Sure to become a classic—a biological Rosetta Stone that intimately and elegantly shows how the health of soil, plants, animals, and human beings are inseparable.… An exquisitely crafted narrative of ecological literacy that upends more than a century of conventional thinking.
— Paul Hawken, author of Regeneration
Authoritative, informative, and entertaining. What Your Food Ate is both eye-opening and a call to action for consumers, farmers, and food companies alike.
— Emeran Mayer, MD, author of The Mind-Gut Connection
David R. Montgomery and Anne Biklé are fast becoming rock stars in the emergent fields of regenerative farming and natural health. What Your Food Ate is a brilliant tour de force and a must-read.
— Carolyn Steel, author of Hungry City
What Your Food Ate is stunningly good. It turns out that the organic pioneers had it right. Eat whole foods grown in healthy soil. In the most accessible way, this book gives a riveting exposé on why that is true.
— Dave Chapman, cofounder of the Real Organic Project
A must read for farmers, ranchers, eaters, and scientists. What Your Food Ate illuminates connections critical to each of us—and our planet.
— Gabe Brown, author of Dirt to Soil
Here, finally, is a book that debunks the growing consensus that in order to protect the planet, your dinner will have to be grown in a test tube. David and Anne examine each strata with scientific precision to remind us once and for all that soil health and human health are—and have always been—one subject.
— Dan Barber, Blue Hill and Row 7 Seed Company
Experts in food science and soil biology, [Biklé and Montgomery] examine ways in which both conventional and innovative farming practices help determine nutritional qualities. . . the granularity of information provided will especially engage those versed in or curious about food science.
— Booklist