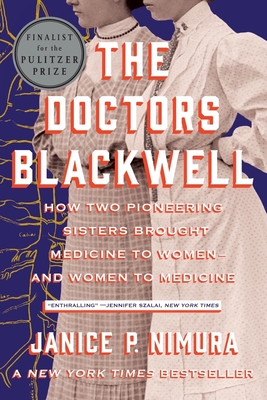 The Doctors Blackwell: How Two Pioneering Sisters Brought Medicine to Women and Women to Medicine
Publication Date:
January 18th, 2022
Publisher:
W. W. Norton & Company
Charter Books
On hand, as of Dec 6 12:52am
(Med. & Excercise)
On Our Shelves Now
Description
New York Times Bestseller
Finalist for the 2022 Pulitzer Prize in Biography
"Janice P. Nimura has resurrected Elizabeth and Emily Blackwell in all their feisty, thrilling, trailblazing splendor." —Stacy Schiff
Elizabeth Blackwell believed from an early age that she was destined for a mission beyond the scope of "ordinary" womanhood. Though the world at first recoiled at the notion of a woman studying medicine, her intelligence and intensity ultimately won her the acceptance of the male medical establishment. In 1849, she became the first woman in America to receive an M.D. She was soon joined in her iconic achievement by her younger sister, Emily, who was actually the more brilliant physician.
Exploring the sisters' allies, enemies, and enduring partnership, Janice P. Nimura presents a story of trial and triumph. Together, the Blackwells founded the New York Infirmary for Indigent Women and Children, the first hospital staffed entirely by women. Both sisters were tenacious and visionary, but their convictions did not always align with the emergence of women's rights—or with each other. From Bristol, Paris, and Edinburgh to the rising cities of antebellum America, this richly researched new biography celebrates two complicated pioneers who exploded the limits of possibility for women in medicine. As Elizabeth herself predicted, "a hundred years hence, women will not be what they are now."
Praise for The Doctors Blackwell: How Two Pioneering Sisters Brought Medicine to Women and Women to Medicine
Enthralling…Nimura, by digging into [the Blackwells'] deeds and their lives, finds those discrepancies and idiosyncrasies that yield a memorable portrait. The Doctors Blackwell also opens up a sense of possibility — you don't always have to mean well on all fronts in order to do a lot of good.
— Jennifer Szalai - New York Times
[A] richly detailed and propulsive biography….Nimura doesn't strain to fit the sisters into the narrow shape allowed to feminist pioneers, as either virtuous role models or "badass" rebels against society. Instead, they emerge as spiky, complicated human beings, who strove and stumbled toward an extraordinary achievement, and then had to learn what to do with it.
— Joanna Scutts - New York Times Book Review
Ms. Nimura's portrait of the Blackwells' America blazes with hallucinatory energy. It's a rough-hewn, gaudy, carnival-barking America, with only the thinnest veneer of gentility overlaying cruelty and a simmering violence. It's an America yearning for relief from disease, besotted with séances and spiritualism, quack cures and phrenology; a deeply divided America, with bloody fissures between rich and poor, North and South, city and countryside.
— Donna Rifkind - Wall Street Journal
The Doctors Blackwell is best on the fascinating and harrowing history of modern medicine….[Nimura] is a close and delightful observer of [the Blackwells'] world.
— Casey Cep - The New Yorker
Even if you know who Elizabeth Blackwell is — the first woman to receive an MD in the United States — you may not know her sister Emily's name. Nimura (Daughters of the Samurai) examines Emily Blackwell's brilliance, and how the sisters' achievements and (at times contentious) partnership changed the landscape of American medicine for good.
— Bethanne Patrick - Washington Post
Nimura seamlessly weaves these strands of medical and American history by focusing on the lives of these two self-made women. With an eye to the telling detail, she animates their ambitions, medical training in Europe, family life and friendships with Florence Nightingale, Lucy Stone, Horace Greeley, Henry Ward Beecher, Lady Byron and many other contemporaries.
— Wingate Packard - The Seattle Times
The meticulously researched narrative — informed by newspaper reports, journal entries, and a staggering volume of letters — offers an intimate look at the close-knit, high-minded Blackwell family, including Elizabeth's younger sister Emily, who followed in Elizabeth's medical footsteps….Nimura tells the kind of nuanced tale that people like to hear.
— Jennifer Latson - Boston Globe
The Doctors Blackwell not only testifies to Elizabeth and Emily's iron determination but also chronicles evolving medical practices. Nimura places the sisters within the broad intellectual context of their time, creating an important and engaging history lesson.
— Martha Anne Toll - NPR
A fascinating dual biography that restores the two sisters to their rightful place in U.S. history and illuminates a period riven like our own with bitter disagreements over race, public health and medicine, and the role of women in society….Nimura shoehorns a lot of history into this carefully researched, briskly paced narrative of the sisters' lives.
— Ann Levin - USA Today
Nimura's vivid, assiduously researched account reads like a novel.
— Oprah Magazine
This nonfiction story of the first hospital staffed entirely by women could not be more timely.
— Seija Rankin - Entertainment Weekly
Nimura writes fluidly, and her book is an engaging and meticulously documented guide not only to the sisters' lives but also to the medical practices of their time. We hear about obsolete medical treatments (intravaginal leeches), student ingenuity (stuffing medical textbooks under clothes to avoid paying taxes) and New York trivia (the Blackwell's infirmary on Bleecker Street was a former Roosevelt residence). But the greater part of Nimura's achievement lies in how she brings new life to the story of two extraordinary and idiosyncratic physicians who forever changed the medical profession.
— Danielle Ofri - American Scholar
A detailed story of hard work, determination and evolving goals.
— Katherine A. Powers - Minneapolis Star Tribune