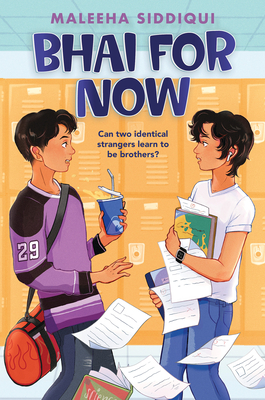 Bhai for Now
Publication Date:
October 4th, 2022
Publisher:
Scholastic Press
In Stock at Warehouse - Usually Arrives in 3-7 Days
Description
A fresh and fun new spin on the Parent-Trap story, by Indies Introduce author Maleeha Siddiqui
Ashar is busy with the ice hockey team, studying to get into the best school, and hanging out with his friends.
Shaheer and his father are always moving, following his dad's jobs. Shaheer has given up hope of finding a place where he can put down roots, a place that feels like home.
The two boys have nothing in common.
But when they meet on Shaheer's first day at his new school, it's like looking in a mirror.
They quickly figure out that they're twins, separated as babies. And they are determined to do whatever it takes—including secretly switching identities—to get to know the parent they've been separated from.
This is the story of two long-lost brothers who, while they might not like each other, just might need each other. Bhai for Now is by turns heartwarming and hilarious, and with an unforgettable Muslim family and friendship story at its core.
Praise for Bhai for Now
Praise for Bhai For Now
"An uplifting, culturally inclusive, and lively exploration of family bonds." --School Library Journal
"A Parent Trap redux that doesn't disappoint. A delightful tale of family love and complexity." --Kirkus Reviews
"A compelling and emotionally resonant story with a satisfyingly outlandish plot. Give to fans of Gordon Korman's realistic fiction." -- Booklist
"This is an engaging read that balances humor, suspense, and genuine feelings of insecurity and betrayal." -- School Library Connection
Praise for Barakah Beats:
A New York Public Library Best Kids Book of the Year
A School Library Journal Best Book of the Year
Indie's Introduce Summer/Fall 2021 Pick
Indie Next November/December 2021 Pick
A Junior Library Guild Selection
*"Every[one] will benefit from this touching story about a preteen struggling to reconcile faith, friends, and family against the backdrop of an American middle school." –School Library Journal, Starred Review
*"Fraught family relationships, shifting friendships, differing religious practices—they're big topics, but debut-author Siddiqui deftly tackles them with warmth, humor, and compassion." –Booklist, Starred Review
"Superb! Nimra is a joy to cheer for in a nuanced story that will leave readers thinking about how to navigate complex ethical choices." — Alex Gino, award-winning author of Melissa
"Equal parts fun and serious, Barakah Beats is a lovely story that will resonate with countless kids growing up between two cultures and faiths. Nimra is just the heroine middle-school readers are searching for." — Saadia Faruqi, author of A Thousand Questions
"Finally! A story about a young Muslim girl trying to fit in while also staying true to her values, beliefs, family, and culture. Sweet and relatable—I couldn't put it down!" — Huda Fahmy, creator of Huda F Are You?
"This book should come with a warning label—you won't be able to stop reading once you start! I tumble-down fell in love." — Wendy Wan-Long Shang, author of Not Your All-American Girl (co-authored with Madelyn Rosenberg)
"This lively, heartfelt book hits all the right notes." — Rajani LaRocca, author of Red, White, and Whole
"If you love an irrepressible heroine and the story of underdogs stopping at nothing to be seen and heard, Barakah Beats is a must-read. The Muslim rep is beautiful and important—pure joy for any reader. The raucous rhythms of Nimra's story bursts through from every page. I'm a Barakah Beats stan for life!" — Stephan Lee, author of K-Pop Confidential