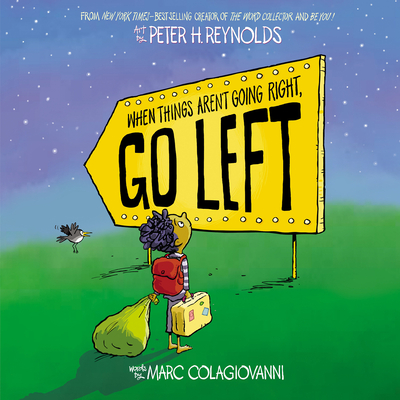 When Things Aren't Going Right, Go Left
Publication Date:
March 7th, 2023
Charter Books
On hand, as of Sep 28 1:37am
(Children - Elementary)
On Our Shelves Now
A wonderful concept book of positivity with the always fabulous illustrations of Peter H. Reynolds. The prose is inspiring and will speak to adults, teens and children of all ages! Loved this book.
March/April 2023 Kids Indie Next List
Description
Instant New York Times bestseller!
From #1 New York Times bestselling creator Peter H. Reynolds and talented debut author Marc Colagiovanni comes an inspirational story about optimism, overcoming adversity, and forging your own path.
"One day for no particular reason, nothing was going right. Absolutely positively, nothing was going right. So, I decided to go left..."
Told through creative language play, and with depth and whimsy, this picture book reminds readers of their own agency and the power they have to direct their own path. Marc Colagiovanni's lyrical text and Peter H. Reynolds's stunning art create an enduring message of strength and perseverance that is both universal and personal, and one that readers will be drawn to over and over again.
This first of two new picture books created in collaboration with Marc and Peter will inspire, affirm, and reassure readers at key milestone moments in every young reader's life. When Things Aren't Going Right, Go Left makes an inspiring graduation gift as well as a must-have, uplifting read sure to bring positivity to all who read it and remind us that even when nothing is going right… we can always choose to go left.
Praise for When Things Aren't Going Right, Go Left
Praise for When Things Aren't Going Right, Go Left:
"Resilience and optimism win the day -- and the long game -- in an encouraging fable about finding one's way." -- Publishers Weekly
Praise for Our Table by Peter H. Reynolds:
An Amazon Best Children's Book of 2021
* "In Reynolds' established tradition, this story is simple and full of heart, celebrating the wonder and possibility of being human and being in relationship... Sweet and timely for today's families." -- Kirkus Reviews, starred review
* "Reynolds tells the story simply and illustrates it expressively… A reminder of what really matters." -- Booklist, starred review
Praise for Be You! by Peter H. Reynolds:
"What is remarkable about the book is that even though the instructions and the brief sentences explaining them are at times vague, the illustrations expand on them in ways readers will find endearing and uplifting... Both beautiful and inspiring as graduation gift or guide to life." -- Kirkus Reviews
Praise for Say Something! by Peter H. Reynolds:
"A motivational must-have for every collection." -- School Library Journal
"This book's encouragement to kids to find their voices can also be used to start a conversation about how they can make a difference in their world." -- Kirkus Reviews
Praise for The Word Collector by Peter H. Reynolds:
"Peter H. Reynolds always manages to walk a delicate line with his books -- make that a couple lines: weighty but not weighed down. Universal yet kid-centric. No easy feat." -- Travis Jonker, School Library Journal
"Capture[s] the beauty of words and the wonder of sharing them with others... enchanting." -- Kirkus Reviews
"Packs a powerful punch... capture[s] both the joy of learning and the power of kindness." -- School Library Journal
Praise for Happy Dreamer by Peter H. Reynolds:
"The message of acceptance and patience comes through clearly, and the exhortation to 'carve your own path' and 'show the world who you are' will be appreciated by anyone who has ever felt misunderstood." -- Booklist
"Celebrates individuality, self-expression, and the joys of being a dreamer... a liberating validation of dreaming as restorative, comforting, and powerful, while giving kids full license to be themselves." -- Publishers Weekly
"A sweet gift to praise spirited individuality, this choice encourages readers to dream big. Let those sparkles fly!" -- Kirkus Reviews
Praise for Our Table:
An Amazon Best Children's Book of 2021
* "In Reynolds' established tradition, this story is simple and full of heart, celebrating the wonder and possibility of being human and being in relationship... Sweet and timely for today's families." -- Kirkus Reviews, starred review
* "Reynolds tells the story simply and illustrates it expressively… A reminder of what really matters." -- Booklist, starred review
Praise for Be You!:
"What is remarkable about the book is that even though the instructions and the brief sentences explaining them are at times vague, the illustrations expand on them in ways readers will find endearing and uplifting... Both beautiful and inspiring as graduation gift or guide to life." -- Kirkus Reviews
Praise for Say Something!:
"A motivational must-have for every collection." -- School Library Journal
"This book's encouragement to kids to find their voices can also be used to start a conversation about how they can make a difference in their world." -- Kirkus Reviews
Praise for The Word Collector:
"Peter H. Reynolds always manages to walk a delicate line with his books -- make that a couple lines: weighty but not weighed down. Universal yet kid-centric. No easy feat." -- Travis Jonker, School Library Journal
"Capture[s] the beauty of words and the wonder of sharing them with others... enchanting." -- Kirkus Reviews
"Packs a powerful punch... capture[s] both the joy of learning and the power of kindness." -- School Library Journal
Praise for Happy Dreamer:
"The message of acceptance and patience comes through clearly, and the exhortation to 'carve your own path' and 'show the world who you are' will be appreciated by anyone who has ever felt misunderstood." -- Booklist
"Celebrates individuality, self-expression, and the joys of being a dreamer... a liberating validation of dreaming as restorative, comforting, and powerful, while giving kids full license to be themselves." -- Publishers Weekly
"A sweet gift to praise spirited individuality, this choice encourages readers to dream big. Let those sparkles fly!" -- Kirkus Reviews
Praise for Ish:
* "Ish... encourages readers to see the world anew." -- School Library Journal, starred review
Praise for The Dot:
* "Simplicity itself, like the dot in the title, this small book carries a big message." -- Booklist, starred review
* "In this engaging, inspiring tale, Reynolds (illustrator of the Judy Moody series) demonstrates the power of a little encouragement... Reynolds pulls off exactly what his young heroine does, creating an impressive work from deceptively simple beginnings." -- Publishers Weekly, starred review
* "With art that seems perfectly suited to the mood and the message of the text, Reynolds inspires with a gentle and generous mantra: 'Just make a mark.'" -- School Library Journal, starred review
"It may speak to formerly artistic young readers who are selling their own abilities short." -- Kirkus Reviews