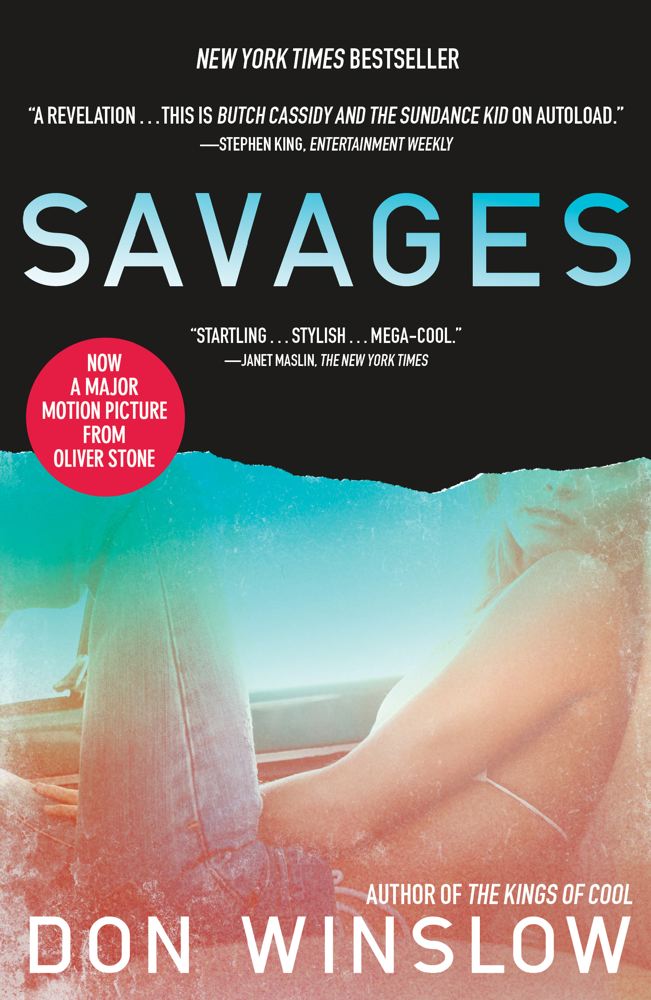 Savages: A Novel
Publication Date:
March 15th, 2011
Publisher:
Simon & Schuster
In Stock at Warehouse - Usually Arrives in 3-7 Days
Ben and Chon sell the best marijuana in southern California, and have been peacefully rolling in the cash for years. But when the Mexican Baja Cartel wants in, and 'no thanks' is not an option, it sparks a frantic race to meet the cartel's demands and save their turf. Winslow's thriller reads like staccato bursts of gunfire, so keep your head down as you keep turning the pages!
July 2010 Indie Next List
Description
From the New York Times bestselling author of The Cartel, The Force, and The Border
A New York Times, Entertainment Weekly, and Chicago Sun-Times Favorite Book of the Year
"A revelation…This is Butch Cassidy and the Sundance Kid on autoload." —Stephen King, Entertainment Weekly
"Startling…Stylish…Mega-cool." —Janet Maslin, The New York Times
Ben, Chon, and O are twentysomething best friends living the dream in Southern California. Together they have made a small fortune producing premium grade marijuana, a product so potent that the Mexican Baja Cartel demands a cut. When Ben and Chon refuse to back down, the cartel kidnaps O, igniting a dizzying array of high-octane negotiations and stunning plot twists as they risk everything to free her. The result is a provocative, sexy, and darkly engrossing thrill ride, an ultracontemporary love story that will leave you breathless.
Praise for Savages: A Novel
"A revelation . . . Every bit as savage as its title . . . This is Butch Cassidy and the Sundance Kid on autoload." —Stephen King, Entertainment Weekly
"Savages will jolt Mr. Winslow into a different league...[his] most boisterously stylish crime book, his gutsiest and most startling bid for attention....full of wild-card moves....its wisecracks are so sharp, its characters so mega-cool and its storytelling so ferocious that the risks pay off, thanks especially to Mr. Winslow's no-prisoners sense of humor....The Winslow effect is to fuse the grave and the playful, the body blow and the joke, the nightmare and the pipe dream." —Janet Maslin, The New York Times
"Winslow's marvelous, adrenaline-juiced roller coaster of a novel . . . is both a departure and a culmination, pyrotechnic braggadocio and deep meditation on contemporary American culture."
—Sarah Weinman, Los Angeles Times
"Savages is Don Winslow's best book yet—a wickedly funny and smart novel, with a ripped-from-the-headlines story that gets your pulse racing as the action unfolds. Razor-sharp plot twists, a cast of ruthless antiheroes, and of course, Winslow's superb, adrenaline-fueled prose make this scorching, drug-infused thriller an addictive and entertaining read." —Janet Evanovich
"The stakes are extreme. . . . This is the story of love's costs—and the acceptance of whatever that cost entails." —Randy Michael Signor, Chicago Sun Times
"Savages is the book of my generation . . . nothing short of revolutionary, a flash grenade into the ineffectual heart of Generation Y. . . . . solidifies Winslow's reputation as not just one of the best crime writers working today, but one of the best writers, period. Jesus Christ, this book." —Brendan Leonard, January Magazine
"Winslow is a brilliant stylist, unflinching in detail, and his books jab a fountain pen in the eye of anyone who can read one of his tomes and state with conviction that crime fiction isn't literature." —Jason Pinter, The Huffington Post
"An ultra-lean, stoner thriller….It packs a dynamic plot, sentences dripping with ``baditude'' and a singular way with language….Winslow's writing has the vigor of action painting….[his] command of vernacular is fabulous, his eye for detail sharp….Winslow's insights into drug wars are provocative, his descriptions of marijuana tantalizing." —Carlo Wolff, The Boston Globe
"A spellbinding, tour de force that is utterly impossible to put down. Savages is, bar none, the finest novel I have read in years." —Christopher Reich