Respect Yourself: Stax Records and the Soul Explosion (Paperback)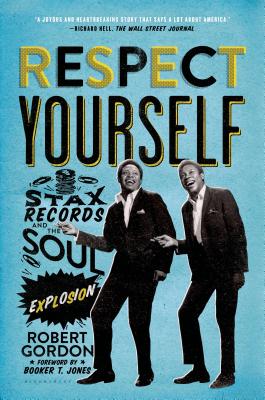 Description
---
The story of Stax Records unfolds like a Greek tragedy. A white brother and sister build a monument to racial harmony in blighted south Memphis during the civil rights movement. Their success soon pits the siblings against each other, and the brother abandons his sister for a visionary African-American partner. Under integrated leadership, Stax explodes as a national player until, Icarus-like, the heights they achieve result in their tragic demise. They fall, losing everything, and the sanctuary they created is torn to the ground. A generation later, Stax is rebuilt brick by brick and is once again transforming disenfranchised youth into stellar young musicians.

Set in the world of 1960s and '70s soul music, Respect Yourself is a character-driven story of racial integration, and then of black power and economic independence. It's about music and musicians--Isaac Hayes, Otis Redding, the Staple Singers, and Booker T. and the M.G.'s, Stax's interracial house band. It's about a small independent company's struggle to survive in an increasingly conglomerate-oriented world. And always at the center of the story is Memphis, Tennessee, an explosive city struggling through volatile years. Told by one of our leading music chroniclers, Respect Yourself is the book to own about one of our most treasured cultural institutions and the city that created it.
About the Author
---
Robert Gordon is Professor of Theatre and Director of the Pinter Centre for Performance and Creative Writing at Goldsmiths, University of London, where in 2003 he introduced the first British MA in Musical Theatre for producers and writers and a new BA in Musical Theatre in 2018. He is author of The Purpose of Playing: Modern Acting Theory in Perspective (2006), Harold Pinter's Theatre of Power (2012) and, with Olaf Jubin and Millie Taylor, British Musical Theatre Since 1950 (2016). Edited collections include The Oxford Handbook of Sondheim Studies (2014) and, with Olaf Jubin, The Oxford Handbook of the British Musical (2016). He has acted and directed in South Africa, the UK, Ireland, the USA, Italy, Russia and the Czech Republic. In 2013, he directed the European première of Kander and Ebb's Steel Pier in Brno, while his musical version of Five Children
and It with composer Nick Hutson, received a professional workshop in 2015. He is currently engaged as a writer and actor of Shylock Speaks, which premiered in February 2020.
Praise For…
---
"A marvelous history . . . Mr. Gordon captures the glory years of Stax in a series of exciting chapters that reflect his fine ear for prose as well as for the music the studio made." —Wall Street Journal

"The voices of the members of the Stax family, and Gordon's deep knowledge of Memphis, give the book a significance that extends beyond a single recording studio." —New York Times Book Review

"To read Respect Yourself is to step back into a time and place . . ." —Chicago Tribune

"The triumphant and tragic story of Memphis' Stax Records . . . receives definitive telling in Respect Yourself . . . Gordon imbues it all with a wealth of fresh insight and perspective." —Austin Chronicle

"A masterful storyteller, music historian Gordon artfully chronicles the rise and fall of one of America's greatest music studios, situating the story of Stax within the cultural history of the 1960s in the South." —starred review, Publishers Weekly

"[Respect Yourself is] wonderful cultural history of not only a record company but also the city of Memphis itself." —starred review, Booklist

"Spellbinding . . . Deep cultural and social history enlivened by a cast of colorful characters." —starred review, Kirkus Reviews

"Respect Yourself is the definitive document of one of America's most important record labels, an engrossing tale of creativity, resilience, and struggle in the face of unprecedented adversity." —Los Angeles Review of Books

"[Gordon] chronicles the exciting rise and ugly fall of his hometown music giant with a historian's rigor, a journalist's persistence, a filmmaker's scope and a musician's swing." —Shelf Awareness

"Respect Yourself is the rare music book with an exciting subject matter, in this case it's the multiple rises and falls of Stax Records, that's also really well written. Author Robert Gordon's lyrical prose and exquisite word choices, are difference maker, elevating the book beyond just a good story, simply told." —Midnight to Six