Shadowplay (Paperback)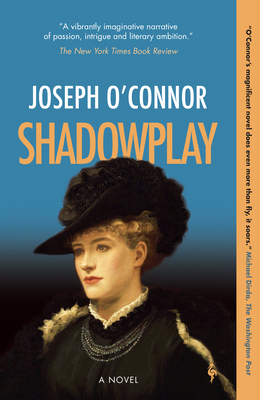 Staff Reviews
---
Based on the rumor that Bram Stoker was inspired to create Dracula by his boss, the Shakespearean actor Henry Irving, this Gothic novel transcends that premise to become something stranger, zanier, and really, really fun. Featuring cameos by Jack the Ripper and a bonkers Oscar Wilde, this is for all fans of historical fiction and backstage drama.
— Steve
If Joseph O'Connor was inspired by the theory that Bram Stoker based Dracula on his boss Henry Irving, then it's a delightful surprise that SHADOWPLAY became something even richer and stranger. Filled with eye-popping set pieces (Irving leaping into the audience as a rabid Hamlet, a bonkers cameo by black-teethed Oscar Wilde) and absurdly delicious dialogue, SHADOWPLAY succeeds far beyond its original premise. It plays perfectly to the cheap seats and boxes, raising from Stoker's frustrated life a host of themes: literary ambition, gothic horror, gender fluidity, Irishness, and the always-more-interesting drama occurring backstage.
— From
Steve's Picks
Description
---
Set during the golden age of West End theater in a lamp-lit London shaken by the crimes of Jack the Ripper, Shadowplay is a gripping novel of love, celebrity, and ambition by New York Times best-selling author, Joseph O'Connor.
Henry Irving is Victorian London's most celebrated actor and theater impresario. As Irving's Lyceum theater grows in reputation, he first lures to his company a young Dublin clerk harboring literary ambitions by the name of Bram Stoker, and then entices the century's most beloved actress, the dazzlingly talented leading lady Ellen Terry, who nightly casts a spell not only on her audiences but on Stoker and Irving both.
Bram Stoker's extraordinary experiences at the Lyceum Theatre inspire him to write Dracula, the most iconic and best-selling supernatural tale ever published.
About the Author
---
Joseph O'Connor was born in Dublin. He is the author of nine novels, two collections of short stories, and a number of bestselling works of non-fiction. He has also written film scripts and radio and stage-plays. His novel Star of the Sea was an international bestseller, selling more than a million copies and being published in 38 languages. It won France's Prix Millepages, Italy's Premio Acerbi, the Irish Post Award for Fiction, the Nielsen Bookscan Golden Book Award, an American Library Association Award, the Hennessy/Sunday Tribune Hall of Fame Award, and the Prix Litteraire Zepter for European Novel of the Year. In 2009 he was the Harman Visiting Professor of Creative Writing at Baruch College, City University of New York. He holds an honorary Doctorate in Literature from University College Dublin, and received the Irish PEN Award for Outstanding Contribution to Irish Literature in 2012. He lives in Ireland and is the Inaugural Frank McCourt Professor of Creative Writing at the University of Limerick.