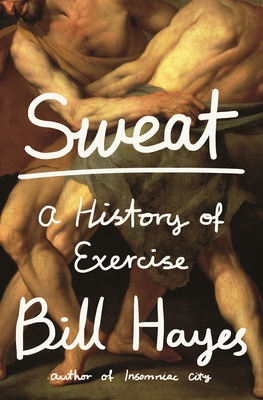 Sweat: A History of Exercise
Publication Date:
January 18th, 2022
Publisher:
Bloomsbury Publishing
Charter Books
On hand, as of Dec 2 2:07am
(Med. & Excercise)
On Our Shelves Now
Description
A New Yorker Best Book of the year
An Esquire Best Nonfiction Book of 2022
A Lit Hub Most Anticipated Book of 2022
From Insomniac City author Bill Hayes, "who can tackle just about any subject in book form, and make you glad he did" (SF Chronicle)—a cultural, scientific, literary, and personal history of exercise.
Exercise is our modern obsession, and we have the fancy workout gear and fads from HIIT to spin classes to hot yoga to prove it. Exercise—a form of physical activity distinct from sports, play, or athletics—was an ancient obsession, too, but as a chapter in human history, it's been largely overlooked. In Sweat, Bill Hayes runs, jogs, swims, spins, walks, bikes, boxes, lifts, sweats, and downward-dogs his way through the origins of different forms of exercise, chronicling how they have evolved over time, dissecting the dynamics of human movement.
Hippocrates, Plato, Galen, Susan B. Anthony, Jack LaLanne, and Jane Fonda, among many others, make appearances in Sweat, but chief among the historical figures is Girolamo Mercuriale, a Renaissance-era Italian physician who aimed singlehandedly to revive the ancient Greek "art of exercising" through his 1569 book De arte gymnastica. Though largely forgotten over the past five centuries, Mercuriale and his illustrated treatise were pioneering, and are brought back to life in the pages of Sweat. Hayes ties his own personal experience—and ours—to the cultural and scientific history of exercise, from ancient times to the present day, giving us a new way to understand its place in our lives in the 21st century.
Praise for Sweat: A History of Exercise
"Charming and idiosyncratic . . . [It's the] tantalizing evocation of exercise as freedom and play that most makes Sweat, Hayes's book, worth reading... For many of us, with our gym memberships, our wearable technology, and our hopescrolling through longevity research and dieting tips, joy in movement is no longer the primary motivation to exercise. Hayes's exuberant book tells us what awaits if we can only make it so." - The New Yorker
"There is a playfulness in Hayes's writing, which reaches from a rich topsoil of endearing wordplay... to the deepest layers of curiosity and empathy. He takes a profound, historian's pleasure in tropes that echo across centuries...to build an enthusiasm it's impossible not to share...Erudite, ludic, eccentric, energetic and historically transporting, it's like falling through a gym and landing in a joust." - The Guardian
"Hayes approaches exercise's place in society—the details, the scholarship—with the same fervor he used [in The Anatomist]... and he weaves in his particular perspective and experience throughout. At its best, Hayes' book reframes exercise as a deep series of questions thinkers and scientists have been contemplating for thousands of years. . . . it's a thrill to see them gathered in one place." - GQ.com
"If there is one person in the modern world who can reinvigorate Mercuriale's enormous unfinished labor and bridge the physical, the philosophical, and the poetic — bridge Whitman and Warhol, Plato and Peloton, Kafka and Curie, Tennessee Williams and Serena Williams; bridge the 'immediate bodily now' of exercise with 'the wisdom of the past that had faded from living memory' — it is Bill Hayes. And so he does, in Sweat." - Maria Popova, The Marginalian
"Bill Hayes' peripatetic inquiry into the history of exercise is a delight for anyone who loves a good search for a missing manuscript, as well as anyone who loves being 'so drenched in sweat as to feel amphibious.' And if those predilections happen to overlap for you, hang onto your Bosu ball—you're in for a treat. Hayes weaves his riveting findings in the archives with a revelatory memoir of physical exertion that begins to answer that most human of questions: what does the body mean?" - Alison Bechdel
"I was riveted by Sweat and its extraordinary tale of the ups and downs of exercise over millennia. Who knew?" - Jane Fonda
"At its heart, [Sweat] is a deeply personal book about the universal subject of humans attempting to grapple with the meaning of their own physicality. . . . an erudite memoir of a lifelong fitness enthusiast who is looking to place his own forays into weightlifting, swimming, boxing, and yoga in the context of a historical tradition that spans from Hippocrates to Jane Fonda." - Outside
"An appealing, essential addition to the shelf. . . . Sweat is a brisk and amiable stroll through the history of vigorous activity. Hayes brings his resilient good nature and charming candor to the page, writing both from farflung, international research and considerable practice in arenas of swimming, running, boxing, weightlifting. . . . Whether in a library, a gym or the Grecian ruins of an ancient locker room, Hayes captures the majesty of bodies in motion." - Shelf Awareness, starred review
"Hayes blends science, travel, history, and memoir into a thoroughly engaging, and idiosyncratic, narrative inquiry into 'exercise,' a term originating in the 14th century meaning 'to remove restraint'... Hayes writes with panache as he crosses three continents in search of fitness routines past and present, from fencing to Jane Fonda." - National Book Review
"Perhaps because exercise is such a universal—and universally humbling—part of our lives, Sweat does, seemingly effortlessly, what all good history books should do: take the past and make it vastly more human." - The Times
"Charming and compelling … Among the pleasures of Sweat, Bill Hayes's idiosyncratic and delightful history of exercise, is learning about the sweat lives of the great and good." - The Critic
"Hayes entertainingly describes his adventures in the world of fitness, learning how to box at a pugilists' boot camp, swimming, running, and performing power yoga in a New York gym class. A brisk jaunt through the history of working out in Western civilization." - Booklist
"At once a book about exercise history, and a travelogue, a literary discovery tour, and another of Hayes's personal and exhilarating memoirs." - Library Journal
"Obsessed by both working out and its history, Hayes writes a book that combines them...An entertaining hodgepodge of autobiography, travelogue, and history." - Kirkus Reviews
"Part history, part travelogue, part memoir, Sweat tackles the rich topic of exercise (distinct from sports), from Hippocrates to Jane Fonda." - Lit Hub
"With an introspective eye and dynamic prose, Hayes keeps his investigation grounded in his personal search for meaning." - Publishers Weekly
"If you want to see peek at the other side of the locker room, check out Sweat... Hayes takes readers back centuries to see how our physical health has become what it is, and why we've perceived it as both pain and pleasure through time. It's a personal and historical look, literally sweatin' to the oldies." - Bookworm Sez.
"Bill Hayes has an unusual set of skills . . . He is part science writer, part memoirist, part culture explainer." - The New York Times
"Read just 50 pages, and you'll see easily enough how Hayes is [Oliver] Sacks's logical complement. Though possessed of different temperaments, both are alive to difference, variety, the possibilities of our rangy humanity; both are avid chroniclers of our species . . . Frank, beautiful, bewitching." - Jennifer Senior, the New York Times on INSOMNIAC CITY
"Playful and powerful . . .profoundly moving . . . Hayes writes with so much panache that reading this book is thrilling." - The Boston Globe on FIVE QUARTS
"[A] beguiling brew of fascinating scientific facts and illuminating, poignant anecdotes . . . vital and pulsing with energy." - Entertainment Weekly on FIVE QUARTS
"This touching memoir of the late neurologist Oliver Sacks, by a photographer and writer with whom he fell in love near the end of his life, turns a story of death into a celebration." - The New Yorker on INSOMNIAC CITY
"[Insomniac City] seems written in heightened states of feeling that infuse every detail with meaning and transient beauty." - Shelf Awareness Best Adult Books of 2017 – Nonfiction
"Insomniac City is a beautiful memoir in which Oliver Sacks comes wonderfully to life--a double portrait that also provides a vivid picture of New York City's neighborhoods and people. The ending is exquisitely wrought, heartrending and joyous." - Joyce Carol Oates on INSOMNIAC CITY
"No lack of tenderness in Insomniac City, Bill Hayes's memoir of his life in New York with the writer and neurologist Oliver Sacks." - The Guardian on INSOMNIAC CITY
"As eloquent in its silences and visuals as it is in its telling of the secrets of the heart . . . The brilliance of Insomniac City is that almost Tolstoy-an directness and concretion of observation, both down-to-earth and downright visionary." - Bay Area Reporter on INSOMNIAC CITY
"Remarkably poignant. Readers will find themselves wishing the two men had more time, but as Hayes makes clear, they wasted none of the time they had." - Publishers Weekly on INSOMNIAC CITY
"A unique and exuberant celebration of life and love." - Kirkus on INSOMNIAC CITY
"Buy a box of tissues and pray for snow: This is the perfect weekend February read, and will have you alternately bawling and giddily clapping your hands for the lovers that may not have had the time they deserved, but certainly made the best with the time that they had." - Newsweek, "The Best New Book Releases" for INSOMNIAC CITY
"Like Patti Smith's haunting M Train, Hayes' book weaves seemingly disparate threads of memory into a kind of sanctuary--a secret place where one can shake off the treasured relics of past lives and prepare to be reborn anew." - San Francisco Chronicle on INSOMNIAC CITY
"Hayes captures both the frenetic, exhilarating pace of New York City as well as the whimsy, fun and romance of the years he spent with Sacks." - New York Post on INSOMNIAC CITY
"Insomniac City is resoundingly about life--about being wide awake to possibility, to the beauty of every fleeting moment." - Oprah.com on INSOMNIAC CITY
"All laud and honor to Hayes." - The Washington Post on THE ANATOMIST
"Hayes, a lifelong insomniac, pursues sleep as avidly and lyrically as Nabokov pursued butterflies." - San Francisco Chronicle on SLEEP DEMONS