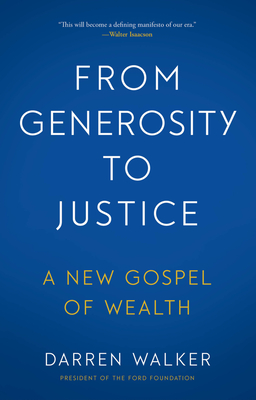 From Generosity to Justice: A New Gospel of Wealth
Publication Date:
March 28th, 2023
Publisher:
Disruption Books
In Stock at Warehouse - Usually Arrives in 3-7 Days
Description
Andrew Carnegie wrote his original "Gospel of Wealth" in 1889, during the height of the gilded age, when the country's 4,000 richest families held almost as much wealth as the other 11.6 million American families combined. His essay laid the foundation for modern philanthropy.
Today, we find ourselves in a new gilded age—defined by levels of inequality that far surpass those of Carnegie's time. The widening chasm between haves and have-nots demands our immediate attention.
Now is the time for a new "Gospel of Wealth."
In From Generosity to Justice: A New Gospel of Wealth, Darren Walker, president of the Ford Foundation, articulates a bold vision for philanthropy in the twenty-first century. With contributions from an array of thinkers, activists, and leaders including Ai-jen Poo, Laurene Powell Jobs, David Rockefeller Jr., and Dr. Elizabeth Alexander, Walker challenges and emboldens readers to consider philanthropy as a tool for achieving economic, social, and political justice.
That task requires humility, moral courage, and an unwavering commitment to democratic values and institutions. It demands that all members of society recognize their own privilege and position, address the root causes of social ills, and seek out and listen to those who live amid and experience injustice.
What began in Carnegie's day as a manual for generosity now becomes a guide that moves us closer to justice—a guide that helps each of us find a way to contribute.
Justice is calling. It's time we answer.
Praise for From Generosity to Justice: A New Gospel of Wealth
"From Generosity to Justice shows why Darren Walker is one of philanthropy's most forward-thinking and important leaders." —Michael Bloomberg, former Mayor of New York City
"His bold call for business leaders to demonstrate moral courage is just one part of a new model for justice-minded philanthropy, one that offers both the advantaged and disadvantaged tangible ways to disrupt inequality." —Indra Nooyi, former CEO and Chairperson of PepsiCo
"A clarion call for a new kind of philanthropy to transform our society." —Joel Fleishman, Professor of Law and Public Policy Studies and Director of the Center for Strategic Philanthropy and Civil Society at Duke University
"Walker illustrates how philanthropy is about more than giving money away; it's about giving energy, and providing 'righteous optimism' for the sake of justice." —Agnes Gund, President Emerita of the Museum of Modern Art   
"A recalibration and reimagination of the philanthropic model crafted by the Carnegie and Rockefeller families over a century ago. This new gospel must be heard all over the world!" —David Rockefeller, Jr.
"Orchestrating a dynamic chorus of vital voices and vibrant vision, Walker harnesses singular storytelling to catalyze ideas and instigate inspiration for a more just future." —Ava Duvernay, filmmaker
"From Generosity to Justice is a rare, eye-opening, and exciting read that opens both the heart and mind." —Shonda Rhimes, television producer
"This will become a defining manifesto of our era." —Walter Isaacson, New York Times bestselling author of Einstein, Benjamin Franklin, and Steve Jobs
"Walker bravely tackles the subject of inequality with one pressing question in mind: What can philanthropy do about it?" —Ken Chenault, former CEO of American Express
"This clear-thinking text insists that powerful shifts in thinking are vital to changing actions and outcomes." —Foreword Reviews
"From Generosity to Justice is not simply a hammer-to-nail exhortation to fight the rapaciousness of our own gilded age, but rather a personal act of both logical and moral suasion with the reader." —Philanthropy News Digest