The Kingdoms (Paperback)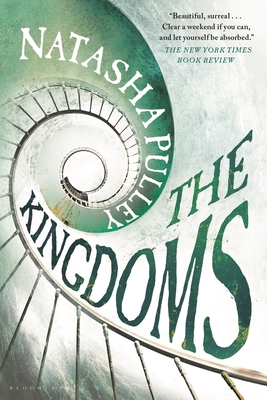 Staff Reviews
---
I adore Natasha Pulley's writing -- I love her trick of playing with time and possibility, and in The Kingdoms, with her signature ability to pull on the moment you recognize someone you've never met, she has wrought a part-murder-mystery, part-war-epic, part-queer-love-story, wrapped up in a time-traveling Napoleonic sea voyage. This book will make you want to curl around it like the winded staircase in a lighthouse. But remember--lighthouses, wherever they are, are built not as an invitation, but as a warning.
— Amy
Description
---
For fans of The 7 ½ Deaths of Evelyn Hardcastle and David Mitchell, a genre bending, time twisting alternative history that asks whether it's worth changing the past to save the future, even if it costs you everyone you've ever loved.

Joe Tournier has a bad case of amnesia. His first memory is of stepping off a train in the nineteenth-century French colony of England. The only clue Joe has about his identity is a century-old postcard of a Scottish lighthouse that arrives in London the same month he does. Written in illegal English—instead of French—the postcard is signed only with the letter "M," but Joe is certain whoever wrote it knows him far better than he currently knows himself, and he's determined to find the writer. The search for M, though, will drive Joe from French-ruled London to rebel-owned Scotland and finally onto the battle ships of a lost empire's Royal Navy. Swept out to sea with a hardened British sea captain named Kite, who might know more about Joe's past than he's willing to let on, Joe will remake history, and himself.

From bestselling author Natasha Pulley, The Kingdoms is an epic, romantic, wildly original novel that bends genre as easily as it twists time.
About the Author
---
Natasha Pulley's first novel The Watchmaker of Filigree Street was a Sunday Times bestseller, won a Betty Trask Award and was shortlisted for the Authors' Club Best First Novel Award. Her second novel,The Bedlam Stacks was shortlisted for the Royal Society of Literature's Encore Award and longlisted for the Walter Scott Prize while The Lost Future of Pepperharrow was published in 2020 to widespread critical acclaim, cementing her reputation as one of the most original and exciting writers at work. She lives in Bristol.

@natasha_pulley
Praise For…
---
"Speculative fiction and historical fiction are closer cousins than one might think, and alternate-history novels can give enterprising writers the chance to work in both genres at once. Fans of such stories will be richly entertained by the lavish world-building and breakneck plotting of Natasha Pulley's The Kingdoms…Beautiful, surreal imagery appears throughout the novel, too...Clear a weekend if you can, and let yourself be absorbed." —The New York Times Book Review

"Natasha Pulley poses such a beguiling set of questions at the opening of The Kingdoms that even readers who are resistant to speculative fiction will barrel forward to discover the answers…The Kingdoms is interested not only in the adventure of its historical and imaginative plot, but also in what it would actually feel like to slip out of time…Thoughtful, inventive, and moody…an insightful meditation on how a sense of oneself can be lost – and found." —USA Today

"The Kingdoms contains multitudes: it is a love story, a seafaring war novel, a time-travel mystery, an alternative history tale, and more. And while each description in the previous sentence is accurate, each description fails to capture all that the book encompasses…the book is as much about trauma as it is about love, and Pulley doesn't flinch away from showing how the impacts of trauma reverberate throughout history." —Tor.com

"Pulley's prose feels ethereal even as it sizzles with dry humour. Pieces of the story take place at multiple places and times, and Pulley paints every single one of those settings with utmost veracity and vividness. Every single aspect of this book was indeed sheer perfection to me, but the romance at the core of the story-that blossomed even amidst all the uncertainty and carnage and hopelessness of war-really was the most beautiful thing about this book." —Nerd Daily

"Pulley's latest genre-bending feat (after The Lost Future of Pepperharrow) masterfully combines history, speculative fiction, queer romance, and more into an unputdownable whole. . . This is a stunner." —Publishers Weekly, starred review

"Natasha Pulley's The Kingdoms is an intricate plot, for sure, but you get swept up in the narrative. If this sounds like the type of book you're drawn to - epic! time travel! history! - you know who you are." —Alma

"As scenes spiral back and forth between centuries, the book's emotional center crystallizes around a fundamental mystery: Who, in fact, is Joe? All time-travel plots are fraught with paradox, but not all rise to Pulley's level of tricky cleverness, and few of those trickily clever books rise to her level of emotional intensity. Suspenseful, philosophical, and inventive, this sparkling novel explores the power of memory and love." —Kirkus Reviews, starred review

"Pulley balances the topsy-turvy nature of time travel by grounding her story in tidbits of naval history and a gradually unfolding queer love story." —BookPage

"This riveting story keeps the reader hoping that Joe can rebuild his family in the best time line." —Booklist

"I loved it." —Crimereads' Most Anticipated Books of Summer

"Pulley successfully tackles time travel with both humor and fine detail…Exploring time, chance, identity, love of all manners, loss and destiny, this is a novel in which to immerse yourself. At heart a love story, a sweeping and strange romance, it is also a grand adventure and a writerly feat of achievement." —Bookreporter

"Pulley, a Brit, has clearly done her homework. The research undergirding The Kingdoms is evident, as is her thrill at devising 'what if' scenarios to reimagine well-known periods in history. The descriptions of important events-which range from claustrophobic to expansive-are atmospheric and in tune with the location of the moment…The Kingdoms is a complicated tale with plenty of twists and turns that will keep readers enthralled all the way to the last pages." —Washington Independent Review of Books