The Little Bookroom (Paperback)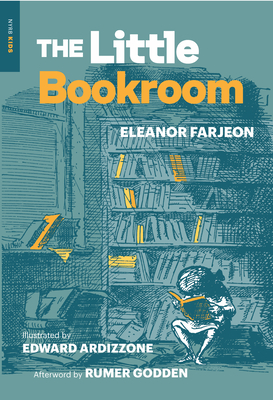 Description
---
"In the home of my childhood there was a room we called 'The Little Bookroom.' . . . That dusty bookroom, whose windows were never opened . . . opened magic casements for me through which I looked out on other worlds . . . worlds filled with poetry and prose and fact and fantasy. . ." —Eleanor Farjeon

In The Little Bookroom, Eleanor Farjeon mischievously tilts our workaday world to reveal its wonders and follies. Her selection of her favorite stories describes powerful—and sometimes exceedingly silly—monarchs, and commoners who are every bit their match; musicians and dancers who live for aft rather than earthly reward; and a goldfish who wishes to "marry the Moon, surpass the Sun, and possess the World."
About the Author
---
Eleanor Farjeon (1881-1965) grew up in England in a house filled with books, and she and her brothers enjoyed reading stories to one another and writing their own. In America, Farjeon's best-known work may be the hymn "Morning Has Broken," later recorded by Cat Stevens, but in her native country she is beloved as the author of Elsie Piddock Skips in her Sleep, Martin Pippin in the Apple Orchard, and, of course, The Little Bookroom. Farjeon was pleased when The Little Bookroom won the prestigious Hans Christian Andersen Award and the Carnegie Medal, but she turned down another honor—Dame of the British Empire—explaining that she "did not wish to become different from the milkman." At her death, the Children's Book Circle established the Eleanor Farjeon Award in her honor.
Praise For…
---
Selected as one of 100 Must-Reads (Age 13) by Instructor magazine

"To this day, a copy of The Little Bookroom sits on my nightstand. . . . I don't remember a time when I didn't own it." —Sadie Stein, The Paris Review Daily

"Eleanor Farjeon's stories and poems have been a delight to children for many years, and here she has brought together a new collection of some of her own favorite stories. . . . Storytellers will welcome it." —Library Journal

"A selection of treasures from Eleanor Farjeon's full store of writing for children. Including some stories which have not appeared before in book form. They make a rich combination: gems for storytelling and reading aloud, for children's own reading, and a few that may be appreciated most fully by adults." —The Horn Book

"27 heartwarming tales. . . ." —Publishers Weekly

"Twenty-seven of Eleanor Farjeon's stories have been selected by the author herself to make an anthology in the classical fairy tale tradition yet lit with the sparks of reason needed to pry young minds loose from their moorings and to widen reading." —Kirkus Reviews