Staff Pick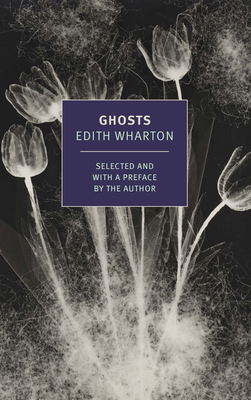 Ghosts
Publication Date:
October 26th, 2021
Charter Books
On hand, as of Sep 21 12:53am
(Horror)
On Our Shelves Now
Staff Reviews
One-time Newporter Wharton was once so terrified of ghost stories she couldn't sleep in a house that had them on the shelves. But of course she became a master of the form, and each of these is a perfectly constructed short tale of suspense, spookiness, and unexplainable dread.
— Steve
Description
An elegantly hair-raising collection of Edith Wharton's ghost stories, selected and with a preface written by the author herself.
No history of the American uncanny tale would be complete without mention of Edith Wharton, yet many of Wharton's most dedicated admirers are unaware that she was a master of the form. In fact, one of Wharton's final literary acts was assembling Ghosts, a personal selection of her most chilling stories, written between 1902 and 1937.
In "The Lady's Maid's Bell," the earliest tale included here, a servant's dedication to her mistress continues from beyond the grave, and in "All Souls," the last story Wharton wrote, an elderly woman treads the permeable line between life and the hereafter.
In all her writing, Wharton's great gift was to mercilessly illuminate the motives of men and women, and her ghost stories never stray far from the preoccupations of the living, using the supernatural to investigate such worldly matters as violence within marriage, the horrors of aging, the rot at the root of new fortunes, the darkness that stares back from the abyss of one's own soul.
These are stories to "send a cold shiver down one's spine," not to terrify, and as Wharton explains in her preface, her goal in writing them was to counter "the hard grind of modern speeding-up" by preserving that ineffable space of "silence and continuity," which is not merely the prerogative of humanity but—"in the fun of the shudder"—its delight.
Contents
All Souls'
The Eyes
Afterward
The Lady's Maid's Bell
Kerfol
The Triumph of Night
Miss Mary Pask
Bewitched
Mr. Jones
Pomegranate Seed
A Bottle of Perrier
Praise for Ghosts
"It's this alertness to the terror of being a stranger in one's own house, in one's own self, that makes Wharton such a fine and frightening writer of ghost stories." —Hermione Lee, The New York Review of Books
"A master of the form. . . . [Ghosts] is a bewitching, and frequently terrifying, collection of tales which more often than not fulfill [Wharton's] criterion for a successful ghost story: 'If it sends a cold shiver down one's spine, it has done its job and done it well.' . . . Reading the stories, I sometimes felt like I had discovered a hidden room in an impeccable house, and turned to find that the door had shut behind me." —Anna Russell, The New Yorker
"Wharton seems to have been aware that in her ghost stories, she had tapped into something essential yet hidden about modern life. . . . In Ghosts, Wharton's characters carry with them not only what was inflicted upon them, but what they have inflicted upon others, however unknowingly." —Jack Hanson, The Baffler

"These ghost stories are not mere genre, not chills and thrills. They are about the liberty of the form itself. . . . I believe that these macabre stories were, for Edith Wharton, another way out, another departure and yet another entry into the penetrating observations on the destructive powers of human possession, the aftermath of dispossession and the haunting power of love." —Maureen Howard
"A blend of Poe, Hawthorne and Henry James, [Wharton] has a lightness of touch that belies the often very grisly tale." —Kate Mosse, The Guardian

"Mysterious and coolly menacing stories of the supernatural." —Dan Chaon, The Week