Staff Pick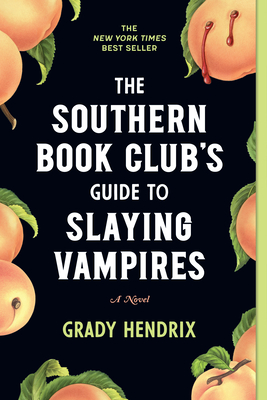 The Southern Book Club's Guide to Slaying Vampires: A Novel
Publication Date:
May 25th, 2021
Charter Books
On hand, as of Dec 2 2:07am
(Horror)
On Our Shelves Now
Staff Reviews
I am by no means a horror fan (easily spooked) but this book is incredible; I read it in a day. It walks the line between horror and thriller, can be charmingly funny, and beneath it all is a subtle study on women's relationships. The main cast--a group of Southern women in the '90s--is written so, so well. I cannot recommend enough to horror fans and fearers alike.
— Kat
Grady Hendrix somehow makes horror charming. His style of writing — unrelenting humanity in the face of real terror, of both the supernatural and everyday varieties — is in top form here. He's one of a handful of authors whose new work I devour as soon as I get my hands on it. Hendrix knows how to terrify you, but more importantly, he knows how to make you feel like you can potentially overcome the thing that scares you the most.
April 2020 Indie Next List
Description
"This funny and fresh take on a classic tale manages to comment on gender roles, racial disparities, and white privilege all while creeping me all the way out. So good."—Zakiya Dalila Harris, author of The Other Black Girl
Now in paperback, Steel Magnolias meets Dracula in this New York Times best-selling horror novel about a women's book club that must do battle with a mysterious newcomer to their small Southern town.
Bonus features:
   • Reading group guide for book clubs
   • Hand-drawn map of Mt. Pleasant
   • Annotated true-crime reading list by Grady Hendrix
   • And more!
Patricia Campbell's life has never felt smaller. Her husband is a workaholic, her teenage kids have their own lives, her senile mother-in-law needs constant care, and she's always a step behind on her endless to-do list. The only thing keeping her sane is her book club, a close-knit group of Charleston women united by their love of true crime. At these meetings they're as likely to talk about the Manson family as they are about their own families.
One evening after book club, Patricia is viciously attacked by an elderly neighbor, bringing the neighbor's handsome nephew, James Harris, into her life. James is well traveled and well read, and he makes Patricia feel things she hasn't felt in years. But when children on the other side of town go missing, their deaths written off by local police, Patricia has reason to believe James Harris is more of a Bundy than a Brad Pitt. The real problem? James is a monster of a different kind—and Patricia has already invited him in. 
 
Little by little, James will insinuate himself into Patricia's life and try to take everything she took for granted—including the book club—but she won't surrender without a fight in this blood-soaked tale of neighborly kindness gone wrong.
Praise for The Southern Book Club's Guide to Slaying Vampires: A Novel
The New York Times Best Seller
A Barnes & Noble Best Fiction Book of 2020
2021 Locus Award Finalist
A Goodreads Choice Awards Finalist
#1 April 2020 LibraryReads Pick
April 2020 Indie Next Pick
Amazon Best Book of April 2020
A Library Journal Editors' Pick for April 2020
The A.V. Club Best Book of April 2020
A POPSUGAR Best Book for Book Clubs 2020
One of Good Housekeeping's 30 of the Scariest Horror Books Ever Written
One of Town & Country's 50 Best Horror Books

"This funny and fresh take on a classic tale manages to comment on gender roles, racial disparities, and white privilege all while creeping me all the way out. So good."—Zakiya Dalila Harris, author of The Other Black Girl

"Ghosts of the past have also inspired one of the most rollicking, addictive novels I've read in years: The Southern Book Club's Guide to Slaying Vampires by Grady Hendrix, a tale of housewives battling vampires that is sweetly painful, like hard candy that breaks a tooth."—Danielle Trussoni for The New York Times Book Review

"A delight...its incisive social commentary and meaningful character development make The Southern Book Club's Guide to Slaying Vampires not just a palatable read for non-horror fans, but a winning one."—USA Today, 3.5 out of 4 star review
"Funny, gruesome, and wild, this rollicking novel from horror luminary Grady Hendrix is Desperate Housewives meets Dracula."—Esquire
"Delightful read that reads like Dracula set in the '90s American South....Perfect for fans of horror and real-life crime alike."—Good Housekeeping
"The novel is a charming testament to friendships and life's imperfections, with dashes of rot and savagery to earn its keep in horror literature....It's a rollercoaster [that] lands as a vampire story concreted in vileness and Southern charm."—Fangoria

"[Hendrix] remains excellent at staging page-turning sequences of excitement and anxiety...[and] a master of adding little details that fill in the landscape of his Southern-fried world."—The A.V. Club
"As fun (and as creepy) as the title suggests….This novel will definitely whet your appetite if you're looking for something a bit eccentric and spooky."—BuzzFeed
"This book should be required reading for all Southern women....[It] transports you back to all the best parts of the 1990's while throwing more than enough thrill and chill into the mix."—Country Living
"[A] clever, addictive vampire thriller....This powerful, eclectic novel both pays homage to the literary vampire canon and stands singularly within it."—Publishers Weekly, starred review
"Hendrix cleverly sprinkles in nods to well-established vampire lore, and the fact that he's a master at conjuring heady 1990s nostalgia is just the icing on what is his best book yet. Fans of smart horror will sink their teeth into this one."—Kirkus Reviews, starred review
"Hendrix has masterfully blended the disaffected housewife trope with a terrifying vampire tale, and the anxiety and tension are palpable...a cheeky, spot-on pick for book clubs."—Booklist, starred review