I Would Prefer Not To: Essential Stories (Paperback)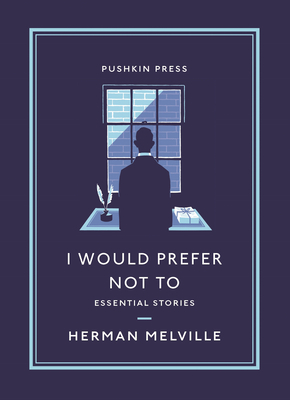 Staff Reviews
---
Let's get the elephant whale out of the room: whatever you think about Moby-Dick, Melville was a brilliant and criminally underrated American writer. This compact paperback collects his best short works, like the anti-conformist Marxist Kafkaesque "Bartleby" and the surreal account of a slave ship revolt in "Benito Cereno." All of them would prefigure major 20th century literary movements.
— Steve
Description
---
A new selection of Melville's darkest and most enthralling stories in a beautiful Pushkin Collection edition

Includes "Bartleby, the Scrivener", "Benito Cereno" and "The Lightning-Rod Man"

A lawyer hires a new copyist, only to be met with stubborn, confounding resistance. A nameless guide discovers hidden worlds of luxury and bleak exploitation. After boarding a beleaguered Spanish slave ship, an American trader's cheerful outlook is repeatedly shadowed by paralyzing unease.

In these stories of the surreal mundanity of office life and obscure tensions at sea, Melville's darkly modern sensibility plunges us into a world of irony and mystery, where nothing is as it first appears.
About the Author
---
Herman Melville was born to a merchant family in New York City in 1819. His father died suddenly in 1832, and Melville took jobs as a bank clerk, a farmhand and a teacher to make ends meet. In 1839, he embarked on the first in a series of sea voyages that would provide him with inspiration for his novels Typee (1846), Omoo (1847) and his great masterpiece, Moby-Dick (1851). Following poor sales and hostile reviews, Melville largely abandoned fiction writing after 1857, turning to poetry and a career as a customs inspector on the New York docks. He died in relative obscurity in 1891.
Praise For…
---
"Melville instinctively aspired to the grandest scale, and even in his shorter works offers vast inklings and the resonance of cosmic concerns." -- John Updike

"Melville seems to promise the very stuff of existence: time, space, air. We don't so much read him as inhale him." -- Geoffrey O'Brien, Village Voice

"There are very few stories that, on re-reading after re-reading, seem to become impossibly more perfect, but Herman Melville's eerie, aching story 'Bartleby, the Scrivener' is one such." -- Stuart Kelly, Guardian