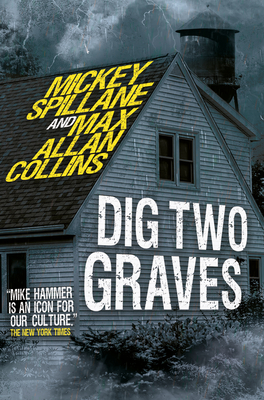 Mike Hammer - Dig Two Graves
Publication Date:
September 19th, 2023
Charter Books
On hand, as of Dec 2 2:07am
(Mystery & Suspense)
On Our Shelves Now
Description
Mike Hammer, the iconic PI created by the master of noir Mickey Spillane, takes on the mob in the first of two gripping final novels for the deadly private eye.
Winter 1964. After a hit-and-run accident nearly kills her mother, Mike Hammer's partner (both in life and the PI business), Velda Sterling, learns her father is not who she thought he is. Seeking to uncover her true, troubling heritage, Velda and Mike travel to Phoenix, Arizona—and sunny Dreamland Park, where retired law enforcement officers protect and corral notorious criminals held under Witness Protection.
Mike and Velda find themselves swept up in escalating violence, fueled by the missing millions from an armored-car robbery, which leads them to a deadly midnight confrontation in a cemetery—where secrets are buried and open graves await.
About the Author
Mickey Spillane is the legendary crime writer credited with igniting the explosion of paperback publishing after World War II as a result of the unprecedented success of his Mike Hammer novels, feeding the public's appetite for sexy, violent, straight-talking crime stories. He also starred as Mike Hammer in The Girl Hunters. Mickey Spillane died at the age of 88 in 2006.
Max Allan Collins was hailed in 2004 by Publishers Weekly as "a new breed of writer." A frequent Mystery Writers of America nominee in both fiction and non-fiction categories, he has earned an unprecedented eighteen Private Eye Writers of America nominations, winning for his Nathan Heller novels, True Detective (1983) and Stolen Away (1991). In 2002, his graphic novel Road to Perdition was adapted into an Academy-Award winning film, starring Tom Hanks, Paul Newman, Jude Law and Daniel Craig. He lives in Iowa, USA.
Praise for Mike Hammer - Dig Two Graves
"Hardboiled is alive and kicking; for a pulp fix this nails it pretty good."
- Crime Fiction Lover
"The amusing conceit of a town for snitches allows full rein for Hammer's signature blend of violence, chastely described lust, and revenge served cold, with several surprising twists thrown in as a bonus. Like the denizens of its imagined retirement community, you just can't keep this franchise down." Kirkus
PRAISE FOR MICKEY SPILLANE
Mike Hammer is an icon of our culture. - The New York Times
A superb writer. Spillane is one of the century's bestselling authors. - The Plain Dealer (Cleveland)
 
PRAISE FOR MAX ALLAN COLLINS
[Collins] has no problem serving up Hammer the same way Spillane did, with plenty of mayhem, violence, and sex, dished out in straight-ahead, no-frills prose, right on target, so direct, with no room for sissy stuff like digressions, detours, or doubts. Hammer is a shark that needs to keep swimming to survive, and Collins tosses plenty of chum into these waters... It's the real deal, folks: primo, primal detective fiction. Pass the peanuts.
- Mystery Scene
Max Allan Collins is the closest thing we have to a 21st century Mickey Spillane. - ThisWeek (Ohio)
Collins' witty, hardboiled prose would make Raymond Chandler proud. - Entertainment Weekly