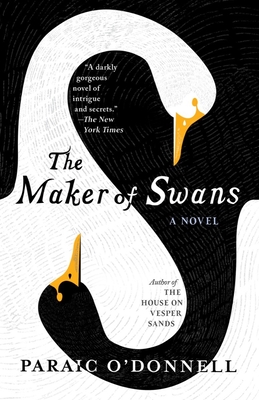 The Maker of Swans
Publication Date:
April 25th, 2023
Publisher:
Tin House Books
Charter Books
On hand, as of Dec 2 2:07am
(Mystery & Suspense)
On Our Shelves Now
Description
A New York Times Best Book of Summer
A CrimeReads & Book and Film Globe Best Book of the Year

A Tor.com Best Book of June
"Truly bewitching." —David Mitchell

In the dead of night, shots ring out over the grounds of a sprawling English estate. The world-weary butler Eustace recognizes the gunman—his longtime employer, Mr. Crowe—and knows he must think and act quickly. Who is the man lying dead on the lawn? Who is the woman in his company? Can he clean up his master's mess like he always has before? Or will this bring a new kind of reckoning?
Mr. Crowe was once famed for his gifts—unaccountable gifts, known only to the members of a secretive order. Protected and privileged, he was courted by countesses and great men of letters. But he has long since retreated from that glittering world, living alone but for Eustace and Clara, his mysterious young ward. He has been content to live quietly, his great library gathering dust and his once magnificent gardens growing wild. He has left the past behind. Until now.
Because there are rules, even for Mr. Crowe and his kind, that cannot be broken. And this single night of passion and violence will have consequences, stirring shadows from the past and threatening those in his care. He and the faithful Eustace will be tested as never before. So too will Clara, whose own extraordinary gifts remain hidden, even from herself. If she is to save them all, she must learn to use them quickly and unlock the secret of who she is.It is a secret beyond imagining. A secret that will change everything.
Praise for The Maker of Swans
A darkly gorgeous novel of intrigue and secrets.
— The New York Times
Remarkable. . . . O'Donnell mesmerizes with another stylish, atmospheric tale.
— CrimeReads
Compulsive reading. . . . rich, strange, beautiful.
— Helen Macdonald, author of Vesper Flights
Starts at a leisurely trot and works its way up to a gallop. . . . the first act is meticulous in its preparation for the twists that follow.
— The New York Times Magazine
Has that wonderfully dark, magical feel to it.
— ELLE
A powerful thriller.
— Vogue
Evocative and beautiful. . . . O'Donnell is a master craftsman of language and storytelling.
— Kirkus Reviews
Stunning.
— Foreword Reviews
Utterly beautiful. . . . An enthralling dance over the line between literary fiction and magical fantasy.
— BookPage
Luxuriant. 
— The Guardian
The Maker of Swans takes Paraic O'Donnell's mastery (he is also known for The House on Vesper Sands, his second book) to deep, heart-shaking, and frightening revelations. Brace for flame and sorcery, and a hidden order of the powerful.
— Historical Novel Society
For readers who like secrets to be revealed piece by tantalizing piece.
— Napa Valley Register
Truly bewitching.
— David Mitchell, author of Utopia Avenue
I devoured this book and it kept me guessing right to the very end.
— Laura Barnett, author of The Versions of Us
Dazzlingly. 
— Jane Casey, author of The Stranger You Know
Exquisite.
— Liz Nugent, author of Unravelling Oliver
A mesmerizing book. 
— Sandra Newman, author of The Heavens
It starts with a bang and keeps going.
— Jon McGregor, author of Lean Fall Stand