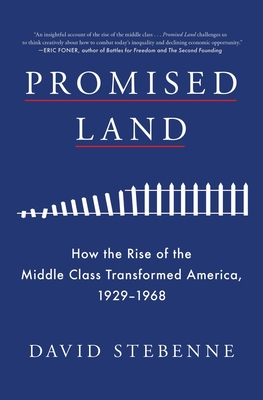 Promised Land: How the Rise of the Middle Class Transformed America, 1929-1968
Publication Date:
July 20th, 2021
Charter Books
On hand, as of Dec 2 2:07am
(History - U.S.)
On Our Shelves Now
Description
A groundbreaking work of history about the American middle class—its rise, why it faltered, and who truly benefited from its dominance.
In Promised Land, David Stebenne "invites us to remember those decades in which both the middle class and the Democratic Party were ascendant" (The Wall Street Journal). The story begins with the pervasive income and wealth inequality of the pre-New Deal period. What followed began a great leveling. World War II brought transformative elements that also helped expand the middle class. For decades, economic policies and cultural practices strengthened the trend, and by the 1960s the middle class dictated American tastes from books to TV shows to housing to food, creating a powerful political constituency with shared interests and ideals.
The disruptive events of 1968, however, signaled the end of this expansion. The cultural clashes and political protests of that era turned a spotlight on how the policies and practices of the middle-class era had privileged white men over women, people of color, and other marginalized groups, as well as military force over diplomacy and economic growth over environmental protection. These conflicts, along with shifts in policy and economic stagnation, started shrinking that vast middle class and challenging its values, trends that continue to the present day.
Now, as the so-called "end of the middle class" dominates the news cycle and politicians talk endlessly about how to revive it, Stebenne's vivid history of a social revolution that produced a new and influential way of life reveals the fascinating story of how it was achieved and the considerable costs incurred along the way. "Well-researched, evenhanded…this concise, lucid account offers a solid overview of mid-20th-century social history" (Publishers Weekly) and shines more than a little light on our possible future.
Praise for Promised Land: How the Rise of the Middle Class Transformed America, 1929-1968
"With a historian's eye for detail and context, [Stebenne] examines factors that helped propel the growth of the middle class ... immensely enlightening and rewarding."
—Booklist
"Stebenne's account is well-researched, evenhanded, and illustrated with sketches of the life stories of representative middle-class couples. This concise, lucid account offers a solid overview of mid-20th-century social history."
—Publisher's Weekly
"Stebenne has written a provocative account of [middle-class Americans'] rise and fall … A thoughtful look at a long-ago era when America seemed egalitarian and prosperous."
—Kirkus Reviews
"Considering its central role in modern American history, the middle class has received remarkably little attention from historians, compared with labor or the rich.  But now David Stebenne gives us an insightful account of the rise of the middle class -- as an economic and social entity and a state of mind — from the New Deal to the1960s.  Uniting political, economic, and cultural history, and paying necessary attention to those excluded from the benefits of middle class life because of race, gender, and geography, Promised Land challenges us to think creatively about how to combat today's inequality and declining economic opportunity."
—Eric Foner, author of Battles for Freedom and The Second Founding
"David Stebenne's sparkling new study of the rise of America's middle class since 1929 provides readers with an exciting blend of political, economic, and cultural history.  You need to read this book if you want to understand the astonishing changes in America between the Great Depression and the failed leadership of President Lyndon Johnson. You also should read it if you want to grasp how much your life and prospects have changed since 1968."
—Louis Galambos, editor of The Papers of Dwight David Eisenhower and author of Eisenhower: Becoming the Leader of the Free World