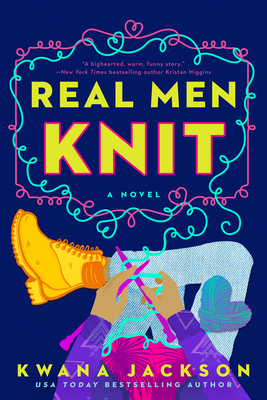 Real Men Knit (Real Men Knit series #1)
Publication Date:
May 19th, 2020
In Stock at Warehouse - Usually Arrives in 3-7 Days
Description
"If you're looking for an easy charmer, this is the novel for you."—Shondaland
 
When their foster-turned-adoptive mother suddenly dies, four brothers struggle to keep open the doors of her beloved Harlem knitting shop.
Jesse Strong is known for two things: his devotion to his adoptive mom, Mama Joy, and his reputation for breaking hearts. When Mama Joy unexpectedly passes away, he and his brothers have different plans for what to do with Strong Knits, their neighborhood knitting store. Jesse wants to keep the store open. His brothers want to tie off loose ends and close shop....
Part-time shop employee Kerry Fuller has kept her crush on Jesse a secret. When she overhears his impassioned plea to his brothers to keep the knitting shop open, she volunteers to help. Unlike Jesse, Kerry knows the "knitty-gritty" of the business, and together they make plans to reinvent Strong Knits for a new generation.
But the more time they spend together, the stronger the chemistry builds between them. Kerry, knowing Jesse's history, doesn't believe their relationship can last longer than she can knit one, purl two. But Jesse is determined to prove to her that he can be the man for her forever and always. After all, real men knit.
Praise for Real Men Knit (Real Men Knit series #1)
One of OprahMag.com's Best Romances of 2020
"Readers who adore snappy family banter and feel-good romance won't want to miss this one."—NPR
"A big-hearted, warm, funny story of community, family and unexpected romance, Real Men Knit is an absolute winner."—Kristan Higgins, New York Times bestselling author
"Such a fantastic read, complete with an emotion-filled romance, and a cast of characters I'm so looking forward to seeing again."—Nalini Singh, New York Times bestselling author
"Gorgeous, funny, sexy, smart."—Penny Reid, New York Times bestselling author
"I loved every word of Real Men Knit. It's a sweet and satisfying slow-burn of a romance about what knits us together as family, friends, and lovers. I can't wait for the next installment of the Old Knitting Gang!"—Lyssa Kay Adams
"Kwana Jackson combines everything I look for in a story: family, heart, romance; and knits it into the perfect reading experience."—Farrah Rochon, USA Today bestselling author
"Kwana's characters and vivid world-building leap off the page in this hilarious and heartwarming frenemies-to-lovers story."—Andie J. Christopher, USA Today bestselling author
"This emotional, funny, and sexy friends-to-lovers romance introduces us to the enticing Strong brothers & has me clamoring for more!"—Priscilla Oliveras, USA Today bestselling author
"Like a hand-knit sweater, you'll want to wrap yourself up in this delightful love story."—Tracy Brogan, USA Today bestselling author 
"Reminiscent of Four Brothers, but completely original, Real Men Knit is heartfelt and romantic, hitting just the right notes of emotion."—Kennedy Ryan, Wall Street bestselling author
"With love and laughter, Kwana Jackson's contemporary romance Real Men Knit captured my imagination and held it from the very first page. I loved this book!"—Jenn McKinlay
"Jackson crafts a cute friends-to-lovers romance with a diverse cast of characters that emphasizes the importance of community and found family."—Booklist