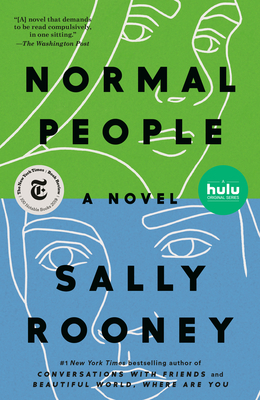 Normal People: A Novel
Publication Date:
February 18th, 2020
In Stock at Warehouse - Usually Arrives in 3-7 Days
What a treat to discover Sally Rooney! This novel stands out shining from the current onslaught of mediocre prose and less-than-suspenseful thriller plots. Normal People is the story of a relationship between two high school classmates in a small town in Ireland, and how it changes over time, through their last year of college in Dublin. Rooney's spare and brilliant writing illuminates her insight and makes the unfolding of these two personalities completely compelling.
May 2019 Indie Next List
Description
NOW AN EMMY-NOMINATED HULU ORIGINAL SERIES • NEW YORK TIMES BESTSELLER • "A stunning novel about the transformative power of relationships" (People) from the author of Conversations with Friends, "a master of the literary page-turner" (J. Courtney Sullivan).
 
ONE OF THE TEN BEST NOVELS OF THE DECADE—Entertainment Weekly

TEN BEST BOOKS OF THE YEAR—People, Slate, The New York Public Library, Harvard Crimson

AND BEST BOOKS OF THE YEAR—The New York Times, The New York Times Book Review, O: The Oprah Magazine, Time, NPR, The Washington Post, Vogue, Esquire, Glamour, Elle, Marie Claire, Vox, The Paris Review, Good Housekeeping, Town & Country
Connell and Marianne grew up in the same small town, but the similarities end there. At school, Connell is popular and well liked, while Marianne is a loner. But when the two strike up a conversation—awkward but electrifying—something life changing begins.
A year later, they're both studying at Trinity College in Dublin. Marianne has found her feet in a new social world while Connell hangs at the sidelines, shy and uncertain. Throughout their years at university, Marianne and Connell circle one another, straying toward other people and possibilities but always magnetically, irresistibly drawn back together. And as she veers into self-destruction and he begins to search for meaning elsewhere, each must confront how far they are willing to go to save the other.
Normal People is the story of mutual fascination, friendship and love. It takes us from that first conversation to the years beyond, in the company of two people who try to stay apart but find that they can't.
 
Praise for Normal People
 
"[A] novel that demands to be read compulsively, in one sitting."—The Washington Post

"Arguably the buzziest novel of the season, Sally Rooney's elegant sophomore effort . . . is a worthy successor to Conversations with Friends. Here, again, she unflinchingly explores class dynamics and young love with wit and nuance."—The Wall Street Journal
"[Rooney] has been hailed as the first great millennial novelist for her stories of love and late capitalism. . . . [She writes] some of the best dialogue I've read."—The New Yorker
Praise for Normal People: A Novel
"[Rooney] has invented a sensibility entirely of her own: sunny and sharp, free of artifice but overflowing with wisdom and intensity. . . . The novel touches on class, politics, and power dynamics and brims with the sparky, witty conversation that Rooney's fans will recognize."—Vogue 
"A future classic."—The Guardian
"Rooney is a tough girl; her papercut-sharp sensibility is much more akin to writers like Rachel Kushner, Mary Gaitskill, and the pre–Manhattan Beach Jennifer Egan. . . . Normal People is a nuanced and flinty love story about two young people who 'get' each other, despite class differences and the interference of their own vigorous personal demons. But honestly, Sally Rooney could write a novel about bath mats and I'd still read it. She's that good and that singular a writer."—Maureen Corrigan, NPR's Fresh Air
"[Rooney] has written two fresh and accessible novels. . . . There is so much to say about Rooney's fiction—in my experience, when people who've read her meet they tend to peel off into corners to talk."—Dwight Garner, The New York Times
"[Rooney's] two carefully observed and gentle comedies of manners . . . are tender portraits of Irish college students. . . . Remarkably precise—she captures meticulously the way a generation raised on social data thinks and talks."—New York Review of Books
"Normal People tackles millennial concerns with nineteenth-century wit . . . the millennial generation would no doubt be happy to accept her as its spokesperson were she so inclined."—Elle
"I'm transfixed by the way Rooney works, and I'm hardly the only one . . . like any confident couturier, she's slicing the free flow of words into the perfect shape. . . . She writes about tricky commonplace things (text messages, sex) with a familiarity no one else has."—The Paris Review
"Funny and intellectually agile . . . [combines] deft social observation—especially of shifts of power between individuals and groups—with acute feeling . . . [Rooney is] a master of the kind of millennial deadpan that appears to skewer a whole life and personality in a sentence or two."—Harper's Magazine
"Beautifully observed . . . crackles with vivid insight into what it means to be young and in love today."—Esquire
"I went into a tunnel with this book and didn't want to come out. Absolutely engrossing and surprisingly heart-breaking with more depth, subtlety, and insight than any one novel deserves. Young love is a subject of much scorn, but Rooney understands the cataclysmic effects our youth has on the people we become. She has restored not only love's dignity, but also its significance."—Stephanie Danler, author of Sweetbitter
"Masterfully done. The quality of Rooney's writing, particularly in the psychologically wrought sex scenes, cannot be understated as she brilliantly provides a window into her protagonists' true selves."—BookPage (starred review)