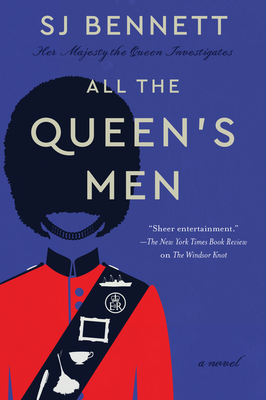 All the Queen's Men: A Novel (Her Majesty the Queen Investigates #2)
Publication Date:
April 25th, 2023
Publisher:
William Morrow Paperbacks
Charter Books
On hand, as of Dec 1 1:52am
(Mystery & Suspense)
On Our Shelves Now
Description
"Sheer entertainment… Bennett infuses wit and an arch sensibility into her prose… This is not mere froth, it is pure confection." — New York Times Book Review on The Windsor Knot
Amateur detective Queen Elizabeth II is back in this hugely entertaining follow-up to the bestseller The Windsor Knot, in which Her Majesty must determine how a missing painting is connected to the shocking death of a staff member inside Buckingham Palace.
At Buckingham Palace, the autumn of 2016 presages uncertain times. The Queen must deal with the fallout from the Brexit referendum, a new female prime minister, and a tumultuous election in the United States—yet these prove to be the least of her worries when a staff member is found dead beside the palace swimming pool. Is it truly the result of a tragic accident, as the police think, or is something more sinister going on?
Meanwhile, her assistant private secretary, Rozie Oshodi, is on the trail of a favorite painting that once hung outside the Queen's bedroom and appears to have been misappropriated by the Royal Navy. And a series of disturbing anonymous letters have begun circulating in the palace. The Queen's courtiers think they have it all 'under control', but Her Majesty is not so sure. After all, though the staff and public may not be aware, she is the keenest sleuth among them. Sometimes, it takes a Queen's eye to see connections where no one else can.
Praise for All the Queen's Men: A Novel (Her Majesty the Queen Investigates #2)
"[An] enjoyable, good-natured sequel to 2020's The Windsor Knot… Highlights include the breakfast table talk between the queen and Prince Philip and, of course, references to the monarch's beloved corgis. Bennett respectfully portrays the queen while providing edifying details of palace life. Dog lovers and Anglophiles will rejoice." — Publishers Weekly on All the Queen's Men
"[A] pitch-perfect murder mystery… If The Crown were crossed with Miss Marple…, the result would probably be something like this charming whodunnit." — Ruth Ware on The Windsor Knot
"SJ Bennett brilliantly sets up the Queen as detective… Our super-sleuth Queen unites sharp intuition and first-class memory with a lifetime of observation to outwit the police and MI5. She is Miss Marple with a crown." — Daily Mirror (UK) on The Windsor Knot
"The Queen shows a little Sherlock Holmes and a dash of George Smiley. She also charms the reader in all her scenes."  — Toronto Star on The Windsor Knot
"Her Majesty, … unshockable and mystery-savvy, … uses her long but subtle reach, powers of observation, and decades (and decades!) of sizing up people to solve several crimes… Mystery readers—and royalists, of course—will enjoy their audience with QEII." — Booklist on The Windsor Knot
"Sheer entertainment… Bennett infuses wit and an arch sensibility into her prose… This is not mere froth, it is pure confection." — New York Times Book Review on The Windsor Knot
'Hilarious, affectionate, and so well observed... I loved it.' — Joanne Harris, author of Chocolat
"[An] amusingly decorous debut…the queen makes a wonderfully self-effacing sleuth." — Kirkus Reviews
"Bennett portrays the perceptive, resourceful Queen--her thought processes, intuitions and actions--with great wit and affection… A fast-moving, spirited and suspenseful plot. Readers will be enchanted by Bennett's inventive portrayal of a deeply engaging icon."  — Shelf Awareness
"The delightful first in a series featuring Queen Elizabeth II as sleuth… Bennett's depiction of the warm, wise, and witty queen and the insights into her royal life are fascinating. Fans of Netflix's The Crown will have fun." — Publishers Weekly
"The quirkiest, funniest and most-needed crime novel of the year—do not miss." — The Sun (UK)
"The Queen is a super-sleuth… Heartwarming and entirely believable… This entertaining novel, written with wit and brio, will appeal to royalists and murder mystery lovers alike." — Daily Express (UK)
"In this delightful and suspenseful whodunit, author SJ Bennett pulls off the prodigious feat of transforming Queen Elizabeth into an amateur detective. For those of us who love 'The Crown' but think it should have a little more murder in it, this is perfection. And hopefully the first of many." — Peter Swanson, author of Eight Perfect Murders
"[A] warm and witty murder mystery … A delightful and respectful tribute to Windsor's canniest – and most discreet – amateur sleuth." — Woman&Home, Book of the Month selection (UK)
"This version of Her Majesty – shrewd, sensible and inquisitive – has much in common with Alan Bennett's royal creation in The Uncommon Reader, and the resulting book, with its mixture of real and imagined characters, is charming..." — The Guardian (UK)