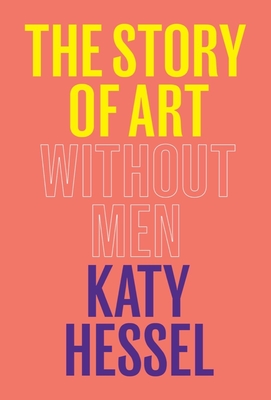 The Story of Art Without Men
Publication Date:
May 2nd, 2023
Publisher:
W. W. Norton & Company
Charter Books
On hand, as of Dec 6 12:52am
(ART)
On Our Shelves Now
Description
Instant New York Times bestseller
One of Vanity Fair's Favorite Books to Gift • One of PureWow's 42 Books to Gift This Year • One of Kirkus's Best Books of 2023
The story of art as it's never been told before, from the Renaissance to the present day, with more than 300 works of art.
How many women artists do you know? Who makes art history? Did women even work as artists before the twentieth century? And what is the Baroque anyway?
Guided by Katy Hessel, art historian and founder of @thegreatwomenartists, discover the glittering paintings by Sofonisba Anguissola of the Renaissance, the radical work of Harriet Powers in the nineteenth-century United States and the artist who really invented the "readymade." Explore the Dutch Golden Age, the astonishing work of postwar artists in Latin America, and the women defining art in the 2020s. Have your sense of art history overturned and your eyes opened to many artforms often ignored or dismissed. From the Cornish coast to Manhattan, Nigeria to Japan, this is the history of art as it's never been told before.
Praise for The Story of Art Without Men
Excellent, authoritative, exuberant, and elegantly written.
— Simon Sebag Montefiore, on Twitter
What Hessel achieves here is extraordinary . . . She covers a wide range of mediums (from silhouette papercutting to body art) and themes (including postcolonial narratives and queer pride). And though she keeps the focus on the women, she includes a few choice slurs by men as evidence of what these artists were—and are—up against . . . This [is a] spellbinding book.
— Margot Mifflin - Los Angeles Times
[The Story of Art Without Men] should become a founding text in the history of art by women . . . Inspiring and indispensable.
— Bidisha Mamta - Guardian
Sweeping . . . Part revisionist history, part coffee-table book, part collective portrait, part archival treasure hunt.
— Tiana Reid - New York Times
A revelation and an important first step towards redressing the balance of an art world in which women have been sidelined.
— Katy Thompsett - Refinery29
Katy Hessel presents art as you've never seen it before, with women in the spotlight—and without a Leonardo in sight.
— Rachel Campbell-Johnston - Times (London)
There's still some way to go until the gender imbalance is totally redressed, but The Story of Art Without Men, which describes how women achieved artistic excellence against colossal odds, has firmly cracked open the canon.
— Chloë Ashby - Spectator
The Story of Art Without Men is an extraordinary achievement that will have a disruptive cultural legacy and help determine the landscape for years to come.
— Helena Lee - Harper's Bazaar
It's a radical premise, rewriting history and upending the dominance men have held over so much of our culture. ([Hessel] includes sections on queer artists and artists of color, too.) Reading the book, I felt almost giddy as I reached each art-historical moment without the usual suspects mentioned.
— Grace Edquist - Vogue
After reading The Story of Art Without Men, educators may aspire to redesign their art history surveys and syllabi—and trade some Picassos for Gegos.
— Nageen Shaikh - Hyperallergic
An indispensable primer on the history of art, with an exclusive focus on women . . . A constructive, revelatory project . . . [and] an overdue upending of art historical discourse.
— Kirkus (starred review)
I'd urge you to pick up [this] book, which is an extraordinary eye-opener, and very readable . . . We badly need books like Hessel's.
— Hattie Crisell - Evening Standard
This book has blown my mind. Really passionately recommend.
— India Knight - Sunday Times
Hessel's clear love for the history of art shines. She . . . embarks on nuanced, poetic visual descriptions with reverence and excitement, as if discovering her subjects for the first time. . . . The Story of Art Without Men is an invitation to constantly rethink art history and continue to fill in the gaps.
— Annabel Keenan - Artillery