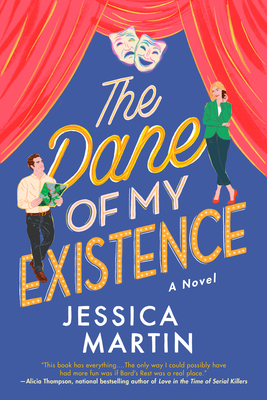 The Dane of My Existence (A Bard's Rest Romance #2)
Publication Date:
July 4th, 2023
Charter Books
On hand, as of Dec 2 2:07am
(Romance)
On Our Shelves Now
Description
When the history and character of her Shakespeare-obsessed hometown is threatened, a powerhouse lawyer goes toe to toe with a commercial developer in a hilarious rom-com from the author of For the Love of the Bard.
Portia Barnes is the youngest managing partner in her law firm's history, and she and her stilettos are poised to step into the role of her dreams—leading the firm's new Boston office. But first she's taking a summer sabbatical in her hometown of Bard's Rest, New Hampshire, where she discovers something's rotten in the midst of the town's annual Shakespeare festival.
Hotshot commercial developer Benjamin Dane is sniffing around Bard's, and while Portia isn't necessarily a Shakespeare fanatic like the rest of her family, she's not about to let him bulldoze the town's beloved outdoor theater. Yet to Portia's dismay, Ben proves as skilled as she is when it comes to outworking, outmaneuvering, and one-upping the competition. While she's never hesitated to wage war against hyper-successful alpha males, Portia is caught off guard by Ben's openness and lack of arrogance. As her own long-constructed walls start to come down, Portia begins to wonder if he might be more than an archnemesis.
With her heart on the line and the future of the town hanging in the balance, Portia faces an impossible decision—Ben or Bard's?—unless she finds a way to broker the merger of her life, and ensures the curtain falls on a happy ending for everyone.
Praise for The Dane of My Existence (A Bard's Rest Romance #2)
"The banter is as sharp as Portia's shark-like instincts in Jessica Martin's The Dane of My Existence! This book had everything -- a truly inspired commitment to Shakespeare and puns and Shakespeare puns, a charming rescue pup, and two corporate types making creative use of a desk. The only way I could possibly have more fun is if Bard's Rest was a real place."
—Alicia Thompson, national bestselling author of Love in the Time of Serial Killers
"Martin's cast is dynamic and winsome, and the fiery chemistry between Portia and Ben will leave readers wanting more. This is sure to scratch the itch for fans of the enemies-to-lovers trope."
—Publishers Weekly
Praise for For the Love of the Bard
"This charming debut casts a second-chance romance against a Shakespeare-obsessed town with sparkling results."
—Entertainment Weekly
"Perfect to read on the beach."
—The Boston Globe
"If you wished your romcoms had more Shakespeare puns, have I got the book for you! For the Love of the Bard is a delightful ode to complicated family relationships, growing up in the theatre, and opening your heart to a second chance with your first love. The quirky small-town setting is charming, and I wish I could move to Bard's Rest immediately!"
—Jen DeLuca, author of Well Played
"Reading For the Love of the Bard is like entering a fantasy written specifically for bookworms…. This is a delight, full of florid language, slow-building tension, groan-inducing puns, loads of food descriptions, and a fun and fleshed-out supporting cast."
—USA Today
"Jessica Martin delivers a sizzling second chance romance full of witty banter, quirky characters, and a sensational Shakespeare infused setting in For the Love of the Bard. For anyone who never got over their high school crush or who adores Shakespeare, this is an absolute must read!"
—Jenn McKinlay, New York Times bestselling author of Paris Is Always a Good Idea

"Jessica Martin's rollicking and bighearted debut is a love letter to all things Shakespeare, filled with whip smart banter that would make the Bard himself jealous, a supporting cast I'd love to share an ale with, and best of all, a second chance romance that's the stuff of sonnets. Martin is an author to watch!"
—Victoria Schade, USA Today bestselling author of Dog Friendly

"Sweet and Shakespearean, For the Love of the Bard sweeps small-town charm and second-chance swoon up into a delightful rom-com fit for the stage."
—Emily Wibberley and Austin Siegemund-Broka, authors of The Roughest Draft
"With its charming setting and endearing cast of characters, For The Love of the Bard is the kind of book you want to live inside. Brimming with Shakespeare references to delight the brain and a slow burn, banter-filled romance to melt the heart, this romcom captivates. The course of true love might not run smooth for Miranda and Adam, but you'll have a fabulous, laugh-out-loud experience following along with their journey!"
—India Holton, author of The League of Gentlewomen Witches
"Shakespeare wrote that the course of true love never did run smooth, and in Jessica Martin's For the Love of the Bard, that's true in the most delightful way. I laughed and cheered as our heroine Miranda overcame obstacle after obstacle that stood in the way of her heart, finding her way to happiness not only with the swoon-worthy Adam, but with her career and family as well. This charming romance with its cast of quirky, lovable characters will enchant you and make you want to adopt a Puck of your very own. If the question is to read or not to read, the answer is: definitely read."
—Amanda Elliot, author of Sadie on a Plate
"Numerous dramas—Shakespearean, familial, publishing related, and more—intersect in Martin's… thoroughly enjoyable rom-com debut."
—Publishers Weekly
"For the Love of the Bard is a refreshing, smart, funny romance with a lot of heart!"
—Novels Alive