Discounted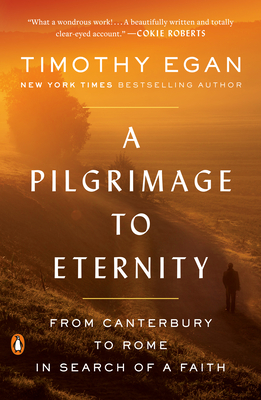 A Pilgrimage to Eternity: From Canterbury to Rome in Search of a Faith
Previous price:

$20.00
Current price:

$18.00
Publication Date:
June 16th, 2020
Charter Books
On hand, as of Dec 2 2:07am
(Religion & Inspiration)
On Our Shelves Now
Description
Tracing an ancient pilgrimage route from Canterbury to Rome, the bestselling and "virtuosic" (The Wall Street Journal) writer explores the past and future of Christianity
Moved by his mother's death and his Irish Catholic family's complicated history with the church, Timothy Egan decided to follow in the footsteps of centuries of seekers to force a reckoning with his own beliefs. He embarked on a thousand-mile pilgrimage through the theological cradle of Christianity, exploring one of the biggest stories of our time: the collapse of religion in the world that it created. Egan sets out along the Via Francigena, once the major medieval trail leading the devout to Rome, and makes his way overland via the alpine peaks and small mountain towns of France, Switzerland and Italy.
Making his way through a landscape laced with some of the most important shrines to the faith, Egan finds a modern Canterbury Tale in the chapel where Queen Bertha introduced Christianity to pagan Britain; parses the supernatural in a French town built on miracles; and journeys to the oldest abbey in the Western world, founded in 515 and home to continuous prayer over the 1,500 years that have followed.
A thrilling journey, a family story, and a revealing history, A Pilgrimage to Eternity looks for our future in its search for God.
Praise for A Pilgrimage to Eternity: From Canterbury to Rome in Search of a Faith
One of Oprah's Must-Read Books of Fall 2019
Praise for A Pilgrimage to Eternity:
"A glorious, laugh-out-loud, wipe-away-tears, blister-riddled, often rain-soaked, sometimes bone-chilled, desolate and desperate, quietly triumphant walk through church history—every last footfall in search of an elusive modern-day spiritual certitude…Egan aimed high, and he reached it."—The Chicago Tribune
"One of Egan's best books, a moving combination of history and memoir, travelogue and soul-searching, buoyed by Egan's strengths as a writer: color and humor, a sense of wonder and a gift for getting to the point."—Seattle Times
"What a wondrous work! Somehow Egan has pulled together what seems like the entire history of Christianity, the scenes and succulents of much of Europe and his own personal story into an engrossing narrative. This beautifully written and  totally clear-eyed account of his pilgrimage from Canterbury to Rome will have you wondering whether we should all embark on such a journey, either of the body, the soul or, as in Egan's case, both." —Cokie Roberts
"If this book doesn't quite settle the question of belief for you, it will at least fortify your faith in scrupulous reporting and captivating storytelling…Egan is so well informed, he starts to seem like the world's greatest tour guide...Reading it, you feel yourself in the presence of goodness — the kind you might simply have to decide to believe in."—The New York Times
"Egan is an erudite author with a flair for catching the magic in his 10-week journey. His writing is thoughtful, expressive and visceral...this book was a joy to read."—The Washington Post

"It's a trail mix of the personal, historical and even gastronomical…full of history-buff-pleasing asides."—Star Tribune

"Whether read as a travelogue, history or personal spiritual quest, A PILGRIMAGE TO ETERNITY will enlighten and entertain its audience…both mesmerizing and uplifting." —BookReporter

"As he wanders, Egan beautifully describes the landscape, his personal prayers and his family's heartbreaking experiences with untrustworthy men of faith…Part travel memoir, part history, part spiritual reflection—A Pilgrimage to Eternity is wholly enjoyable." —BookPage
"Both an engaging travelog and a meditative exploration of how religion and history have woven the tapestry of Europe together. It has more questions than answers, but they are the right questions to get a reader walking along the road to… somewhere. Making the journey is more important than arriving. Egan has illustrated that with deftness and brilliance."—Houston Chronicle

"The question of what a pilgrimage means in the modern day loops throughout Timothy Egan's A Pilgrimage to Eternity...Egan's historical chops are on show throughout his journey."—America
"Remarkable, moving…Fans of Egan's writing and newcomers will both enjoy his deep immersion into descriptive language that jolts the past awake with sensory immediacy." —Crosscut
"Rich in detail and anecdote…A beautiful book."—Commonweal
"A terrific read for all who are willing to consider that there is always more to see and learn."—Catholic Library World
"From the Pulitzer Prize and National Book Award winner, a pilgrimage to find religion—or truth, or the way—that pleasingly blends memoir, travelogue, and history. ...Finding people and places warm and welcoming in each village and city, allowing himself to be amazed, lingering to rest blistered feet, and discovering soul-stirring spots--all this kept Egan pushing on, and readers will be thankful for his determination. A joy and a privilege to read." —Kirkus, Best Book of 2019
Praise for Timothy Egan:
"Egan has a gift for sweeping narrative . . . and he has a journalist's eye for the telltale detail . . . This is masterly work." —The New York Times Book Review
"Few writers have the Pulitzer Prize–winning Egan's gift for transforming history lessons into the stuff of riveting page-turners." —Entertainment Weekly

"A master storyteller" —The Boston Globe