The Council of Animals: A Novel (Paperback)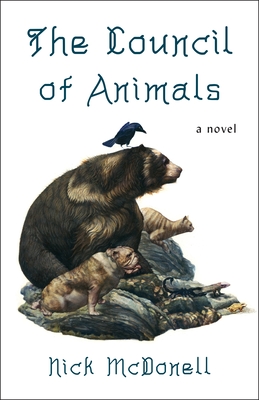 Staff Reviews
---
A brilliant and strange read, 'The Council of Animals' is a somehow charming dark fable in which plague and anthropogenic climate-change have caused near-human-extinction, and a group of animals gathers to determine whether to allow the few struggling humans to survive, or to kill and eat them for our crimes. Absurdist and wonderful, and likely to make you give your dog or cat an extra snuggle- just in case.
— Amy
Description
---
From national bestselling author Nick McDonell, The Council of Animals is a captivating fable for humans of all ages—dreamers and cynics alike—who believe (if nothing else) in the power of timeless storytelling.

"'Now,' continued the cat, 'there is nothing more difficult than changing an animal's mind. But I will say, in case I can change yours: humans are more useful to us outside our bellies than in.'"

Perhaps.

After The Calamity, the animals thought the humans had managed to do themselves in. But, it turns out, a few are cowering in makeshift villages. So the animals—among them a cat, a dog, a crow, a baboon, a horse, and a bear—have convened to debate whether to help the last human stragglers . . . or to eat them.

Rest assured, there is a happy ending. Sort of.

Featuring illustrations by Steven Tabbutt
About the Author
---
Nick McDonell, born in 1984, is a writer of novels, journalism, and political theory. He studied literature at Harvard and international relations at St. Anthony's College, Oxford. His fiction has been published in twenty-two languages and appeared on bestseller lists around the world. A film adaptation of his first novel, Twelve, premiered at the Sundance Film Festival. His academic work on nomadism—The Civilization of Perpetual Movement—was published in 2016. As a reporter for the London Review of Books, Time, TheNewYorker.com, and Harper's, Nick has embedded with the United States Army and Marines, the Afghan Special Forces, the African Union Mission to Darfur, and the Iraqi Special Forces. Nick's book, The Bodies in Person: An Account of Civilian Casualties in American Wars, was published in 2018. Nick is a cofounder of the Zomia Center for the Study of Non-State Spaces, which supports scholarly and humanitarian projects around the world.
Praise For…
---
"The book's overall effect . . . beautifully obliterates pigeonholes. The echoes of Animal Farm are many, but here, the main target of social critique is far larger than totalitarianism. . . . As an anthropomorphic folktale, The Council of Animals is concise, clever, and wonderfully conceived."
—Jason Heller, NPR

Both wildly imaginative and surprisingly funny, with (mostly) endearing characters, this thinly veiled metaphor offers what feels like an appropriate outcome. Tabbutt's drawings of the animals add to the whimsy and interest of the tale by McDonell (An Expensive Education; The Bodies in Person), which readers of all ages will enjoy. Highly recommended."
—Library Journal

"McDonell's clever, lively prose and snappy pacing propels readers onward. The Council of Animals has the feel of a fable, both a romp with sweetly goofy animal characters and a serious and clear-eyed story about the real world and its dangers. . . . Thought-provoking, captivating, funny, instructive: this is a book for readers who have ever yearned for a little extrahuman wisdom and cheer."
—Shelf Awareness

"The Council of Animals is a delightful fable full of wit and wisdom. Nick McDonell has dreamed up an ingenious mythology for his animals and he portrays them with the charm of Milne or Carroll. McDonell has the rare ability to combine irony with empathy and deliver satire with grace. The result is a timelessly entertaining tale that readers will find inspiring and irresistible."
—Simon Rich, author of New Teeth and Ant Farm

"This tale's ratio of wit to wildness is positively golden. Its subtle logic and frank and tender mischief have somehow left me with the feeling of having witnessed a wake and christening combined—and I'm so very glad I attended."
—Helen Oyeyemi, author of What Is Not Yours Is Not Yours