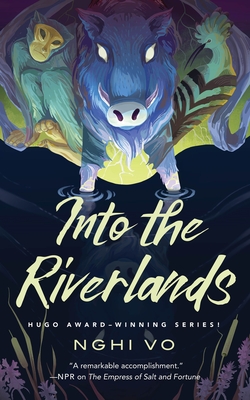 Into the Riverlands (The Singing Hills Cycle #3)
Publication Date:
October 25th, 2022
Charter Books
On hand, as of Dec 2 2:07am
(Sci-Fi / Fantasy)
On Our Shelves Now
Description
Nghi Vo's Hugo and Crawford Award-winning series, The Singing Hills Cycle, continues...
Lambda Award Finalist
Ignyte Award Finalist
Hugo Award Finalist for Best Novella
Locus Award Finalist for Best Novella
A Best Of Pick for USA Today | Buzzfeed | Ms Magazine | Arlington Magazine | Transfer Orbit | LitHub
"A delicious bonbon of a novella about stories and their unreliable narrators, who wink at their listeners (or readers), fully expecting us to catch on."―The Wall Street Journal
"Nghi Vo is one of the most original writers we have today."―Taylor Jenkins Reid on Siren Queen
Wandering cleric Chih of the Singing Hills travels to the riverlands to record tales of the notorious near-immortal martial artists who haunt the region. On the road to Betony Docks, they fall in with a pair of young women far from home, and an older couple who are more than they seem. As Chih runs headlong into an ancient feud, they find themself far more entangled in the history of the riverlands than they ever expected to be.
Accompanied by Almost Brilliant, a talking bird with an indelible memory, Chih confronts old legends and new dangers alike as they learn that every story—beautiful, ugly, kind, or cruel—bears more than one face.
The Hugo Award-winning Singing Hills Cycle
The Empress of Salt and Fortune
When the Tiger Came Down the Mountain
Into the Riverlands
Mammoths at the Gates
The Brides of High Hill
The novellas of The Singing Hills Cycle are linked by the cleric Chih, but may be read in any order, with each story serving as an entry point.
Praise for Into the Riverlands (The Singing Hills Cycle #3)
Lambda Award Finalist | Locus Award Finalist for Best Novella | Ignyte Award Finalist

"Dangerous, subtle, unexpected and familiar, angry and ferocious and hopeful. . . . The Empress of Salt and Fortune is a remarkable accomplishment of storytelling."—NPR

Praise for Into the Riverlands
"A thrilling, wuxia-style addition to the series."—BuzzFeed News
​"Nghi Vo is one of the most original writers we have today."—Taylor Jenkins Reid on Siren Queen
"A delicious bonbon of a novella about stories and their unreliable narrators, who wink at their listeners (or readers), fully expecting us to catch on."—The Wall Street Journal
"Spellbinding. . . . Vo expertly weaves myths and histories of this fantastical land throughout, while also offering readers a deeper understanding of Chih themself, a character who may have been left as a framing device in lesser hands. The result is a pitch-perfect series installment."—Publishers Weekly, (starred review)
"Rides the knife edge between telling a story and being in the middle of it and explores how tales become legends. . . . Highly recommended for . . . anyone who likes high fantasy inspired by Imperial China or wuxia movies and stories."—Library Journal (starred review)
"Those familiar with the Singing Hills Cycle know by now to expect marvelous little novellas like perfectly cut jewels, dense with facets and brilliance. Into the Riverlands, Nghi Vo's third installment, is of course no different….buy this book, because you'll want to revisit these particular stories again and again."—Geekly, Inc
"The novella is written in Vo's rich, lovely language, and it's nice to have such a wonderful fantasy series be totally accessible in standalone volumes. . . . Fans of folklore-inspired fantasy will eat this one up."—Booklist
"The Singing Hills Cycle can be read in any order, but this seems the perfect entry point for new readers."—LitHub
"Continues the magical, mythical and memorable adventures of Chih . . . . The series . . . can be read in any order—and you don't want to miss them!"—Ms. Magazine
"This is a beautiful, cozy, fantasy tale. . . . gentle, soothing, whimsical, feminist."—Fantasy Book Critic
"Novelist Nghi Vo has a fantastic gift for creating sweeping epics that weave together history and myth."—Arlington Magazine
Praise for the Singing Hills Cycle
"Gorgeous. Cruel. Perfect."—Seanan McGuire
"A quiet, wrenching tale of resistance, resilience, and court intrigue."—R. F. Kuang
"A glorious, beautifully-written tale that is both tragic and triumphant, unfolding a secret history through the ordinary artifacts of everyday life."—Kate Elliott
"Uncovers a nuanced history of how the disenfranchised shape history, and can come to rule it, though at great cost."—Buzzfeed
"A masterpiece of understatement and implication. . . it gives the impression of effortlessness while being quietly meticulous in every stitch."—Nerd Daily
"[A] gorgeous debut novella."—Paste
"Vo's debut has it all: from sapphic love to cruel betrayals; from political intrigue to lakes that glow red to ghosts that continue to walk old paths."—Booklist, starred review
"A stunning feminist fantasy."—Publishers Weekly, starred review
"An epic in miniature, beautifully realised."—Zen Cho
"At once epic and intimate, this story of revenge, power and the weight of history is a small, masterful jewel."—Aliette de Bodard
"Resides in the intimate margins of its (beautifully imagined) world's history, portraying how the marginalized may yet shape those narratives and harness the power of stories."—Indra Das
"Rich details and emotional prose captures readers from the first page of this imaginative and powerful novella. "—Library Journal