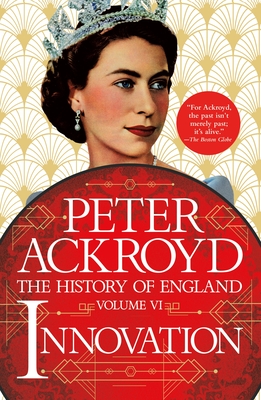 Innovation: The History of England Volume VI
Publication Date:
April 11th, 2023
Publisher:
St. Martin's Griffin
In Stock at Warehouse - Usually Arrives in 3-7 Days
Description
Innovation brings Peter Ackroyd's History of England to a triumphant close. Ackroyd takes readers from the end of the Boer War and the accession of Edward VII to the end of the twentieth century, when his great-granddaughter Elizabeth II had been on the throne for almost five decades.
It was a century of enormous change, encompassing two world wars, four monarchs (Edward VII, George V, George VI and the Queen), the decline of the aristocracy and the rise of the Labour Party, women's suffrage, the birth of the NHS, the march of suburbia and the clearance of the slums. It was a period that saw the work of the Bloomsbury Group and T.S. Eliot, of Kingsley Amis and Philip Larkin, from the end of the post-war slump to the technicolor explosion of the 1960s, to free love and punk rock, and from Thatcher to Blair.
A vividly readable, richly peopled tour de force, Innovation is Peter Ackroyd writing at the height of his powers.
Praise for Innovation: The History of England Volume VI
"A wide-ranging, elegant work of scholarship." --Library Journal
Praise for Peter Ackroyd:
"Marvelously erudite and staggeringly industrious." —Los Angeles Times

"For Ackroyd, the past isn't merely past; it's alive." —Boston Globe
"Ackroyd is a medium through which the obscured voices of the past are channeled." —Newsday
"Through it all, the author is a delightful guide. All chroniclers of popular history should be required to study Ackroyd's writing, his methodology, and the totality of his treatment of his subjects." —Kirkus Reviews (starred)