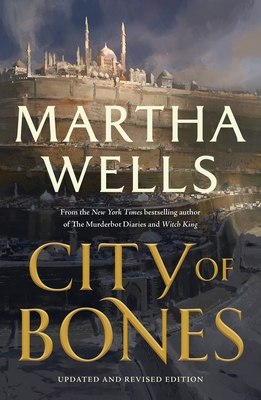 City of Bones: Updated and Revised Edition
Publication Date:
September 5th, 2023
Charter Books
On hand, as of Dec 2 2:07am
(Sci-Fi / Fantasy)
On Our Shelves Now
Description
Before Martha Wells captured the hearts of MILLIONS with her Murderbot series, there was Khat, Sagai, and Elen, and a city risen out of death and decay…
The city of Charisat, a tiered monolith of the Ancients' design, sits on the edge of the vast desert known as the Waste. Khat, a member of a humanoid race created by the Ancients to survive in the Waste, and Sagai, his human partner, are relic dealers working in the bottom tiers of society, trying to stay one step ahead of the Trade Inspectors.
When Khat is hired by the all-powerful Warders to find relics believed to be part of one of the Ancients' arcane engines, he, and his party, begin unravelling the mysteries of an age-old technology.
This they expected.
They soon find themselves as the last line of defense between the suffering masses of Charisat and a fanatical cult, bent on unleashing an evil upon the city with an undying thirst for bone.
That, they did not expect.
This updated and revised edition is the author's preferred text.
About the Author
MARTHA WELLS has written many novels, including the million-selling New York Times and USA Today-bestselling Murderbot Diaries series, which has won multiple Hugo, Nebula, Locus, and Alex Awards. Other titles include Witch King, City of Bones, The Wizard Hunters, Wheel of the Infinite, the Books of the Raksura series (beginning with The Cloud Roads and ending with The Harbors of the Sun), and the Nebula-nominated The Death of the Necromancer, as well as YA fantasy novels, short stories, and nonfiction.
Praise for City of Bones: Updated and Revised Edition
Praise for City of Bones

"A bravura performance, to which no summary can do justice: compellingly plotted, stunningly original in concept, and glowing with utterly convincing detail." —Kirkus Reviews

"City of Bones combines Middle Eastern legends with a taut tale of technomagic and sorcery. The result is a vibrant blend of adventure and intrigue." —Library Journal

"Wells's...novel is a delight: an SF adventure with complex characters, archeological puzzles, a dash of mental magic, and a lot of fast-paced action." —Publishers Weekly
Praise for Martha Wells' Murderbot Diaries:
"I love Murderbot!" —Ann Leckie
"The most heartwarming action-packed literally explosive space opera I've enjoyed in a long time. Martha Wells is the best writer of loveable snarky gender-subversive killing machines out there!" —N. K. Jemisin

"We are all a little bit Murderbot."—NPR