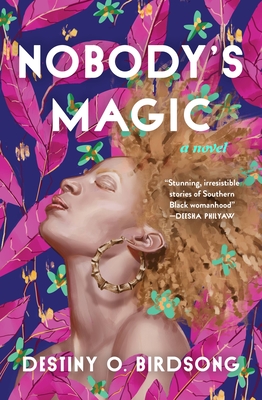 Nobody's Magic
Publication Date:
January 10th, 2023
Publisher:
Grand Central Publishing
Charter Books
On hand, as of Dec 2 2:07am
(Fiction - General)
On Our Shelves Now
Description
"The magic here is not the supernatural kind, but rather an attention to the grace of the ordinary. It is the magic of watching these women come into their power."—New York Times
"There's romance and a familial drama and examinations of identity, and though there's nothing quite supernatural, it creates a magic entirely its own." – Kevin Wilson, author of Nothing to See Here
A GMA Buzz Pick! / A Most Anticipated Book by Essence · The Millions · Atlantic Journal Constitution · Bustle · BookPage · Nashville Scene · Ms. Magazine · Parnassus Musing / A Best Book of February by Washington Post · Nylon · BookRiot
In this glittering triptych novel, Suzette, Maple and Agnes, three Black women with albinism, call Shreveport, Louisiana home. At the bustling crossroads of the American South and Southwest, these three women find themselves at the crossroads of their own lives.   
Suzette, a pampered twenty-year‑old, has been sheltered from the outside world since a dangerous childhood encounter. Now, a budding romance with a sweet mechanic allows Suzette to seek independence, which unleashes dark reactions in those closest to her. In discovering her autonomy, Suzette is forced to decide what she is willing to sacrifice in order to make her own way in the world.
Maple is reeling from the unsolved murder of her free‑spirited mother. She flees the media circus and her judgmental grandmother by shutting herself off from the world in a spare room of the motel where she works. One night, at a party, Maple connects with Chad, someone who may understand her pain more than she realizes, and she discovers that the key to her mother's death may be within her reach.
Agnes is far from home, working yet another mind‑numbing job. She attracts the interest of a lonely security guard and army veteran who's looking for a traditional life for himself and his young son. He's convinced that she wields a certain "magic," but Agnes soon unleashes a power within herself that will shock them both and send her on a trip to confront not only her family and her past, but also herself.
 
This novel, told in three parts, is a searing meditation on grief, female strength, and self‑discovery set against a backdrop of complicated social and racial histories. Nobody's Magic is a testament to the power of family—the ones you're born in and the ones you choose. And in these three narratives, among the yearning and loss, each of these women may find a seed of hope for the future.
Praise for Nobody's Magic
"The magic here is not the supernatural kind, but rather an attention to the grace of the ordinary. It is the magic of watching these women come into their power."—New York Times
"Birdsong's novel is a searing meditation on grief, female strength and self-discovery and is perfect for fans of the film Moonlight by Barry Jenkins."—Good Morning America, GMA Buzz Pick
"With voices that are appealingly modern and distinct, the three women face hardships complicated by a history of racial and social injustice."—The Washington Post
"A powerful portrait of womanhood and the beautiful mess that comes along with it…. It's a stunning read."—Associated Press
"Destiny O. Birdsong brings poetic beauty to her first novel, Nobody's Magic… The book is a feat of voice and storytelling."—Shondaland
"[Birdsong] hasn't just written good stories, but searing ones with unforgettable characters. These three women are so distinct and real they will undoubtedly be remembered by readers years later, the hallmark of iconic characters. Readers will come to love and know these three women so deeply, they'll immediately recognize Nobody's Magic's characters if they see a Suzette & Maple & Agnes t-shirt—and likely want one, too."—Chicago Review of Books
"Hopeful and powerful."—Ms. Magazine
"Birdsong imbues the characters with palpable emotions and crafts spot-on dialogue, conveying vernacular speech with layers of pathos and wit. It's a stunning achievement."—Publishers Weekly (Starred Review)
"A thoughtful examination of a subject rarely addressed in contemporary literature."—Kirkus
"Birdsong is a masterful storyteller with a powerful voice that will keep readers captivated."—Booklist (Starred Review)
"Masterfully crafted… Nobody's Magic is worth reading simply to spend time with these women, but the thoughtful and unexpected way that Birdsong combines their three unique stories into one is what makes the book unforgettable."—BookPage
"The characters personalities are so distinct and written so realistically, you'll feel like you've been invited into a friend's life, and you're rooting for them to make it."—BookRiot
"With Nobody's Magic, Destiny Birdsong has given us a devastatingly beautiful, sexy, searing gift. I fell in love with the women Birdsong conjured so brilliantly. These are stunning, irresistible stories of Southern Black womanhood that I will return to again and again."
—Deesha Philyaw, author of National Book Award 2020 finalist The Secret Life of Church Ladies
"From the very first page of Nobody's Magic, when I could hear the voice of the protagonist as if she was sitting next to me, I knew I was in the hands of a confident, one-of-a-kind storyteller. Here is a world full of complex, memorable characters who feel real, with stories unlike any I've read before. Destiny O. Birdsong has a gift; how lucky we are as readers to benefit from it."—Angela Flournoy, National Book Award finalist and New York Times bestselling author of The Turner House
"The women of Nobody's Magic are unforgettable. These are deeply moving stories of love and longing, mourning and discovery, getting unstuck and moving toward freedom. Birdsong captures the unexpected grace of everyday life in sharp, vibrant prose, and the power of these characters—their courage and willingness to reinvent themselves—stayed with me long after the last page."—Naima Coster, New York Times bestselling author of What's Mine and Yours
"Nobody's Magic is a captivating triptych of three unforgettable women. Each of their voices will ring in my memory for a long time—they have so much to say of love, loss, desire, and the city that knows them best. Together, their perspectives illuminate a prismatic portrait of how possible it is to feel intimately bound and a stranger to the places that have created you, and the people you call home."—Melissa Febos, National bestselling author of Girlhood
"Nobody's Magic is an ironic title because Destiny O. Birdsong's prose is, in fact, magical. The character's wisecracks are as delicious as a po' boy, the situations are textured and sticky as the southern heat, and the histories are as thick as the bayou. We, as an audience, are ever so lucky to be along for the ride."—Morgan Jerkins, New York Times bestselling author of Caul Baby
"As with Destiny Birdsong's poetry, the stories in Nobody's Magic are striking and original, full of down-home hilarity, Black love, truth, grief, and the sometimes-uncertain roads one travels to accept the self. Birdsong's is a powerful voice I'd follow anywhere."—Dantiel W. Moniz, author of Milk Blood Heat
"Nobody's Magic will strike the tender parts of your heart and you will never forget the trio of vulnerable, fierce women at its center—Suzette, Maple and Agnes.  This is the real Black South—Shreveport, Louisiana conjured in both surprising and familiar ways—Black women discovering secrets, reclaiming themselves and leading the way. This book left a lasting impression on me long after the pages were closed. Destiny Birdsong is a powerful storyteller. An impressive debut!"—Crystal Wilkinson, author of Perfect Black
"Destiny O. Birdsong is so amazing at creating distinct voices and experiences, even as she weaves common threads through all of the stories. There's romance and a familial drama and examinations of identity, and though there's nothing quite supernatural, it creates a magic entirely its own."—Kevin Wilson, author of Nothing to See Here
"Bold."—Nylon
"The region is vividly portrayed, the voices so startlingly real you'll think the characters are sitting right next to you. Sexy, gritty, unapologetic, this one will be talked about all year."—Parnassus Musing
"Birdsong's prose sings with a poet's sensibility, so each story is carried along with pitch-perfect rhythm and nuanced understanding of human foibles. In the end, Agnes, Suzette, and Maple are true to themselves, stepping into their own power and defying predictable solutions."—Chapter 16/Humanities Tennessee
"Reading Negotiations is like walking into a boxing match with an indefatigable fighter; you will be struck, and it will hurt. But for all of its ferocity in how it grapples with womanhood, sexuality, assault, and race, this collection is also full of wonder. Of forgiveness. Of tenderness, the like of which, ultimately, delivers the most powerful sucker punch."—Elizabeth Acevedo, National Book Award winning author of The Poet X (praise for Negotiations)