The National Road: Dispatches from a Changing America (Paperback)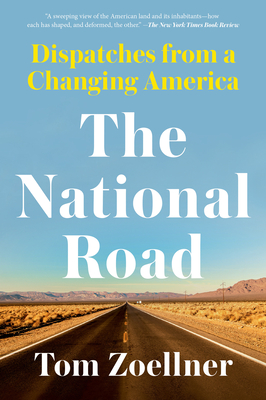 Staff Reviews
---
Having crisscrossed the country by car hundreds of times in the past couple decades, essayist and journalist Tom Zoellner is uniquely suited to report on the beautiful weirdness of roadside America. The reporting is accurate, unassuming, humane, moderate. The writing is concisely apt and never lazy. What's missing here is a quirky originality that other essayists have brought to this genre. Sarah Vowell, John Jeremiah Sullivan, Bill Bryson, and David Foster Wallace have all penned pieces that tackle Zoellner's subjects with more verve. Where Zoellner does best is when he hews closer to memoir than travelogue. "Mormon Historical Sites by Night," "Drive," "Villages," and the opening and closing chapters are the most personal - and the most compelling - selections in the book. "The Whole Hoop of the World" is exemplary. Zoellner explains his quest to climb the highest peak in all fifty states. What emerges in between his sheepish acknowledgement of an obsession is a perfect glimpse of early 21st century America: scarred by capitalism run amok, tainted by tackiness, languishing in alienation, and ineffably terrifying and gorgeous.
— From
Steve's Picks
Description
---
This collection of "eloquent essays that examine the relationship between the American landscape and the national character" serves to remind us that despite our differences we all belong to the same land (Publishers Weekly).

"How was it possible, I wondered, that all of this American land––in every direction––could be fastened together into a whole?"

What does it mean when a nation accustomed to moving begins to settle down, when political discord threatens unity, and when technology disrupts traditional ways of building communities? Is a shared soil enough to reinvigorate a national spirit?

From the embaattled newsrooms of small town newspapers to the pornography film sets of the Los Angeles basin, from the check–out lanes of Dollar General to the holy sites of Mormonism, from the nation's highest peaks to the razed remains of a cherished home, like a latter–day Woody Guthrie, Tom Zoellner takes to the highways and byways of a vast land in search of the soul of its people.

By turns nostalgic and probing, incisive and enraged, Zoellner's reflections reveal a nation divided by faith, politics, and shifting economies, but––more importantly––one united by a shared sense of ownership in the common land.
About the Author
---
Tom Zoellner is the author and co–author of eight previous nonfiction books, the politics editor of The Los Angeles Review of Books, an associate professor of English at Chapman University and a visiting professor of English at Dartmouth College. His writing has appeared in The Atlantic, Harper's, Men's Health, the Los Angeles Times, The New York Times, The Wall Street Journal, and many other places. He is the recipient of fellowships and residencies from The Lannan Foundation, the Corporation of Yaddo and the Mid–Atlantic Arts Foundation.
Praise For…
---
"A sneakily ambitious book whose 13 'dispatches' present a sweeping view of the American land and its inhabitants―how each has shaped, and deformed, the other . . . Zoellner is a beautiful writer, a superb reporter and a deep thinker." —Jody Rosen, The New York Times Book Review

"A fascinating investigation into American places and themes; metaphors for our country . . . Zoellner sums up America as 'a country of destruction and reinvention where the scythe sits on the table next to the blueprint . . . America is a culture of whereness . . . this road of constant change is our blotchy and beautiful inheritance.' The National Road is an enthralling journey that proves his point." —Martha Anne Toll, NPR

"The question of who we are as a people eludes a definitive answer, but his collection of essays offers a penetrating look at that controversial, sometimes nettlesome question . . . Possessed of a keen moral sense, he locates all the touchstones, bridges the fault lines and brings to life many emblems of American history, all the while assaying the plague of partisan politics and environmental decay. Zoellner exposes naiveté, folly and corruption with calm, persuasive clarity." —Bill Thompson, The Post and Courier

"Tom Zoellner has learned to see the United States in all its bewildering diversity . . . The United States's distinct strands of thinking, Zoellner believes, 'are permanently braided together,' and each generation is called to find new combinations between them. Each of us is invited to rediscover America's elusive soul." —Aurelian Craiutu, Los Angeles Review of Books

"Eloquent essays that examine the relationship between the American landscape and the national character . . . Zoellner laces this . . . incisive account with perceptive character sketches and astute observations. The result is a poignant reminder that in America, 'constant change is our blotchy and beautiful inheritance.'"—Publishers Weekly

"America is a vast and daunting prospect, and Zoellner thirsts for more. Longing for a kind of national cultural citizenship, the author knows that absorbing even the barest fraction of a country's everyday majesty, and tribulation, is the work of a lifetime. He seems up to the task . . . Zoellner exposes naiveté, foolishness, and malfeasance with equal clarity, but he is evenhanded and sometimes produces a piece of sardonic humor, haunting beauty, or melancholy that pulsates on the page. He is both a first–rate reporter with years of newspaper and magazine work behind him and a skilled stylist who makes you want to come back for more. Highly recommended. Zoellner will acquaint you with byways, and mores, you never knew existed." —Kirkus Reviews (starred review)

"If George Packer and John McPhee collaborated on a collection that examined contemporary American life, while simultaneously exhibiting an intense feeling for the country's vast landscape, it might look something like Tom Zoellner's stimulating The National Road: Dispatches from a Changing America . . . The National Road's subjects are diverse and unfailingly interesting. No matter how well readers think they may know the United States, it's guaranteed there will be something here to surprise, delight or unsettle them." —Harvey Freedenberg, Shelf Awareness

"Tom Zoellner is one of my go–to authors. He has a clear eye, a deep soul and a very sharp pen. This new collection drives like the best car on the Autobahn on a spring day as you speed toward the mountains." —Luis Alberto Urrea, author of The House of Broken Angels and The Devil's Highway