Staff Pick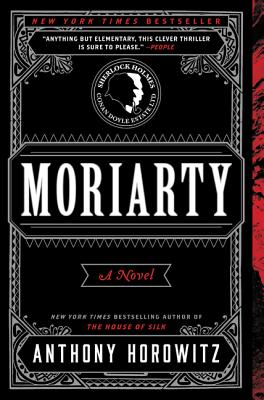 Moriarty: A Novel
Publication Date:
September 1st, 2015
Publisher:
Harper Perennial
Charter Books
On hand, as of Sep 21 12:53am
(Mystery & Suspense)
On Our Shelves Now
Staff Reviews
Prolific TV writer and literary ventriloquist Horowitz does a perfect Conan Doyle pastiche that is both an homage and subversion. It begins at the moment when Doyle "killed off" Holmes at the Reichenbach Falls and propels masterfully until the blindside ending. A must-read for all Sherlockians.
— Steve
Description
The game is once again afoot in this thrilling mystery from the bestselling author of The House of Silk, sanctioned by the Conan Doyle estate, which explores what really happened when Sherlock Holmes and his arch nemesis Professor Moriarty tumbled to their doom at the Reichenbach Falls.
Internationally bestselling author Anthony Horowitz's nail-biting new novel plunges us back into the dark and complex world of detective Sherlock Holmes and Moriarty—dubbed the Napoleon of crime" by Holmes—in the aftermath of their fateful struggle at the Reichenbach Falls.
Days after the encounter at the Swiss waterfall, Pinkerton detective agent Frederick Chase arrives in Europe from New York. Moriarty's death has left an immediate, poisonous vacuum in the criminal underworld, and there is no shortage of candidates to take his place—including one particularly fiendish criminal mastermind.
Chase and Scotland Yard Inspector Athelney Jones, a devoted student of Holmes's methods of investigation and deduction originally introduced by Conan Doyle in "The Sign of Four", must forge a path through the darkest corners of England's capital—from the elegant squares of Mayfair to the shadowy wharfs and alleyways of the London Docks—in pursuit of this sinister figure, a man much feared but seldom seen, who is determined to stake his claim as Moriarty's successor.
A riveting, deeply atmospheric tale of murder and menace from one of the only writers to earn the seal of approval from Conan Doyle's estate, Moriarty breathes life into Holmes's dark and fascinating world.
Praise for Moriarty: A Novel
"Anthony Horowitz throws down the gauntlet in his infernally clever Sherlock Holmes pastiche." — Marilyn Stasio, New York Times Book Review
"Ultimately, the dastardly deeds, the cleverness behind the crimes and the detailed narrative spark multiple echoes of Holmesian elements while producing something new: a pleasurably imaginative theory of what might happened immediately following the showdown at the Falls." — Boston Globe
"A tour de force quite unlike any other fruit from these densely plowed fields… canny Sherlock-ian Horowitz still has more tricks up his sleeve.… A rare treat, a mystery as original as it is enthralling." — Kirkus Reviews (starred review)
"Though Horowitz dishes up the gore and violence with relish, he also offers all the tropes one might expect from a Holmes yarn, including baffling coded messages, impossible murders and clever red herrings... its plotting just as brilliantly gnarly but its tone more self-aware and laced with in-jokes." — Financial Times
"The author turns up the suspense, the sleuths turn up the clues, and crooks end up dead all while Moriarty's specter hovers. Anything but elementary, this clever thriller is sure to please Sherlock fans." — People Magazine, Book of the Week Review
"A stunning riff on the Holmes-Moriarty clash. It's full of allusions to the Holmes cannon that Sherlockians will congratulate themselves for spotting, then wince moments later when Horowitz gently reveals the prank.... Horowitz spins his tale in pitch-perfect Watsonian prose…setting readers up for a finale that is truly jaw-dropping." — Booklist, (starred)
"Prolific thriller writer Horowitz, whose last Holmes book The House of Silk was backed by the Conan Doyle estate, returns to the famous Reichenbach Falls scene, where Holmes and his arch-nemesis fall to their apparent deaths. But if you're expecting a return of the great detective, you'll be disappointed. This one is squarely about the bad guys. The death of Professor Moriarty leaves a power vacuum in London's underworld that only detectives Athelney Jones (a Holmes obsessive) and his partner Frederick Case can solve." — New York Post
"[Horowitz's] new novel, Moriarty, begins with a bravura dissection of Doyle's story "The Final Problem" in which he points out all the discrepancies, loose ends and improbabilities of behaviour. The remainder of the book is partly an ingenious exercise in explaining them away. ...An often excruciatingly exciting pursuit, and there is much casual slaughter, with hints of torture; nothing gratuitous but, as in The House of Silk, Horowitz's Victorian London is a much darker place than Doyle's." — Daily Telegraph (London)
"Is there nothing Anthony Horowitz touches that doesn't turn to gold? ...He captures Conan Doyle's narrative technique to perfection. Gory murders, honest thieves, brilliant disguises, breathless chases and red herrings abound." — Daily Express (London)
"In this skilfully executed follow on, Horowitz takes up the Conan Doyle baton and creates a suitably stylish and twisty detective story." — Sunday Mirror (UK)
"Thrilling and compelling, with a stunning twist, this is written as if Conan Doyle were at Horowitz's shoulder, and is—in my view—the finest crime novel of the year." — Daily Mail (London)
"An unpredictable and twist-filled mystery from start to finish. But what do you expect from the man penning the next James Bond novel?" — Shortlist (UK)
Praise for The House of Silk: "Horowitz unfolds an intricate and rewarding mystery in the finest Victorian tradition. Admirers of [his] TV series, Foyle's War, and Sherlockians will delight in equal measure." — Vanity Fair
"A book firmly rooted in the style of Doyle, faithful to the character as created and with just enough wiggle room to allow the author to say all the things he's been longing to say about the world of 221B Baker Street...THE HOUSE OF SILK will satisfy." — Huffington Post
"Nicely captures the storytelling tone of Holmes' inventor in a galloping adventure that boasts enough twists, ominous turns and urgent nocturnal escapades to make modern moviemakers salivate ... Author Horowitz delivers some dramatic tableaux in these pages, including a railway robbery, a prison escape and a horse-drawn carriage chase ... the Holmes we see here is just as cryptic and clever as we've come to expect." — Kirkus Reviews
"The hype surrounding what's being billed as the first pastiche ever officially approved by the Conan Doyle estate is amply justified ... authentic. Horowitz gets everything right-the familiar narrative voice, brilliant deductions, a very active role for Watson, and a perplexing and disturbing series of puzzles to unravel-and the legion of fans of the originals will surely be begging for Horowitz to again dip into Watson's trove of untold tales." — Publishers Weekly (starred review)
"[In The House of Silk,] Watson's elegiac voice should silence the objections of even the most persnickety Sherlock scholar." — NPR
"Horowitz seems to have mastered that tricky balance between respecting the original and keeping things fresh. Disguises, fakes, twists, red herrings and violence—the game is afoot!" — Bookpage
"…deliciously twisty new novel…" — Columbus Dispatch