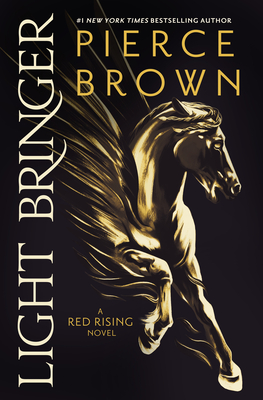 Light Bringer: A Red Rising Novel (Red Rising Series #6)
Publication Date:
July 25th, 2023
Charter Books
On hand, as of Dec 6 12:52am
(Sci-Fi / Fantasy)
On Our Shelves Now
Description
NEW YORK TIMES BESTSELLER • Darrow returns as Pierce Brown's New York Times bestselling Red Rising series continues in the thrilling sequel to Dark Age.
The Reaper is a legend, more myth than man: the savior of worlds, the leader of the Rising, the breaker of chains.
But the Reaper is also Darrow, born of the red soil of Mars: a husband, a father, a friend.
Marooned far from home after a devastating defeat on the battlefields of Mercury, Darrow longs to return to his wife and sovereign, Virginia, to defend Mars from its bloodthirsty would-be conqueror Lysander.
Lysander longs to destroy the Rising and restore the supremacy of Gold, and will raze the worlds to realize his ambitions.
The worlds once needed the Reaper. But now they need Darrow, and Darrow needs the people he loves—Virginia, Cassius, Sevro—in order to defend the Republic.
So begins Darrow's long voyage home, an interplanetary adventure where old friends will reunite, new alliances will be forged, and rivals will clash on the battlefield.
Because Eo's dream is still alive—and after the dark age will come a new age: of light, of victory, of hope.
Don't miss any of Pierce Brown's Red Rising Saga:
RED RISING • GOLDEN SON • MORNING STAR • IRON GOLD • DARK AGE • LIGHT BRINGER
Praise for Light Bringer: A Red Rising Novel (Red Rising Series #6)
Praise for Dark Age
"[Pierce] Brown's plots are like a depth charge of nitromethane dropped in a bucket of gasoline. His pacing is 100 percent him standing over it all with a lit match and a smile, waiting for us to dare him to drop it."—NPR
"An epic story of rebellion, social unrest, and sacrifice."—Orlando Sentinel
"Much like A Song of Ice and Fire's George R. R. Martin, Brown is an author who is interested in exploring the consequences of his protagonist's actions. Revolution doesn't come without a price and no one can stay a hero forever."—The Mary Sue
Praise for Iron Gold
"Complex, layered . . . mature science fiction existing within the frame of blazing space opera . . . done in a style [that] borders on Shakespearean."—NPR
"[A] thoughtful blend of action, intrigue, and prosaic human drama."—Publishers Weekly (starred review)
Praise for Morning Star
"A page-turning epic filled with twists and turns."—Booklist (starred review)
Praise for Golden Son
"In a word, Golden Son is stunning. Among science fiction fans, it should be a shoo-in for book of the year."—Tordotcom

Praise for Red Rising
"[A] spectacular adventure . . . one heart-pounding ride . . . Pierce Brown's dizzyingly good debut novel evokes The Hunger Games, Lord of the Flies, and Ender's Game."—Entertainment Weekly